U.S.: Is The Best Inflation News Behind Us?
by
If you're worried about all the inflation talk of late, the tame June price indexes probably made you feel better. They also very likely eased your concerns that the Federal Reserve is about to hike interest rates. But if you really want to rest easy, you have to answer a key question: Where will inflation be a year from now?
On that issue, the indicators, while not alarming, are far from reassuring. Not only are tight labor markets pushing up wages, but solid growth in demand, especially by consumers, is keeping homebuilders busy and leading an industrial rebound that may soon strain supply conditions for a wide array of goods (chart). This is the classic environment in which inflation starts to rise.
Barring some dramatic shift in the outlook, such as the current stock-market correction turning into a 1987-style rout, it's a good bet that we are now seeing the best news on inflation for this business cycle. Consumer price inflation for 1996 is on track to rise to at least 3%, up from 2.5% in 1995, and the forces are in place to push the rate higher still in 1997. Inflation is not about to spike up, but it has not posted any acceleration in five years.
For Fed policy, the question is: How much of a speedup in prices is it willing to tolerate? Few Fed watchers believe that Chairman Alan Greenspan & Co. will accept a full-percentage-point increase in inflation, but such a rise now looks likely. That's why the markets believe that the central bank is leaning toward hiking interest rates.
The recent instability in the stock market is a new element in the outlook for Fed policy that could stymie any desire to hike rates. Greenspan will be sensitive to the market, especially given the role that higher rates played in the '87 crash. However, the market correction appears to be nothing more than a classic repricing of stocks, based on higher bond yields and more reasonable expectations of earnings.
THE JUNE PRICE INDEXES at both the wholesale and retail levels looked benign. The producer price index for finished goods rose a modest 0.2% in the month. The core producer price index, which excludes the volatile energy and food sectors, also increased 0.2%. A sharp drop in energy costs offset a large rise in food prices.
The story was much the same for the consumer price index. The CPI rose 0.1% in June, while the core index was up 0.2%. Energy prices dropped 2.2% in the month, the most in five years, reflecting drops in both heating oil and gasoline, as runups earlier in the year reversed course. Food costs increased 0.7%, though, the largest advance in a year and a half.
Food is a worrisome component in the price outlook. Wholesale prices of consumer foods in June were up 4.6% from a year ago, the fastest annual increase in six years. The trend will affect retail prices into 1997.
Grain prices have soared, with wheat up 36% from a year ago and corn up 81%, reflecting poor harvests, strong demand, and skimpy stockpiles. Faced with high feed costs, farmers are letting their livestock herds dwindle, so meat prices are also accelerating. The U.S. Agriculture Dept. forecasts that fall harvests will not appreciably relieve the price pressure.
The Fed will be more interested in the core rate, however, which is less subject to one-time supply shocks in food and energy. In the first half of 1996, core CPI inflation looks tame (chart). It rose at a 2.8% annual rate, vs. a 2.5% pace in the final half of 1995.
For the second half, however, service inflation bears watching, especially with service-sector wages accelerating. Already, core service inflation, 54% of the CPI, rose at a 3.7% annual rate in the first half of the year, up sharply from 2.8% in the final six months of last year. A continuation of that speedup would all but guarantee an acceleration in the overall core rate.
KEY TO THE INFLATION ARGUMENT is the idea that businesses are so busy they can raise prices without worrying too much about losing sales. Certainly, the first part of that proviso was evident in the second quarter. Industrial production climbed in all three months of the spring, including a 0.5% rise in June. Factory output alone increased 0.6% last month.
For the quarter, both total production and manufacturing output grew at an annual rate of 5.5%, the strongest gain in six quarters. As a result, operating rates--an indicator of output bottlenecks that can lead to price hikes--are starting to edge up. Capacity use for all industries averaged 83.2% in June, up from this year's low of 82.4% in January. The factory rate was 82% last month, up from January's 81.4%.
Operating rates remain below their year-ago levels, because capacity has grown 3.9% over the past year, faster than the 3.5% increase in output. That trend is changing, however. Capital spending is slated to slow in the second half, even as rising exports, solid consumer spending, and the need to rebuild inventories continue to lift production. As capacity approaches 85%, worries about price pressures will heighten.
MANUFACTURING will pick up steam partly because warehouses look empty at many businesses. Total inventories held by manufacturers, wholesalers, and retailers slipped 0.1% in May, while sales jumped 0.7%. The ratio of business inventories to sales fell to 1.37, about equal to the record low of December, 1994.
For retailers other than car dealers, the ratio dropped to 1.41 in May, a 12-year low. The decline means that merchants will increase their ordering this summer, keeping manufacturers busy into the fall. That will apply more pressure on capacity and costs.
Of course, the inventory drawdown is not surprising, given the strength of nonauto shopping in the second quarter. Retail sales slipped 0.2% in June, but that followed a 0.8% jump in May. Car dealers accounted for the June drop-off. Excluding motor vehicles, sales were up 0.1%, the fifth consecutive gain. After adjusting for prices, real nonauto retail sales grew at a rousing 7% annual rate in the second quarter, the strongest advance in 3 1/2 years (chart).
Sales of furniture and building materials were a big part of the second-quarter strength, as the housing market shows few signs of succumbing to higher mortgage rates. Housing starts rose 1.3% in June, to an annual rate of 1.48 million, and single-family starts surged 7.4% to a two-year high of 1.23 million.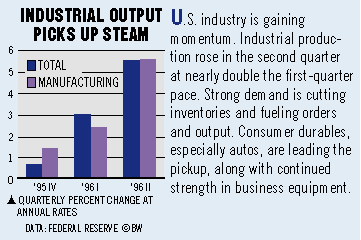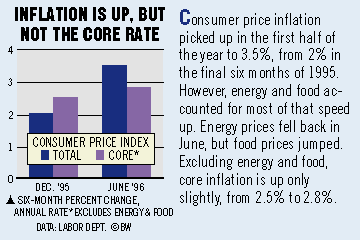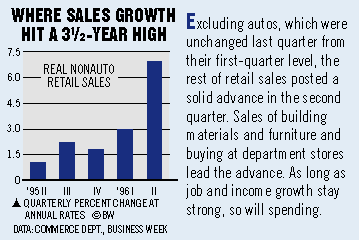 Retail sales in early July got off to a slow start, according to weekly surveys of chain stores. However, the consumer sector should get a boost from spending related to the Olympics in Atlanta.
The future of demand will be a crucial piece of the inflation puzzle. If spending remains as healthy as it was in the first half, the pressures from wages and other costs will start to fuel consumer prices. Clearly, the Fed and long-term investors do not welcome such a scenario. But absent some drastic shift in the outlook--whether from the financial markets or from monetary policy--it is hard to see how the economy will skirt a noticeable upturn in inflation.
Before it's here, it's on the Bloomberg Terminal.
LEARN MORE