Samsung: Not Just The Chips Are Down
The semiconductor decline stalls expansion in other areas
Catherine Keumhyun Lee
Used to having their factories running seven days a week, three shifts a day, the 50,000 factory workers of Samsung Electronics Co. (SEC) are getting an unexpected opportunity to relax this summer. Since June, they've had two extra days off a month. They'll even get a paid five-day holiday, the first since 1992. They owe their break not to management but to the worldwide slump in memory-chip prices that has forced the world's largest maker to cut back production.
While exhausted workers rejoice, managers at other companies within giant Samsung group are worrying. Samsung's thriving chipmaking company has long helped subsidize other parts of the group, South Korea's second-largest chaebol, or conglomerate. Now, with SEC's 1996 earnings set to slide by two-thirds, to some $980 million, Samsung companies in autos, shipbuilding, and chemicals are having to slow their expansion efforts. "Plans were a bit too ambitious," says one Samsung insider, who says that lower profits will force the group to slash investments in marginal sectors.
LEE'S DREAM. Hard hit will be Samsung Motors Inc., the pet project of Samsung Chairman Lee Kun-Hee. A car lover, he raised eyebrows last year with his plans to spend $5.4 billion by 2000 to create a new company able to build 500,000 passenger cars a year. That would turn up the heat on Hyundai, Daewoo, and Kia Motors and unleash a torrent of new Korean-made cars competing in international markets.
This year's car financing plan calls for $2.3 billion, but that amount is now at risk. If Lee insists on maintaining that rate of investment, insiders say, the company may have to drop its existing business in trucks and buses. "If the worst comes, the group will have to give up the commercial vehicles," says a Samsung executive who declined to be identified. But the truck and bus business was only a stepping stone to passenger cars. Says the Samsung executive: "Cars are [Lee's] dream and will survive at whatever cost."
Officially, sagging earnings at SEC should have no impact on other Samsung businesses, since Samsung maintains it does not cross-subsidize group members. In an attempt to curb the power of the chaebol, the government bars a group member from investing more than 25% of its net assets in a related group company.
But it's a thinly veiled secret that chaebol affiliates use deep-pocketed sisters for short-term funds, often working through an intermediary such as a group-owned financial institution. It's legal since the borrower pays interest, albeit at a low rate.
The semiconductor company has emerged as an increasingly important cash cow for the Samsung group, with combined sales of $84 billion in 1995. Last year, SEC's $3.2 billion in earnings, mostly from memory chips, made up 84% of the group's overall net profits (chart). That has helped fund daily cash transactions averaging $1.3 billion in and out of Samsung Group companies.
STILL A POWERHOUSE. Despite the expected decline in profits this year, SEC is unlikely to have major cash-flow problems thanks to a heavy depreciation schedule. But the pricing slump has forced the company to halt plans for a second line to make 16-megabit and 64-megabit dynamic random-access memory (DRAM) chips at a facility in Austin, Tex. Now, SEC plans to install only one line that will make 64-megabit DRAMs no sooner than the end of 1997. "We have maintained a long-term relationship with the world's major personal-computer makers," says Sul Hee-Soon, an executive director of Samsung Electronics, who oversees semiconductor sales. "We don't expect them to betray us."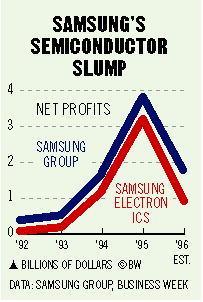 Other group companies will be less fortunate. Samsung General Chemical's ambition to become one of the world's top 10 by investing some $2.5 billion abroad is likely to be put on hold. And no money will be allocated to Samsung's ailing shipbuilding business, which is facing heightened competition from Japanese companies buoyed by the weaker yen.
Even as Samsung scales down its investments, the group as a whole will remain a powerhouse. Over the next five years, Samsung says that it will spend 17% less than originally planned--which means it still plans to lay out an impressive $63 billion. Some $20 billion, or 31%, will go to semiconductors. Lee may still get a chance to rev up his auto engine, but for now, the chip downturn means he'll have to go a bit slower.
Before it's here, it's on the Bloomberg Terminal.
LEARN MORE