Pangs Of Conscience Over Sweatshops
Exploited Third World workers haunt U.S. consumers
Overnight, it seems, the use of cheap-labor factories in developing nations has sparked a First World debate. In the U.S., the issue is being politicized and Hollywood-ized in a distinctly American way. On July 16, talk-show host Kathie Lee Gifford--whose clothing line touched off the latest furor--shared top billing with Labor Secretary Robert B. Reich at a confab in Arlington, Va., where Wal-Mart Stores Inc. and Kmart Corp. announced new codes for overseas contract labor.
Why the outcry now? Credit the rapid globalization linking manufacturers, investors, and consumers everywhere. Increasingly, consumers can see how their shirts and sneakers actually are made, peering into the Indonesian factories where Nike will produce 70 million pairs of shoes this year and the Honduran maquiladoras that spawned Kathie Lee's dustup. BUSINESS WEEK correspondents visited these two countries to assess conditions.
INDONESIA
`ON THE INSIDE, IT'S HELL'
Despite improvements, Nike workers face tough conditions
The Nikomas Gemilang factory in Serang, 50 miles west of Jakarta, isn't owned by Nike itself, but it produces 1.2 million pairs of Nike sneakers every month. Like footwear factories everywhere in Asia, conditions are tough. Overtime is mandatory. Workers say exhausted colleagues regularly faint from overwork. Punishment for misdeeds consists of petty humiliation. A supervisor who skipped work one Sunday to care for his sick wife and child was forced to clean toilets and then was demoted. Another worker had to run laps around the factory because shoes she assembled had defects. "From the outside, Nikomas looks like heaven, but for workers on the inside, it's hell," says Sumantri, a 25-year-old activist who like many Indonesians uses one name.
The marketing pizzazz of Nike Inc.'s "Just Do It" U.S. campaign is nowhere evident in the 12 Indonesian factories run by the company's Taiwanese, South Korean, and Indonesian subcontractors. Although these are some of the most modern factories in the industry, they are drab and utilitarian. Vast sheds house row upon row of mostly young women, who will glue, stitch, press, and box 70 million pairs of Nikes this year. Here, a pair of Pegasus running shoes, which retails for $75, costs just $18.25 to put together and ship to the U.S. Indonesia's military police deal harshly with those who rebel, and independent unions are outlawed.
LIGHTNING ROD. The stark contrast between the tens of millions of dollars that Nike icon Michael Jordan earns and the $2.23 basic daily wage in Indonesia paid by the company's subcontractors has helped make Nike a lightning rod for concern about overseas manufacturing standards. Although Nike claims it's a leader in improving conditions, its Indonesian subcontractors secured an exemption from a minimum-wage increase that would have forced them to pay $8.92 a month extra to each worker at a time when Nike has reported record profits.
More damning, say critics, is Nike's refusal to allow independent monitoring of its factories. Nike Chief Executive Philip H. Knight defends the Indonesian operations, saying that sneaker assemblers in Indonesia earn an average of double the minimum wage. But that's because they have no choice but to do overtime. As for how subcontractors treat the workers, Knight says, "There's some things we can control and some things we can't control."
To its credit, the Beaverton (Ore.) sneaker giant, under intensifying scrutiny from U.S. labor groups, has done much to clean up more egregious violations, such as underpayment of wages that prompted workers at one factory to strike in 1994. No more do Taiwanese or Korean managers hit or verbally abuse local workers. "It's a different ball game today," says Tony Nava, a 16-year Nike veteran. Indeed, union activists at Nikomas say that a security guard who hit a worker in May was quickly fired.
Nike says it's setting high standards for others to follow in Asia, and cites as evidence the low turnover of workers at places like Feng Tay Indonesia Enterprises, a quiet, well-ventilated, $45 million factory near the central Java city of Bandung, where a Taiwanese subcontractor manufactures Nikes. At Feng Tay, every building displays a speech in English, Chinese, and Bahasa Indonesia promising that workers won't have to pay anyone to get a job at the factory and forbidding managers from withholding pay.
Even some critics give Nike credit. Muchtar Pakpahan, Indonesia's most prominent labor activist whose outlawed Indonesian Prosperity Trade Union is trying to organize several Nike factories, says that the company's Nasa facility is "the best factory that I've ever visited." After an audit by Ernst & Young, ordered by Nike last year, subcontractors now are keener about ensuring that workers wear protective gloves and masks and that fire extinguishers are properly maintained.
Still, Nike has a long way to go before it lives up to its stated goal of providing a fair environment for all. Nike says it warns workers before they are hired that overtime is compulsory. But Fitri, a 19-year-old junior high school graduate from Sumatra who paid a job broker nearly a month's basic wages to get her job at Nikomas, says she was told work finished at 3 p.m. when she applied. Instead, she regularly must stay until 9 p.m. or later. Only one worker out of more than a dozen interviewed at Nikomas had ever heard of Nike's code of conduct.
There is also a not-so-subtle relationship between the managers of the factories and police, who help keep workers under control. This reporter got a taste of that power, and of the government's nervousness about the country's burgeoning labor movement, after a series of interviews set up by Pakpahan's union in Serang. Eighteen plainclothes police detained me, along with three union members and an interpreter, for almost four hours, demanding an explanation of what I was doing. Two questions during my interrogation betrayed the regime's anxiety: What did the workers say about their conditions? Did I think the minimum wage was high enough? Union activists say it's typical of the chronic harassment they endure.
Nike says it does what it can to keep police, a branch of the armed forces, out of its factories. But that's virtually impossible in Indonesia. After Muchtar Pakpahan visited the sprawling Nasa factory, at the invitation of management, he says the authorities forced the factory to fire three of his union's members and banned further contact with his group. "Employers cannot avoid a relation with the military, because it is the real power here," says human rights lawyer Teten Masduki, an attorney at the Indonesian Legal Aid Foundation.
Nike concedes its shortcomings in this arena. "We're dealing with governments that are less than ideal," Knight says. Although Nike's image is that of an on-the-edge rebel that likes to tweak authority, it has not challenged the Indonesian government's control over labor. As rumblings from workers grow louder, Nike would do well to be as much of a trendsetter in labor as it is in footwear fashion.
By Mark L. Clifford in Serang, with Michael Shari in Jakarta and Linda Himelstein in San Francisco
HONDURAS
CLEANUP AT THE MAQUILADORA
When U.S. clients complain, sweatshops make changes
ShinWon Honduras is cleaning up its washrooms. The South Korean clothing subcontractor in San Pedro Sula is buying fire extinguishers, installing emergency exits, and checking the ventilation--all in hopes of winning business from J.C. Penney Co. "Penney wants so many things," says manager Heung-Tae Kim. Meanwhile, other customers, among them Reebok International and Sears Roebuck, have laid down the law: No underage workers. So ShinWon has laid off 50 teenage girls.
Such is the fallout from TV personality Kathie Lee Gifford's tearful admission that clothes bearing her label were made under sweatshop conditions in Honduras. Most Hondurans have no idea who Gifford is, but some 74,000 people work in 200 maquiladoras clustered around San Pedro Sula, and many depend on U.S. apparel contracts. Since revelations of labor abuses surfaced in May, the Americans have tightened codes of conduct and stepped up the factory inspections. A Honduran government commission, U.S. human rights groups, and unions now sweep weekly through the city.
UNIONS BARRED. The attention showered on Honduras may well be improving the lot of its people. "Things have gotten better over the past couple of years," says Israel Salinas, president of the Independent Federation of Honduran Workers. The government, for one, appears more likely to recognize local organizing efforts. And local contractors are scrambling to deliver on demands from their U.S. customers for improvements.
The question in Honduras is whether the pressure will stay strong--and how much improvement the workers will actually see. Maria Herrera sews 1,500 cuffs a day on cotton knit shirts, typically earning about $20 a week to support her six children. Even the most militant unions can't force her wages up much in a country where the official unemployment is 35% and where most workers boast no more than a sixth-grade education. Government inspectors are slow to respond to allegations of forced overtime and unjustified suspensions, and Labor Minister Cecilio Zavala suspects that many of the plants are still preventing workers from organizing.
Nor does the economic pressure from abroad guarantee higher wages. J.C. Penney, for instance, now pays $5 for the same two-piece toddler's outfit it bought at $5.75 four years ago (retail price: two for $16, on sale), forcing its U.S. manufacturer to find subcontractors in Central America. The labor component of such clothing might amount to just 70 cents or less; the rest is a function of materials, shipping, and overhead.
Most Honduran maquiladoras are vast concrete-block sheds, with only fans to combat the heat that settles over the coastal plain by 8 a.m. Salsa and ranchero music blares all day, while hundreds of workers cut, stitch, and press apparel. Most are young women, often single mothers, usually migrants from Honduras' impoverished coffee-growing areas. Most, too, have little education and aren't encouraged to acquire any: When Oneyda Judith Rivera Flores, 20, asked her supervisor at Galaxy Park for time off to attend night classes, she was asked why she would want to study and was told she was needed for overtime.
ABOVEBOARD? The buzz at San Pedro Sula is that maquiladoras in the well-groomed industrial parks developed by Juan M. Canahuati are much better places to work. No wonder: They're among the few factories in San Pedro Sula with air-conditioning. At Inter Fashions, a plant run by a Canahuati associate in his Choloma park, workers paid by the piece to sew Levi's Dockers and Nike shorts average about $5.40 a day, twice the minimum wage.
More U.S. companies are seeking out relationships with operations such as Canahuati's, looking for some assurance of consistent quality and above-board labor conditions. Most forbid farming out work to any factory they haven't inspected, although unions and monitoring groups say unauthorized subcontracting persists throughout Central America. The more progressive American importers--Levi's, Gap, and Reebok among them--maintain a regular presence at their contractors' sites, assessing both product quality and labor conditions. "Thirteen people came to check us from Levi's," says Roberto Palomo, a lawyer for Seolim, a joint Korean-Honduran venture that is attempting to pass muster to win a Levi's contract. "You can't fool these people."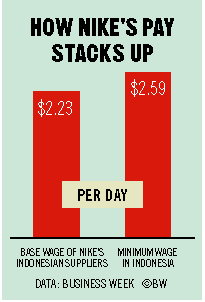 Monitoring has its limitations, of course. Who's to know if a contractor cranks up the air-conditioning the day an inspector from Gap shows up? Other U.S. importers such as J.C. Penney, moreover, have done little to improve enforcement at their contractors, relying instead on quality-control inspectors who tend to be more concerned with buttonholes and delivery times than with fire exits. Despite the new flurry to fix sweatshops, plenty of holes remain in the system. Will Kathie Lee make a difference in the long run? Honduras is waiting.
By Elisabeth Malkin in San Pedro Sula
Before it's here, it's on the Bloomberg Terminal.
LEARN MORE