Minivans May Be Maxing Out In Europe
The market is steaming now, but it could stall soon
David Woodruff
Bertrand Murat was sick of seeing his family's holiday trips marred by the brawling of his three kids in the jammed family sedan. So the 44-year-old suburban Paris physician recently plunked down $36,000 for a green, air-conditioned Volkswagen Sharan minivan. The additional elbow room "gives the kids fewer reasons to complain," he says.
Thanks to consumers such as Dr. Murat, minivan sales in Europe have shot up by over 60% this year. "The segment is growing faster than any other in Europe," says Alexander Sackczewski, brand manager for multipurpose vehicles for Ford in Europe. From virtually nothing five years ago, minivans now represent 2.4% of Europe's 12 million car market.
Despite this success in the showroom, problems are coming for carmakers that have bet heavily on a minivan boom similar to one in the U.S. The market is getting overcrowded, and price-cutting is pressuring margins just as analysts caution that growth in the segment will soon taper off. Although minivans are providing spark in a soft market, carmakers seem destined to reap meager profits in this hot category.
That's a sobering prospect, since European auto manufacturers have been relying on minivans to ignite stagnating sales and ward off Japanese and South Korean auto makers. The strategy has produced some solid winners. The Renault Espace, for example, zoomed to an early lead, selling 63,000 vehicles in 1994.
But manufacturers are now in a ferocious fight. Since 1994, nine new or redesigned minivans have been launched. Two popular new arrivals are Volks- wagen's Sharan and Ford Motor Co.'s Galaxy, sister models built in a jointly owned factory in Portugal. Praised for their smooth, carlike handling, the Sharan and Galaxy have pushed aside the Renault Espace and are now No.1 and No.2 in sales, with respective volumes of 30,500 and 30,000 so far this year. "The Sharan and the Galaxy took off a little more quickly than expected," concedes Arnaud Morbieu, head of marketing for Renault's large cars. Sales of the $26,500 Espace have dropped 34% so far this year, to 21,262. Renault will launch an all-new Espace this fall, but it will be unlikely to regain its prior lead.
The strong competition has kicked off a price war. While VW and Ford produce jointly, they are fierce rivals in the marketplace. VW just introduced another van, the Alhambra, for sale by its low-end SEAT division. A stripped-down version of the Sharan, the Alhambra came out in Germany with a base sticker of $26,000. Ford felt undercut and reduced the Galaxy's entry-level price by $650. French auto makers Peugeot and Citroen have trimmed as much as $2,000 off their two-year-old sister models, the 806 and the Evasion. Renault has cut as much as $3,000 on some versions.
GLUT? Meanwhile, the sleek design and powerful engine of the new, $31,000 Chrysler Corp. Voyager are making a splash in the high end of the market. Sales of the Voyager have climbed 32% this year. Aiming for the high end, too, is General Motors Corp., which is launching the U.S.-made Sintra in Europe under its Opel and Vauxhall brand names. Even German luxury carmaker Mercedes-Benz will introduce a minivan this year, the V-class, starting at roughly $34,000.
The rush of new models would probably not be a problem if the minivan market kept expanding briskly. But analysts don't see Europeans buying anything like the 1.3 million minivans a year that Americans purchase, even though the overall European car market is almost as big as that in the U.S. Instead, say analysts as well as carmakers, full-year 1996 sales of about 350,000 will likely stall at about 450,000 by 2000.
The reasons carmakers and analysts expect sales to top out sooner than originally thought are varied. For one, boxy minivans consume considerably more fuel than traditional sedans. With gasoline in Europe averaging about $1 a liter, only relatively wealthy consumers can afford the tab. And at $30,000 or more, the average price of a minivan places it out of the reach of most buyers. Only 1.2 million passenger vehicles of any kind priced above $30,000 sell every year in Europe. Meanwhile, a minivan can be purchased in the U.S. for as little as $16,000.
A new kind of competitor may also start eating away at the segment. Renault is introducing the Scenic, a tall, vanlike version of its popular new Megane family sedan. The Scenic will have room for just five passengers, but it will offer the roomier feeling of a van. And prices should start at a more reasonable $20,000. Renault is projecting sales of 100,000 Scenic models a year.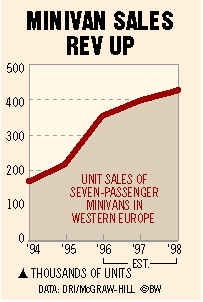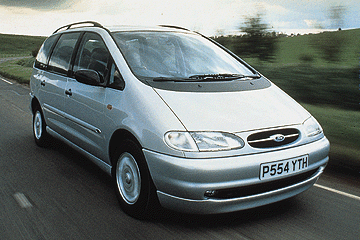 WATCHING. That may be optimistic, since analysts say rivals are scrambling to ready competing models. VW and Opel are rumored to be working on vanlike versions of the Golf and Astra, scheduled to debut in 1997. Opel won't reveal its plans, but Klaus Leydecker, a top marketing executive, says: "We're watching that segment with great attentiveness."
To soak up extra production, carmakers will probably market the commercial versions of their minivans to package couriers and the like. But those stripped-down versions have smaller margins than passenger minivans. In the end, carmakers "won't be too happy with their [minivan] investments," predicts John Lawson of Salomon Brothers International Ltd. in London. Despite the current heat, this market is not shaping up as a holiday for carmakers.
Before it's here, it's on the Bloomberg Terminal.
LEARN MORE