Italy: Prodi's Weakness Roils The Markets
by
Prime Minister Romano Prodi's honeymoon with the financial markets is over. The markets had high hopes that Prodi's center-left coalition could deliver a tough fiscal program aimed at European Monetary Union that would give the Bank of Italy added leeway to cut interest rates. Now, Prodi's fiscal agenda is uncertain amid concerns that his Olive Tree coalition is weak. The BOI seems in no hurry to cut rates, even as the economy weakens. And both the stock and bond markets are showing their disappointment.
Prodi has already made concessions to the leftist Communist Refoundation Party, on which his coalition depends for support. In order to move his three-year economic plan, a broad outline of 1997-99 fiscal policy, through Parliament, Prodi gave in to leftist demands that he protect workers' real incomes and create jobs. The compromise highlights the troubles ahead this fall, when Prodi must submit the details of his 1997 budget. He is also seen to be dragging his feet on the privatization of telecom giant STET in the face of opposition from unions, company management, and members of Prodi's coalition.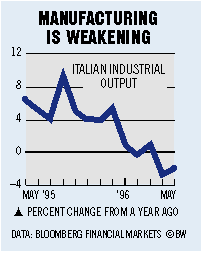 At the same time, the economy continues to weaken. Real gross domestic product rebounded 0.5% in the first quarter, after tumbling 1.1% in the fourth, but second-quarter real GDP appears to have declined. Manufacturing continues to slump amid Europe's sluggishness, the lira's recent strength, and excessive inventories (chart). Weak business investment promises to be a drag as well, reflecting soft demand, sagging profits, the phaseout of 1995 tax incentives, and high borrowing costs. The three-year economic plan projects growth of 1.2% in 1996 and 2% in 1997, but those projections could slip in the face of tight fiscal policy and the BOI's reluctance to ease monetary policy.
Amid slack in the economy, the inflation outlook is bright. Inflation should fall sustainably below 4% in the second half, the BOI's criteria for rate cutting. But lower rates--and 1997 growth--also depend on Prodi's budget success, which looks increasingly doubtful.
Before it's here, it's on the Bloomberg Terminal.
LEARN MORE