Don't Log Off High Tech Just Yet
The sell-off will separate the strong from the weak
Ira Sager
For technology stocks, the past year has been one long roller-coaster ride. As a group, the stocks, most of which trade on the NASDAQ, have nearly doubled in value since 1994. But since last summer, investors have alternately pummeled and praised tech issues over worries that the long tech bull market finally might be over. On July 12, the bottom fell out: The Morgan Stanley High Technology Index of 35 companies plunged nearly 10% by July 15. Pessimists figured that was it: The tech boom was breathing its last breath.
Don't push the sell button yet. As in the broad markets, what's going on in tech stocks is a market correction. Investors are casting a critical eye on overvalued, overhyped issues--particularly Internet stocks. "You had companies with no revenues that were coming public at valuations of $500 million and trading up to $1 billion that were clearly ahead of themselves," says W. Russell Ramsey, president of investment bank Friedman, Billings, Ramsey & Co.
But there's no significant downturn in the all-important computer business, and most high-tech segments are fundamentally solid. In the end, the tech sell-off is a healthy separation of the strong--Intel, Microsoft, and Compaq--from the weak--frothy Net startups and the like. "There is a need for a cleansing out of the market and this will do it," says Howard Anderson, managing director at Yankee Group.
PRICE WARS. That's not to say that the stocks of even some very good tech companies won't get whacked around in the next quarter or two. Industry leaders Hewlett-Packard, Motorola, and Applied Materials all contributed to recent broad market jitters by posting disappointing results or making downbeat assessments for the business. "We're going to have to play it a little cautious for a while," says HP CFO Robert P. Wayman. The problem: Parts of high-tech, particularly semiconductors, have been depressed by overcapacity and fierce price competition. At the same time, U.S. computer companies have been dealing with slowing demand in Europe and a strong U.S. dollar that has cut into earnings. Other big companies such as Digital Equipment Corp. and Apple Computer Inc. have big problems, largely of their own making.
But demand remains strong throughout the computer industry. Predicts Benjamin M. Rosen, chairman of Compaq Computer Corp.: "The rest of the year will be pretty good." When the Houston company reports its earnings on July 24, it is expected to post a second quarter profit of $250 million, flat with last year. But analysts predict profits will rise in the second half of the year, as new computers hit the market.
In Darwinian terms, the strong are getting stronger. Take Intel, which supplies nearly 90% of all the chips used in PCs. On July 16, the chipmaker announced that revenue in the second quarter rose to $4.62 billion, up 19% from last year's $3.89 billion. The news triggered a rebound in high-tech stocks on July 17. "This record suggests that demand for high-performance personal computers is fundamentally healthy," Intel CEO Andrew S. Grove said in a statement.
Going forward, the sales outlook, indeed, remains robust. Although the growth of the PC industry is slowing from its 25%-to-30% rates, the overall market will still expand by a healthy 16% to 20% this year, market researchers figure. For the top-tier PC makers, such as Compaq, HP, and IBM, business is looking up. "Our business continues to be very good," says Michael S. Dell, president of Dell Computer Corp. In fact, Dell says, its shipments for the quarter ended Apr. 30 were faster than the estimated 23% rate for overall PC market at the time.
GAMES. Later in the year, most computer companies will benefit from a round of new-product introductions, including a generation of powerful home PCs that will run dazzling new 3D game software. Meanwhile, despite Europe's sluggish economic growth, other major economies around the globe are still holding strong. One sign: Mainframe orders, usually a good indication of capital-spending trends, are sound. Indeed, IBM is expected to benefit from a new generation of mainframes it will start delivering in the fall.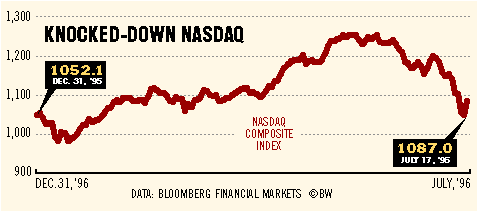 In software, the leaders--Oracle, Microsoft, and Computer Associates--continue to do well. On July 17, CA announced that earnings for the quarter ended June 30 surged 35%, to $119.8 million, on revenues of $792 million, up 37% from a year earlier. By far the best-performing PC software maker is Microsoft. For the quarter that ended June 30, many analysts expect it to beat consensus estimates that its earnings were up 33%, to $530 million on a 32% gain to $2.1 billion.
By September, indeed, it may be Microsoft to the rescue: A new version of its Windows NT operating system could prompt a wave of computer buying by customers looking to upgrade. Who knows? By yearend, the tech bull may well be raging again.
Before it's here, it's on the Bloomberg Terminal.
LEARN MORE