A Laser Facelift For Equimed
by
Cosmetic laser surgery, anyone? EquiMed (EQMD) expects to be able to provide such a service this year. Within a week, the company expects to sign an agreement, says one investment manager, with Palomar Medical Technologies to establish laser centers at all EquiMed clinics.
EquiMed owns or operates 30 radiation oncology therapy centers and 18 ophthalmology clinics in 16 states. These include seven ambulatory surgical units.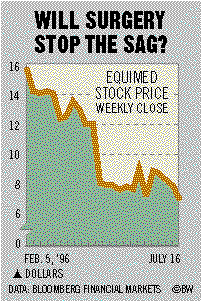 Palomar makes lasers, used mainly for burns, cosmetic dermatology, and hair removal. Palomar's EpiLaser won a Food & Drug Administration O.K. in July for dermatological applications.
By next year, EquiMed and Palomar expect to have set up 50 to 60 laser centers around the country. Each center, estimates one analyst, could bring in yearly revenues of $2 million, for a total of $100 million. EquiMed and Palomar will split sales and earnings equally.
Analyst Craig Dickson of Everen Securities projects that, even before any contribution from laser centers, EquiMed will earn 45 cents this year and 85 cents next, vs. 31 cents in 1995. Now at 7, EquiMed is worth 20, figures Dickson.
Before it's here, it's on the Bloomberg Terminal.
LEARN MORE