Why Motorola Has Nonworking Numbers
Tough competition in cellular and chips yields a sorry quarter
By
The news was the sort of shock that Wall Street despises. On July 9, Motorola Inc. announced that it had earned $326 million, or 54 cents a share, in its second quarter--well below estimates of 68 cents. To Wall Street's way of thinking, that was a major rout. Just the day before, a Cowen & Co. analyst had put a "strong buy" on the company. Motorola's punishment was severe: The company's stock tumbled nearly 8 5/8 points, or 13%, to 57 7/8 on the news.
The earnings shortfall and investor dismay pose a major challenge for Motorola Chief Executive Gary L. Tooker, who took the helm at Motorola in 1993. In the face of stiff competition from rivals, the company has adopted a take-no-prisoners competitive strategy that is likely to keep results under pressure throughout the year.
TURN OF THE SCREW. Take the cellular-phone business. With new rivals driving down prices, Motorola aims to hold on to its position as the world's top cell-phone provider--whatever the cost. "We're not going to let competitors come in and take market share," vows James P. Caile, vice-president of marketing for Motorola's cellular subscriber group.
But Motorola will have to spend heavily to defend its turf. Competitors Nokia Group and L.M. Ericsson have improved the quality and design of their products. Then there's the price war problem. Cellular operators, who purchase phones made by Motorola and its rivals and then sell or give them to their customers, have been turning the screws on equipment providers. As a result, the average wholesale price of a cellular phone has been cut in half over the last three years, to about $175. Some Motorola models, such as the tiny StarTAC, introduced earlier this year, command top dollar. But no premium lasts long in the current price wars.
The pricing pressure won't lift soon. Operators, such as AT&T's wireless division, are having to spend heavily to acquire new customers--just as those customers are using their phones less. That and declining prices have sliced the average monthly cellular bill in half over the past eight years, to $51 a month, according to the Cellular Telecommunications Industry Assn. "There's significant pressure from operators to lower the wholesale price of phones--and Motorola is definitely feeling that," says Mark J. Lowenstein, vice-president of wireless communications research at the Yankee Group.
Contributing to the softer pricing is a slowdown in the growth of the cellular market. The number of U.S. subscribers has been increasing by about 30% annually, but some analysts expect the rate to drop to about 10% this year. "There's just very little demand," says Bear Stearns & Co. analyst Alex Cena. Outside the U.S., growth will be stronger. Worldwide, the rate of expansion among cellular-phone subscribers is expected to slow only modestly from the 35% annual rate of recent years.
CHIP SQUEEZE. Motorola's semiconductor group has been caught in a similar squeeze. After the industry grew 42% last year, the company expects growth to decline by as much as 10% in 1996. A large part of the drop has occurred in the memory-chip business, where Motorola has only a minor presence. Still, Motorola faces soft demand from its own communications business and from Apple Computer Inc., a major buyer of its PowerPC processors.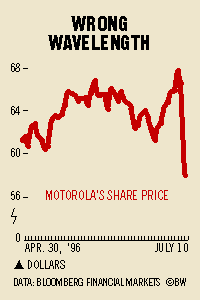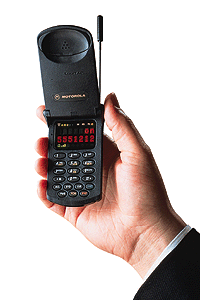 Tooker's main challenge now: finding new sources of growth. Motorola is hoping that personal communications services (PCS), a new kind of wireless technology, will help turn around its fortunes in 1997. With a spate of new operators receiving PCS licenses across the U.S., Motorola expects wireless-telephone usage to increase dramatically. Caile says it's realistic to expect the number of wireless phone users to triple worldwide over the next five years, to 300 million. "I'm personally very bullish on the long term," says Caile.
Even in this new technology, though, Motorola will have to fight hard for its position. A recent Yankee Group study said the company holds just a 12% share of the U.S. market for PCS infrastructure equipment, well below its 20% share of the cellular market.
Motorola vows to keep its 40% share of the wireless-telephone market--no matter what the cost. It's a strategy that means Tooker will remain in the hot seat, as Wall Street warily watches Motorola's bottom line.