business
Putting The Snap Back In Snapple
Parent Quaker Oats must boost sales or a restructuring looms
Greg Burns
The strategy is so simple, it's surprising that Quaker Oats Co. didn't think of it sooner: Can't sell enough Snapple? Give it away.
It's no joke--at least not yet. A big giveaway is at the center of Quaker's latest effort to revive its faltering Snapple brand. From mid-July through mid-September, Quaker will spend up to $40 million handing out 16-ounce bottles of its iced teas and fruit drinks to all comers, "spreading taste all over the place," as its new TV and radio ads will say. The plan calls for "sampling brigades" to pass out free Snapple nationwide, at beaches, parks, and on street corners. Consumers also can call a toll-free number to get coupons good for free bottles.
FIREWORKS. Snapple could use extra juice. Sales are up only a fraction the first half of the year, experts figure, while Quaker's Gatorade beverages are up nearly 10%. Quaker CEO William D. Smithburg terms the marketing push a prudent investment in Snapple's potential: "I'm more interested in getting the momentum and sales up than I am in maximizing short-term profit," he says.
But for Smithburg, who bet the farm on his Snapple acquisition, this latest show of marketing fireworks could be a grand finale. If it fizzles, watch for a write-down. Quaker anted up $1.7 billion for Snapple and assumed its debt--then booked a punishing $1.8 billion in goodwill on the purchase. Beyond that, if Snapple still lags, a restructuring of Quaker may be in the offing. The most likely scenario: A spin-off of the company's $2 billion drink business under the Gatorade name. Smithburg concedes a spin-off is a possibility, though he says he's not yet convinced his beverage and food units would be better run apart.
A spin-off would give greater visibility to Gatorade. Just a few years ago, Quaker's sports-drink business seemed on the brink of disaster as Coca-Cola Co. and PepsiCo Inc. rolled out competing products. Today, Gatorade's market-share has stabilized at a dominant 80% and Coke's Powerade and Pepsi All Sport are battling for the distant No.2 spot. Boasts Sue Wellington, Gatorade marketing vice-president: "We are kicking ass and taking names." How so? Gatorade has become a fixture at sports events, scored points with new flavors and packaging, and signed up a slam-dunk spokesman in basketball star Michael Jordan.
POOR SHOWING. For the moment, Quaker has little else to brag about. The price war in cereals will shave as much as $40 million off its earnings this year. Other brands such as Quaker Oatmeal and Rice-A-Roni are up, but only in comparison with a dismal first half in 1995. As for Snapple, Quaker announced on June 26 that it expects the business to post a loss this year because of Smithburg's extra marketing push.
As a result, Quaker's earnings from continuing operations will hit $175.4 million this year on sales that will be flat at $5.4 billion, figures Prudential Securities Inc. analyst John M. McMillin. Those earnings would be up 76% from last year's poor showing but well below the $305 million posted in pre-Snapple 1993. The outlook knocked Quaker's stock down 15%, to 31 1/4, from June 25 to July 9 (chart). "They're not on the right track," says analyst Arthur Cecil of T. Rowe Price Associates Inc., which holds about 2 million shares.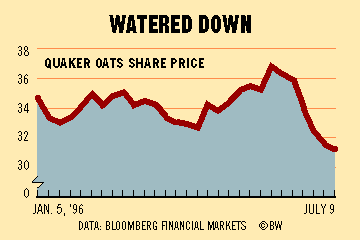 Part of the trouble has been Smithburg's optimism. At an analysts' confab in February, skeptics dubbed his forecast of 15% to 20% gains in Snapple sales this season "gulp fiction." The skeptics were right: Ads positioning the brand as an underdog alternative to Coke and Pepsi fell flat, and Quaker dumped longtime agency Kirshenbaum Bond & Partners. Now, Foote, Cone & Belding, the new agency, has a tall order to fill in cobbling together a campaign in midsummer. "They're trying to turn it around at the 11th hour. They desperately need this marketing blitz to be successful," says Goldman, Sachs & Co. analyst Nomi Ghez.
Quaker stock might trade even lower, analysts say, if it weren't for spin-off rumors. That's because Gatorade, even combined with slower-growth Snapple, would likely command a higher valuation as a "pure" beverage play. A spin-off also could free up the beverage and food businesses. "The board has got to start seriously addressing a spin-off," insists McMillin. If Smithburg's big giveaway doesn't work, maybe it will.
Before it's here, it's on the Bloomberg Terminal.
LEARN MORE