Israel: A Slowdown Greets Netanyahu
Neal Sandler
Ever since the May 29 elections that brought Benjamin Netanyahu to power, signs of an economic slowdown in Israel have been increasing.
On July 1, the Bank of Israel's index of leading indicators fell 0.7%, the first drop in 2 1/2 years. The BOI stressed that a one-time drop, by itself, is not enough to signal trouble, but other data also point to slower growth. Tourism, for example, has been hard hit since the wave of terrorist bombings earlier this year. In addition, building starts and imports are down, and exports are stagnant. One area that is still strong is private consumption. Retail sales in May increased 2%. Real gross domestic product jumped at a 6% annual rate in the first quarter, after a 7.1% advance in 1995 and 6.5% in 1994. For all of 1996, though, private economists expect GDP growth at a modest 5% (chart).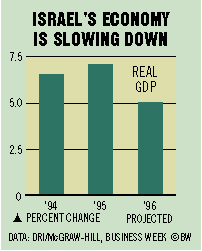 The rapid growth of past years triggered rises in the balance-of-payments deficit and inflation. The deficit hit a record $4.1 billion in 1995 and is expected to reach $5 billion this year. Infla- tion, which fell to a 25-year low of 8.1% in 1995, is running at nearly double that pace. Finance Minister Dan Meridor's program, adopted on July 7, is designed to deal with these two ills. The plan calls for $1.6 billion in budget cuts over the next 18 months. The key elements include slashing tax allowances for children, introducing user fees for medical services, hiking public transit fares, and sharply reducing grants to local and foreign direct investors.
The major impact of the government's program on the economy is not expected until 1997. Initial projections expect GDP growth to slow to 4% to 4.5%, with the unemployment rate rising to 6.5% next year, from 6% at the end of 1995.
Slower growth after a government's first year is exactly what happened when the Labor Party took over in 1992 and changed national priorities. But the economy rebounded quickly. Given Israel's high inflation and rising trade and budget deficits, the question now is how long will it take growth to bounce back.