Comp Usa Is Getting The Bugs Out
Now, it has other computer retailers on the run
Stephanie Anderson Forest
When CompUSA CEO James F. Halpin invited Gordon B. Hoffstein, the head of direct-mail computer seller PCs Compleat, to dinner to discuss an alliance last December, Hoffstein accepted simply out of politeness. After all, he thought CompUSA Inc. was a troubled retailer with little to offer customers but a quick PC sale. "In no way, shape, or form were we going to sell our business to these guys," Hoffstein recalls.
Halfway into the dinner, Hoffstein had a change of heart. And in May, Comp-USA, the nation's largest computer chain, acquired privately held PCs Compleat Inc. Hoffstein discovered what many PC users already knew: Today's CompUSA is far from the nearly bankrupt company of a few years ago. While shrinking PC margins and intense competition have short-circuited growth at rivals Best Buy Co. and Tandy Corp.'s Computer City, CompUSA is thriving. By bolstering complementary services such as computer training and using its base of more than 100 stores to support fast-growing sales to businesses and direct-mail buyers, the Dallas-based chain is barreling past its retail roots. "CompUSA has prospered because Jim Halpin has thought beyond [the store]," says Alan C. Bush, the ex-president of Computer City who runs store operations for Dallas-based software chain NeoStar Retail Group Inc.
Just two years ago, CompUSA racked up a $16.8 million loss on sales of $2.1 billion. But for fiscal year '96, which ended in June, sales grew 30% over '95, to $3.8 billion. Analyst David C. Childe of Salomon Brothers Inc. predicts income will more than double from last year, to $56.7 million. That has made CompUSA a Wall Street star. From a split-adjusted low of 4 in August, 1994, its stock hit 47 in May before settling down to 34 as jittery investors reacted to slowing PC sales.
What's behind the turnaround? Under Halpin's predecessor, breakneck expansion coupled with poor controls and costly moves into PC manufacturing and software publishing sent the company reeling. The board went looking for a replacement, and Halpin, the former CEO of HomeBase, an Irvine (Calif.) retailer, took over in late 1993.
Halpin soon replaced 17 of the top 20 executives. Among the recruits: Chief Operating Officer Harold F. Compton, whom he had worked with at HomeBase. A top-flight operations man, he and Halpin have been a tight team ever since. "Jim is the visionary who can tell what changes need to be made," says James E. Skinner, CompUSA's CFO. "Hal makes sure [things] get done."
"INTERACTIVE." The two slashed costs, shuttered the unprofitable diversifications, and ended the rapid store growth. Then they fixed up the stores, which bring in 65% of sales. Increased training has ensured that staffers can talk tech with customers, for example, while new "try-before-you-buy" software kiosks have been a big hit. "CompUSA used to look like an old, tired record store," says Halpin. "We've made it an exciting, interactive place to shop."
With skidding PC prices putting pressure on margins, Halpin is now aggressively expanding into high-margin services where CompUSA can leverage its expertise. Although just an estimated 15% of revenues today, these services are growing fast. "When we deliver, install, and teach you how to use your computer, once it's sold, it stays sold," says Compton. "And the next time you're going to get a computer, we're very much at the top of your mind."
Computer training has been one big success so far. Although CompUSA had long offered classes, Halpin upgraded its offerings with a slew of new teachers and classrooms. Today, Compton claims it is the largest independent software trainer in the country. The success of in-store training led Halpin and Compton to another hit. In January, CompUSA launched a delivery-and-set-up service. For $79, the company will bring a PC to a buyer's home, install modems, and get software up and running. For $70 more, CompUSA will also provide basic computer training at home.
The emphasis on training, combined with new services such as on-site repair, have helped CompUSA boost sales to small and midsize businesses. Halpin set up a sales force and warehouse for corporate buyers and added sophisticated services such as systems design and networking. Yet rivals question whether it can provide high-level technical support. "It's a stretch to say they can pull this off," says CompuCom CEO Edward R. Anderson.
"SOLUTIONS." So far, customers seem happy. At Dallas-based Dental Plan Inc., the country's largest provider of customized software for dentists, General Manager Jim Bennight turned to Comp-USA because DPI needed support and training for 17,000 customers nationwide. He switched his buying from Dell Computer Corp. and IBM because "we just weren't getting the service. What CompUSA provided is total solutions."
Now, Halpin hopes to work the same magic in mail order. With the acquisition of PCs Compleat, CompUSA has become the nation's third-largest brand-name PC mail-order company. Customers with problems won't have to ship their computers back. "We provide mail-order convenience, but if something happens, you can take your computer to the closest store," says Compton.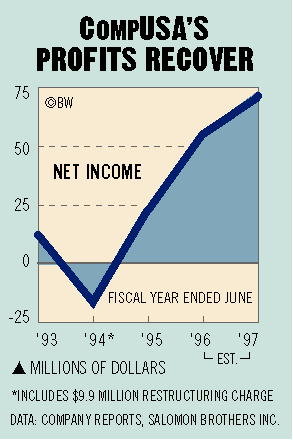 With CompUSA on a roll, Halpin and Compton are once again adding stores. This year, CompUSA opened 20, and next year, it could open as many as 30. The pair is also aggressively pursuing acquisitions. But this time, investors appear not to be worried. Former Chairman Ronald N. Dubin says there's no comparison with the CompUSA of old. "For the longest time, we had the tiger by the tail, and the company was always scrambling to keep up," says Dubin, whose privately held investment firm, Dubin, Clark & Co., remains a large shareholder. "Management is now riding the tiger and controlling it."
Halpin, too, makes clear that the company isn't back to growth for growth's sake. "We're very sensitive about growth," he says. "In making acquisitions, you've got to kiss a lot of frogs before you get the prince." These days, CompUSA itself looks increasingly like one of those princes.