What's The Trade In On A Trabi?
Eastern Europeans are pouring into car showrooms
Karen Lowry Miller
It's Saturday afternoon in Prague, and Jiri Vrba and his wife, Anna, are eyeing a Skoda Felicia in a crowded auto showroom. The $9,260 subcompact would replace a 20-year-old Skoda they bought secondhand seven years ago that keeps breaking down. From the $550 a month he takes home as a computer systems analyst and her $210 as a part-time kindergarten attendant, the couple can just manage a downpayment and five-year financing at 8% interest. Vrba is tempted to stick with a locally made Skoda, now that Volkswagen owns 70% of the company and has introduced better styling and engineering. "It's the best value," he says, loading in his two kids for a test drive. "And no problems about waiting for spare parts."
All across Central Europe, families such as the Vrbas are trading up or buying for the first time. The average age of cars on the road is well over 10 years. But now, robust economies are making people richer, and with inflation and interest rates coming down, borrowing money for big-ticket items is not such a scary prospect. So far this year, new-car sales in Poland and the Czech Republic are up more than 30% over 1995. Market Researchers at DRI/McGraw-Hill and PlanEcon estimate that regional sales will surge 10% each year through 2000, compared with 2% to 4% in Western Europe. "People would love to replace [their cars] as soon as possible," says Carol Thomas, Eastern Europe auto analyst for DRI.
POLE POSITION. Carmakers from around the globe are rushing to fill the anticipated demand. Poland may be one of the top 10 markets in Europe by the end of the year. That's why Daewoo Corp. pledged $1.4 billion last year for two plants there and Fiat chose Poland in February for the European production site of the Palio, designed expressly for developing markets. And in late June, General Motors Corp. subsidiary Adam Opel signed off on a plant in Gliwice, in southern Poland, that may build as many as 150,000 cars a year. "It's one of the few great growth regions of the world," says David J. Herman, CEO of Adam Opel. "We aim for something more than our fair share."
As foreign auto makers roll in, they're finding customers who are rapidly learning the ins and outs of car buying. After communism collapsed, drivers who once waited years for a junky, state-made Trabant or Skoda were happy to buy any foreign car they could get their hands on. "Nobody knew which were good and which were bad," recalls Eva, a woman in her 60s, as she browsed in a Daewoo showroom in Budapest. "Now we know what's cheap and reliable."
Price is definitely a major selling point in a market that is only beginning to show signs of affluence. In Poland, the locally made Fiat 126 is a top seller at under $5,000 and sets the standard by which Poles measure how much a new car should cost. In the Czech Republic, Skoda offers the best price. Thanks to money-saving technology from VW and low Czech wages, Skoda has managed to keep the price of its Felicia as low as $8,000. While its share is declining, the subcompact still commands 55% of the market, and rivals work hard to compete. "To fight effectively in this country, we must keep our prices in line with Skoda's," says Philippe-Jean Lafond, director of Peugeot's Czech unit.
That even means tailoring new, low-cost models for the region, just as Japanese carmakers have done in Southeast Asia. In Poland, Opel plans to build a stripped-down version of one of its family cars, possibly the Astra, and price it some $4,000 less than it would cost if made in the West. If the new plant is a success, GM may also choose it to make a new model, smaller than Opel's low-end Corsa, that is being considered for developing markets worldwide.
Flexible consumer financing is essential to the growth of this new market. In Poland, for example, banks send agents into the showrooms to process credit applications from prospective buyers. A year after GM started to offer car loans to consumers, a quarter of its Polish transactions are on credit. Vladimir Turek, manager of the largest Skoda showroom in the Czech Republic, offers discounts of up to 15% to those who pay cash. Yet up to two-thirds of his sales are on installment, with many customers dropping by monthly to pay in person. Some Hungarian dealers charge zero interest on the credit line, as long as they receive a hefty downpayment in cash. Budapest Bank, with the help of new owner GE Capital Corp., is making auto financing a top priority.
The dealers are getting help from advertising, but not the kind that features speed and sex. The ads stress safety, reliability, and good value. Those are selling points for motorists who vividly remember driving models down roads strewn with car parts knocked off in minor accidents.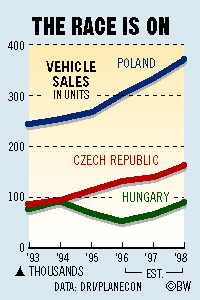 DETROIT EAST? A Skoda ad portrays smiling kids in the back seat, off with the folks to granny's country home--and they get there and back safely on a tank of gas. In a sign of the market's growing importance, foreign auto makers are abandoning their early practice of simply dubbing Western European ads into Polish, Hungarian, or Czech. Daewoo has commissioned a Poland-only campaign from the Lintas ad agency. "With competition heating up, there is a greater need for the right marketing," says Jacek Pilachowski, account executive in Warsaw for Leo Burnett, which created a Polish campaign for Fiat.
For now, it's hard to foresee an end to the region's car boom. That doesn't mean, however, there won't be losers among the auto makers. DRI's Thomas estimates that if car companies build all the factories in the region they have announced, Central and Eastern Europe will end up with annual production capacity of 1.6 million cars by 2000. DRI estimates that's 400,000 more cars than needed for domestic sales or exports to Western Europe. "Someone could get burned," warns Thomas. But not consumers: As price wars heat up, they'll be the winners.
Before it's here, it's on the Bloomberg Terminal.
LEARN MORE