U.S.: Factories Are Surging. Will Inflation Follow?
by
Smokestack America is belching fire again. After a strong upturn in 1994, its best year since the late 1980s, manufacturing struggled last year with stagnant orders and heavy inventories after the Federal Reserve's doubling of short-term interest rates. Output nearly ground to a halt, and factories began laying off workers.
Now, manufacturing's fortunes are changing. After a year of whittling inventories down to size, companies are once again filling order books amid stronger demand, especially by consumers. And the outlook for production gains and new hiring is brightening.
A turnaround at the factory always plays a big role in the outlook because the overall economy is at its healthiest when the industrial sector is on an upswing. The leading indicators are saying as much. The Conference Board's leading index rose 0.3% in May, the fourth increase in a row and the largest four-month rise in more than a decade. Factory-sector indicators led the May increase.
Manufacturing's new momentum means that some of the economy's second-quarter strength is sure to spill over into the second half. If so, the recent rally in the bond market, which has taken long-term interest rates to below 7% again, may be cut short, as fears of higher inflation take hold. As it stands now, surging May home sales indicate that higher mortgage rates have yet to deter buyers.
AFTER HINTS OF A TURNAROUND seen in anecdotal reports from industry, including various regional groups of purchasing managers, and a regional survey by the Federal Reserve, clearer evidence of a manufacturing pickup is now surfacing. The National Association of Purchasing Management's index of industrial activity jumped from 49.3 in May to 54.3 in June, the highest level since February, 1995 (chart).
The purchasing managers' index, a composite of several measures of factory activity, strengthened almost across the board. The orders component rose sharply to levels not seen since 1994. Export orders rose, although not as fast as they did in May. Production also picked up, and the employment reading advanced, suggesting that the more than yearlong decline in factory payrolls may be coming to an end.
Another NAPM indicator, known to be one of Fed Chairman Alan Greenspan's pet gauges of future inflation, also rose strongly. The percentage of companies reporting slower delivery times rose for the second month in a row in June. The indicator is a sign of tighter market conditions, which are often a precursor to price hikes and inflation pressures. For now, at least, purchasers report that prices paid to their suppliers actually fell in June.
That could change, of course, if manufacturing's momentum continues to build, and by most evidence it will. Manufacturing appears to be in a classic inventory cycle. After a year in which business inventories outpaced sales, demand is now outstripping stockpiles. So far this year, business inventories have grown at a 2.5% annual rate, down from their 6.3% pace for all of 1995, while business sales are up 4.9%.
Cars and trucks are playing an especially large role in this inventory cycle. After a first-quarter liquidation, carmakers boosted second-quarter output in an effort to rebuild dealers' stocks of vehicles. Amid strong sales in both May and June, Detroit is also lifting its production schedules for the third quarter, which promises to give overall output a boost well into the second half.
But the inventory swing is not just in autos. The ratio of inventories to sales in manufacturing, wholesaling, and retailing dipped to 1.38 in April, only a shade above the record low of 1.37 plumbed in late 1994. In fact, inventories may be too skimpy in some industries--a sure recipe for increased ordering, output, and employment.
THE REAL SURPRISE in the manufacturing sector's firmer tone is the unrelenting desire of consumers to keep on spending in the face of higher long-term interest rates, mounting debts, and low savings. Inflation-adjusted consumer spending surged 0.7% in May, mainly on the strength of car sales, which rebounded from an April decline. Overall spending in April was unchanged from March.
The May gain assures another strong quarterly contribution from consumers to economic growth (chart). Even if June spending does not increase, which seems unlikely, second-quarter outlays are on track to match the first quarter's healthy 3.6% growth rate. That's two-thirds of second-quarter real gross domestic product already in the bag.
Consumers were still charging ahead in June as well. Sales of cars and light trucks appear to have been strong, near May's 15.8 million annual rate, which was the strongest of the year.
Consumers' resilience is coming mainly from steady growth in jobs and incomes, and stock market gains have also helped. Although the final installment on President Clinton's tax hike on the wealthy caused real aftertax income to drop 0.8% in April, real income came roaring back in May, rising 1.2%.
At the current pace of job growth and income gains, consumers can increase their spending at a 2.5%-to-3% pace without drawing down their savings. That's a good thing, since the savings rate was a low 4% in May.
HEALTHY LABOR MARKETS are a big reason why home demand has not yet succumbed to higher mortgage rates. Sales of existing homes rose in May, and purchases of new single-family homes jumped 7.5% in the month to an annual rate of 828,000, the highest sales level in 10 years (chart). Buying was strongest in the Midwest and South. The sales gain cut the supply of unsold homes to a low 5.2 months in May from 5.8 months in April.
Overall construction activity may be reaching a plateau, however. But even here, the evidence is mixed, and the indicators that are off their recent peaks remain at a high level. For example, although overall construction spending dropped 0.9% in May, it had risen 2% in April, leaving the second-quarter level well above the first three months' mark, so far.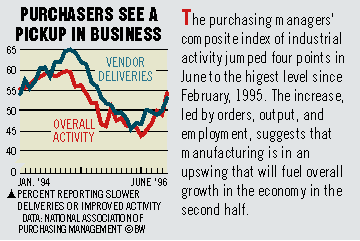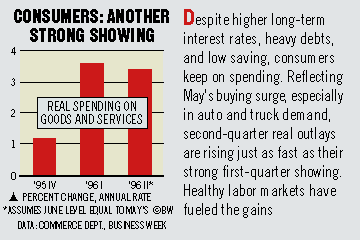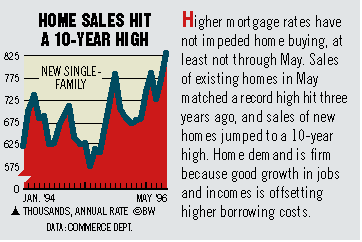 So, too, contracts for new construction fell in May, but remain high. According to F.W. Dodge, a division of The McGraw-Hill Companies, contracts slipped 4% in May, mostly in residential projects. Still, total contracts in the first five months of this year are 6% above the same period in 1995. That means that building activity will slow in the second half of the year, but not collapse.
For now, the data show that factories can count on customers like the construction industry and consumers to keep buying. So the manufacturing resurgence will carry into the second half of the year. The question for Federal Reserve policy as well as market sentiment is whether the busier times on the factory floor will produce price pressures along with the increased output.
Before it's here, it's on the Bloomberg Terminal.
LEARN MORE