The Cyberstocks That Fell To Earth
IPO jitters as investors shun companies selling only promise
Linda Himelstein
Peter Norris considers his company lucky. HMT Technology Corp., a Fremont (Calif.) maker of disk-drive parts, had enough cash on hand that on June 18 it could put a planned secondary stock offering on ice. Since investors had pushed its stock down 40%, from 25 to 15, between May 29 when it filed for the offering and June 18, that decision made a lot of sense. "Our fundamentals didn't change," says Norris, HMT's chief financial officer. "But we had to withdraw the offering because of what happened in the market."
HMT is not alone. Ten of 18 technology deals expected during the week of June 24--both initial public offerings and secondary offerings--were either delayed or pulled altogether. Of the 46 IPOs for technology and health-care companies that did hit the market in June, 15 were priced below their expected offering prices. That's compared with just 5 lower-priced deals out of 41 in May, according to an analysis by Robertson, Stephens & Co., a technology investment bank based in San Francisco. Overall, technology and health-care offerings since May 20 have lost 15.5% of their value since their first day of trading, the firm says.
Suddenly, investors who had hungered for any company with a connection to computers--despite the absence of profits or even actual products--appear to have lost some of their appetite. Amid recent warnings that earnings for established semiconductor companies will be disappointing, they are shunning companies backed by little more than good ideas. "People aren't betting on hope anymore," says Sanford R. Robertson, chairman of Robertson Stephens.
OLD-FASHIONED PROFITS. Hardest-hit have been the flood of Internet-related startups this year. Such stocks are down 24% on average from their opening day of trading, says Securities Data Co. Of six companies offering Internet search tools that have gone public this year, only one, Yahoo! Inc., is trading above its offering price. Broadvision Inc., an Internet software company that went public on June 21, had to reduce its offering price and the number of shares sold. The stock price of VocalTec Ltd., another Internet software company, has fallen from $19 to $9 since its February IPO. "As soon as the speculative froth is off, people start saying I'd rather own Intel than Yahoo!," says Michael Murphy, editor of California Technology Stock Letter.
The shifting psychology is apparent in technology-oriented mutual funds. According to AMG Data Services, a firm that tracks mutual-fund investments, technology funds have had net outflows of $282 million since June 12. Some technology fund managers, once big buyers of new high-tech offerings, are shifting into more tried and true investments. Garrett Van Wagoner, head of Van Wagoner Capital Management, with $1.25 billion in mutual-fund assets, stopped buying tech IPOs two weeks ago and secondary offerings three weeks ago. "There's way too much supply, and the quality of the IPOs is about as low as you get in a cycle," he says.
Of course, there are plenty of star performers in the technology sector, including Netscape Communications Corp. and Cybercash Inc. And the public is still snapping up the best deals despite the recent downturn. Siebel Systems Inc., a client-server software company that went public on June 28, soared on its first day of trading from $17 to $30 per share. But Siebel boasts four straight profitable quarters. "We have old-fashioned things like customers, products, and profits," Chief Executive Thomas M. Siebel says wryly.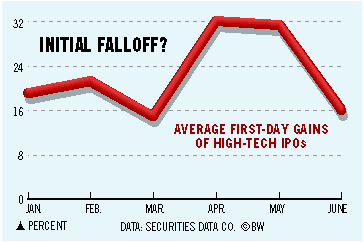 Many industry experts are applauding the trend as a way to bring overvalued stock prices back to realistic levels. Yet even with the recent declines, many companies continue to enjoy stock prices that bear no relation to their book values. That is keeping companies such as E*trade Group Inc. and Silicon Gaming Inc. on track to go public this summer. And Wired Ventures Inc., the parent of Wired magazine, is planning to sell a minority stake to the public at a price that values the company at $450 million--yet it has never turned a profit. None of these likely stock issuers seems particularly worried. But, observes Gill Cogan, a venture capitalist: "It's not going to be as much fun as it was." For a while, anyway.