No Premium To Pay For Allmerica
by
When a big insurer--then named State Mutual Life Assurance Co. of America--went public last October, selling 12 million shares at $21 apiece, it also distributed 37.5 million shares free to its policyholders. Some 30 million of the shares in policyholders' hands have not yet been unloaded. This "overhang," say some market watchers, is depressing the stock price unduly and may be scaring away potential buyers.
But that hasn't stopped investment manager Ed Wachenheim from snapping up shares of what's now called Allmerica Financial (AFC), trading on the Big Board at 29 1/4.
Wachenheim, chairman and CEO of investment firm Greenhaven Associates in Purchase, N.Y., thinks that worry about the overhang--now down from 75% of the stock outstanding to 60%--has created a buying opportunity, even if all of the new owners eventually sell. Allmerica is "underfollowed and not well understood" on the Street, he says. That won't last long: Already, Fidelity Management has acquired a 7.5% stake.
Says Wachenheim: "In 6 to 12 months, most policyholders will have sold, and the overhang will be eliminated"--and that should drive up the price. Wachenheim figures the company, which owns 60% of Allmerica Property & Casualty, a major provider of auto and homeowner policies, will make more money this year and next than the Street expects.
He thinks Allmerica will earn $3 a share in 1996 and $3.40 in 1997, vs. analysts' consensus estimates of $2.67 and $3.08. Wachenheim reckons the stock is worth as much as 13 times his 1997 estimate, or 52 a share.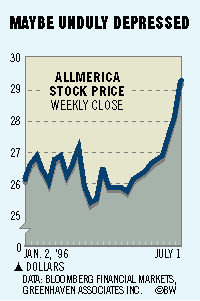 The earnings gains, he figures, will come from growing demand for its financial services, which include variable life insurance and managing retirement and health plans. Cost reductions and repurchase of its own shares will also augment net income, he adds. Wachenheim notes that Allmerica's book value, currently close to $30 a share, should rise to $33 or so in mid-1997 and to $36 by mid-1998.
Analyst Thomas Cholnoky of Goldman Sachs, one of the underwriters of the public offering, says part of Allmerica's success hinges on its ability to expand "worksite marketing": offering group-rate plans for products such as auto insurance, 24-hour managed health care, and 401(k) plans.
Before it's here, it's on the Bloomberg Terminal.
LEARN MORE