Bananas Over Dole Food
by
Gerry Sullivan is no trader, but he sometimes acts like one. He runs a growth-and-income fund at SunAmerica Asset Management, which manages some $2.1 billion. Sullivan patiently looks for quick-changing patterns or price pullbacks before buying.
Take Dole Food (DOL). Sullivan seized an opportunity to buy when shares slumped to 34 early in January. And he continued to buy even though the stock was going up--to 43 by July 1. What's on Dole's plate? Bananas and pre-cut vegetable salads.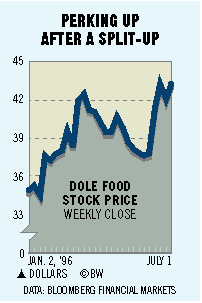 Sullivan, whose SunAmerica Growth & Income Fund has racked up a gain of 35% in the past 12 months, insists Dole is undervalued. Its top moneymakers are bananas, which pull in 35% of earnings, and salad veggies, 20%. "Demand for these two items is strong," says Sullivan, who thinks earnings will hit $3.30 a share for 1997 vs. $2.50 for 1996 and $1.55 last year.
Sullivan thinks the stock will rise above 50 as Dole gains better Street following. Indeed, it perked up in December (after several years of depression), when the company split in two, with Castle & Cooke taking most of the real estate. Sullivan thinks Dole hasn't finished selling assets--such as properties in countries where bad weather frequently interferes with growing crops. He says Dole wants to buy a greater share of the produce it needs.
Before it's here, it's on the Bloomberg Terminal.
LEARN MORE