A Stalemate Has Stymied Reform...So Investors Play A Waiting Game
In central Vilnius, fresh flowers still mark the shrine to the 13 people killed in the 1991 uprising that set Lithuania on its path to independence. "This is where it started," says Aleksandr Alejev proudly, pointing to the smudged photos of the victims. A Russian who moved to Lithuania 13 years ago and is now a citizen, Alejev says he and his family remain convinced that independence was the only choice for this land of almost 4 million people.
But five years after the uprising that kicked off the rebellion in the Baltic republics, Lithuania lags behind neighboring Estonia and Latvia. Inflation hit 35% last year, compared with Latvia's 18% and Estonia's 27%. Gross national product is 42% of what it was in 1989, compared with 74% in Estonia and 54% in Latvia. Average per capita income is $3,000.
STYMIED. Although President Algirdas Mykolas Brazauskas says his country desperately needs foreign investment, legal and economic reforms that would pave the way for Western business have been slow to come. Foreigners are still barred from buying commercial property, for instance, making smaller entrepreneurs reluctant to set up factories on land they can't own.
Brazauskas' Lithuanian Democratic Labor Party, formerly the Communists, has been stymied in Parliament by the Homeland Union Party of former President Vytautas Landsbergis, who wants reform to move faster, even if that means higher unemployment. Brazauskas favors a more gradual move to a market economy. "Nobody is prepared to make a decision," says one Western diplomat. "If they can't agree, instead of somebody taking control and saying: `This is what we have to do,' they do nothing."
Plans for privatization are also stalled. One likely candidate, the Lithuanian State Power System, is legally prohibited from selling shares, and Parliament doesn't seem in much of a hurry to change that. A partial sale isn't likely before 2000 at the earliest. Continued state ownership has frustrated such companies as Swiss-Swedish ABB Asea Brown Boveri Ltd., which would also like to see the transportation sector opened up.
Domestic financing to start or expand businesses is almost nonexistent, as are mortgages. To buy their apartment, the Alejev family borrowed from friends. Little money is available to renovate crumbling buildings in Vilnius' Old Town, and Western tourists find few acceptable hotels.
With Lithuanians frustrated by the economic stagnation, Landsbergis' party is heavily favored to win parliamentary elections scheduled for Oct. 20. Brazauskas, whose presidential term has two more years to run, has moved to distance himself from his party. He won points with voters by firing Prime Minister Adolfas Slezevicius, who was accused of using inside information to whisk $35,000 out of the country's two biggest banks just days before they went bankrupt. But with no end in sight for the banking scandal, and with a change of government likely in October, Brazauskas may find it even more difficult to interest foreign investors in his country.
There's an inconspicuous sign on the door of a building near Vilnius' central Gedimino Prospect. It reads: "McDonald's. Here soon."
"Soon" may be a matter of definition. McDonald's Corp. has been promising Lithuanians their first restaurant for several years, but securing a supply of good-quality beef and the right location have bogged down the fast-food giant.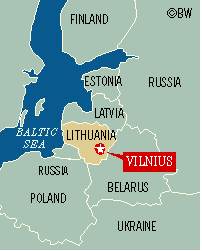 Of the three Baltic republics, Lithuania has attracted the least foreign money. Latvia and especially Estonia have strong ties to Finland and Sweden, which early on began providing aid and investment. But Lithuania has few such backers. The perception is that Lithuania is a "black hole" for business, says Hakan Gergils, president of Ecofin Invest Ltd., a Swedish consulting company.
Brazauskas especially wants infrastructure investment. For instance, the large port of Klaipeda isn't equipped to handle container ships. Coupled with road improvements, including a new Via Baltica to link the Baltics with Poland and the Nordic countries, such a port could make it easier to move goods West--and start to move Lithuania up the ranks of developing nations.