Where Adoption Isn't A Maze
Dave Lindorff
Probably the hardest moment in the whole yearlong process of adopting our son, Jed Solomon Wai-to Lindorff, in Hong Kong, was heading home from the first briefing session by the Social Welfare Dept.'s Adoptions Unit. Expecting to hear the nuts and bolts of the process, we were told bluntly that as non-Chinese residents of the territory, we were unlikely to be offered a healthy newborn. Instead, we could expect an older child or one with "special needs"--in other words, one not wanted by ethnic Chinese couples.
My wife Joyce and I already had a 12-year-old daughter, Ariel. We wanted a second child, and with both of us in our 40s, adoption was the best way. Race was not a concern, but health and age were. So for weeks, we agonized over the application, deciding what "special needs" we would be prepared to deal with. Up to 3 years old? Cleft palate? A parent with mental disorder? We agreed on a child up to 2 1/2 with a correctable medical problem.
The application was long and detailed, and the process included two visits with a social worker, one of them at home with Ariel. We documented income, U.S. citizenship, and education. Approval took six months. Then, in mid-1994, just three months later, we received a phone call telling us a 17-month-old boy was available.
After all the cautions, we were as anxious as any expectant birth parents to know about him--his personality and looks and whether he had any "special needs." These turned out to be infant asthma and an unknown father.
BIG FRIGHT. Joyce, Ariel, and I raced to the Po Leung Kok (Protection & Goodness Bureau), a clean but sterile, well-staffed city-run orphanage. Wai-to, which was Jed's Chinese name, greeted us with a scream of terror. The poor kid couldn't talk yet, and he understood only the Cantonese of his nurses at the orphanage. I could imagine his fright at being taken into a visitors' playroom by three strange-looking people, one of them a big man. (There weren't many men at Po Leung Kok with beards.) But on our daily visits over the next month, including outings to the zoo and on the ferry boat to Kowloon, he got used to us and began to understand, and speak, a few English words. When we brought him home for the six-month supervised period required before an adoption order can be approved, he was calm and happy. Within days, it was hard to imagine life before Jed joined our family. As for the asthma, it vanished.
Western couples who want to adopt hear horror stories about the time and expense involved in finding children in foreign countries. Adopting in mainland China can involve much red tape and even bribes. Despite initial misgivings, we found that our Hong Kong experience, which cost about $400, couldn't have been simpler. The surprising thing is that more people don't do it.
Adoption in Hong Kong is relatively novel for the Chinese. In traditional Chinese culture, children are adopted only within the confines of the extended family. Last year, when we took Jed with us for a four-month stay in Xian, a city in China's interior, no one could figure out our family situation. Few people considered Jed might be adopted. Even in cosmopolitan Hong Kong, we've had to get used to stares. Although more Chinese adopt now, there's a stigma attached.
Hong Kong Chinese families who do adopt are often particular, shunning a child with a birthmark (bad luck), a "squint" to the eyes (unattractive), or unidentified parents. These kids generally go to expat parents in Hong Kong. Harder-to-place children, such as disabled or retarded babies or those conceived through incest, are made available to overseas families.
In the year ended Mar. 31, Hong Kong Adoption Services placed 116 children locally and 11 overseas, up slightly from the year before. Virtually all were born in Hong Kong. The odds of getting a child are good. Last year, 126 local families and 9 overseas families applied, some getting more than one child. At present, there are 132 applications, and 65 families have been approved.
TICKTOCK. Oddly, given the preference of Chinese families for male offspring, the local Chinese want girls. Adopted boys don't carry on the family line--a prime reason traditional Confucian families want boys. Besides, says a social worker, many Chinese say girls are "cuter, easier to raise, and more likely to support and care for their parents in old age." We were told at the outset that if we'd accept a boy, we'd get a child much sooner.
Hong Kong is considering liberalizing its adoption requirements. It may eliminate the preference given to ethnic Chinese families as well as allow single parents and same-sex couples to adopt. "These are issues where Hong Kong is behind the West, and we need to look into them," says Y.C. Cheng, deputy head of the Social Welfare Dept. "We want to eliminate all discriminatory provisions and practices."
Current guidelines specify that parents be under 45 at the time of application, married three or more years, and have lived in Hong Kong for 18 months. (Those conditions can be overlooked if a couple takes a hard-to-place child.) There's also a requirement that the adoptive family live in a "permanent concrete structure." We met all the requirements, although I came close on age. "My biological clock is ticking," I told adoption officials. I turned 46 just four days after Jed's adoption was final.
The adoption process, then, went smoothly. The emotional adjustment was more challenging--and more rewarding. We discovered that after living in an institution for 17 months, Jed had no concept of what a parent is. So, we worked hard to establish a family relationship with him, holding him and playing with him for hours. Although Jed could drink from a glass, we put him back on a bottle and held him while he nursed.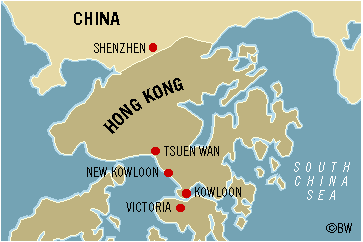 But Jed's recognition of his part in our family came at the zoo, where I'd taken him to see the orangutans. As I held my son in my arms, we watched a female ape hold her newborn baby. She stroked its head gently, while her large, pan-faced mate stood nearby. I pointed to the three orangutans, naming them mama, baby, papa. Jed stared at them intently as the words sank in. Then he patted himself. "Baby," he said. He patted my chest. "Papa!" Tears in my eyes, I put Jed into his stroller and listened proudly as he named each mother, father, and child we passed all the way home.