U.S.: An Appetite For Imports Is Gutting The Good News On Trade
by
Foreign trade was expected to add handsomely to the economy this year. Stronger world growth was supposed to raise exports while import growth slowed because of slacker domestic demand.
Now, trade improvement is not a sure bet. Exports are still set to show more muscle. And increased foreign demand will help the turnaround beginning to bubble up in the manufacturing sector. But imports will grow faster as well, lifted by surprisingly resilient demand in the U.S. and by inventory rebuilding. As a result, foreign trade probably will not add much to this year's growth in real gross domestic product.
Trade will be a focal point at the Group of Seven summit in Lyons, France, on June 27-29. Although the G-7 economies are getting in sync on growth, several members still face weak labor markets. Stronger exports will be critical to the recoveries in Germany and Japan, where growth in domestic demand is expected to return only slowly. In anticipation of Lyons, Canadian and European leaders already have expressed frustration with U.S. trade policies.
The talks are unlikely to yield any major policy results, but the forum should be a preelection bonanza for President Bill Clinton, who gets to brag about his chief selling point, the economy. Although economists tend to give the Federal Reserve more credit for the economy's success than they give the White House, the U.S. nevertheless brings to the summit the best mix of growth, inflation, unemployment, and deficit reduction among the G-7.
THE LATEST EVIDENCE OF STRENGTH comes from U.S. manufacturers. In another sign that the factory sector is gaining momentum, orders for durable goods jumped 3.3% in May, double economists' expectations (chart). Orders so far in the quarter are well above their first-quarter average.
Aircraft orders, which can be volatile from month to month, accounted for the lion's share of the May rise. Excluding transportation, bookings increased only 0.7%, but that was the fifth increase in the past six months. Orders through May have turned up strongly after a weak first-quarter showing.
The Commerce Dept. does not break out foreign and domestic orders, but the May report from the nation's purchasing managers showed a big rebound in export orders, suggesting that foreign demand is an important component in the recent factory strength.
Even so, the U.S. trade balance is looking like less of an asset for future U.S. growth, getting off to a poor start in the second quarter. The deficit of goods and services slipped in April, to $8.6 billion, from $8 billion in March. After adjusting for prices, the April deficit is greater than the first-quarter average.
EXPORTS OF GOODS AND SERVICES rose 1% in April, to $69.9 billion, but imports advanced by a stronger 1.7%, to a record $78.6 billion. Oil imports jumped 31.3% as a $2 per barrel rise in crude prices added to the U.S. energy bill. So far this year, merchandise exports and imports are growing slower than they were a year ago (chart), but both downtrends are set to reverse soon.
Merchandise exports have tapered off across most regions, except for those bound for Japan and Mexico. Of course, stronger Mexican demand is mainly a bounceback from last year's recession, when its imports collapsed. Still, the Mexican economy has picked up faster than some expected. So Mexico's purchases of U.S. goods will strengthen over the rest of the year.
The 12.1% increase in goods exports to Japan can be traced partly to the past weakness of the dollar vs. the yen. But U.S. exporters will get little help from the dollar in coming months, since it has already appreciated 30% against the yen since the spring of 1995. On the plus side, though, Japan's burst of economic activity in the first quarter, when growth surged at an annual rate of 12.7%--a 23-year high--signals that its recovery is firmly in place.
U.S. manufacturers should also get a lift from the European recovery. Europe's upturn is unlikely to be strong, however, mainly because of public spending cuts as governments struggle to meet the Maastricht Treaty criteria for a single-currency Europe. By 1997, public deficits must fall to 3% of GDP.
Nevertheless, Germany is emerging from its recent slump, while Britain is picking up steam, and Spain's outlook is improving. France and Italy are laggards, but a modest upturn in Germany should pull the rest of Europe along, providing support for U.S. exporters.
Prospects for improvement in the U.S. trade deficit would look impressive if exports were the only factor. The problem is that imports could very well take off as well because of the staying power of demand so far this year and some inventory rebuilding this summer.
Inventories have barely kept up with the unexpected gain in sales. The ratio of business inventories to sales fell to 1.38 in April, the lowest ratio in more than a year. As manufacturers and retailers restock shelves, they will increase ordering from foreign producers as well as American manufacturers.
On the positive side, imports should hold down inflation. Import prices in May, excluding petroleum, have fallen 0.8% from a year ago, compared to nonenergy consumer inflation of 2.7%. The recent strengthening of the dollar should continue that trend.
AS LONG AS CONSUMERS keep spending, though, imports will flow in, worsening the trade deficit. For now, shoppers show few signs of a pullback. Despite higher mortgage rates, sales of existing homes, which account for 85% of all single-family-home demand, increased in May, to an annual rate of 4.26 million. That matches a record high hit nearly three years ago.
And despite a drop in June, the level of consumer confidence remains high. The Conference Board's index dipped to 97.6 from 103.5 in May (chart). A sharp drop in consumers' assessments of present conditions accounted for much of the fall. That component fell nine points, to 111.4 in June, but the Board says that's still a "high reading" by historical standards.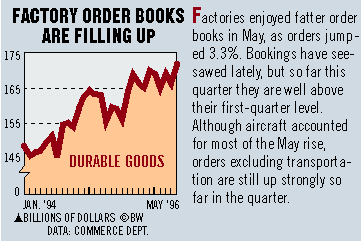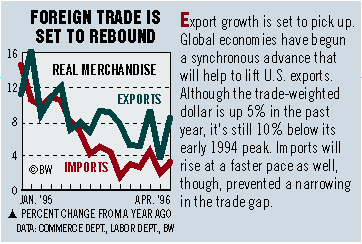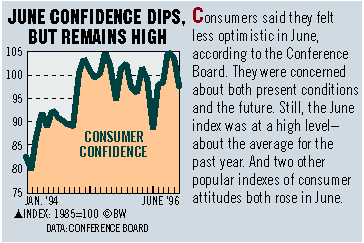 The Conference Board's confidence index remains close to its average during the past year and well above its 1994 level, a year in which consumer spending grew a sturdy 3%. Moreover, while the board's numbers zigged downward in June, the widely followed index of consumer sentiment compiled by the University of Michigan zagged steeply upward in the same month.
The key to this year's contribution from trade will hinge on how strongly import growth picks up. Imports continue to grab an ever-greater share of domestic demand, in large part because of the boom in high-tech investment. Although overall capital spending is slowing down, that sector of capital-goods demand continues to grow strongly. Add in a surprisingly sturdy consumer sector, and import growth seems set to nullify what is shaping up to be a good year for U.S. exports.
Before it's here, it's on the Bloomberg Terminal.
LEARN MORE