Nabisco: `It's Put Up Or Shut Up Time'
Nabisco's CEO scrambles to stop the snackmaker's slide
Lori Bongiorno
After H. John Greeniaus became chief executive of Nabisco Inc., one of his standard management tactics was to pass out report cards to subordinates. At quarterly meetings, he assigned division heads grades ranging from A to F, based on meeting performance targets.
Now, 17 months since parent RJR Nabisco Holdings Corp. sold off 20% of its Nabisco unit to the public, it's Greeniaus' turn to worry about his marks. As runaway costs, price wars, and slowing sales of once-hot SnackWell's cookies eat away at earnings, performance at the $8.3 billion Nabisco has left some investors with a bad taste. With the stock at 33 3/8, shareholder returns since the January, 1995, IPO tally just 36%, well behind the 49% gain of Standard & Poor's 500-stock index for the same period.
So Greeniaus, 51, is cleaning house at the Parsippany (N.J.)-based company he has headed since 1987. On June 24, he announced a major restructuring. Nabisco will cut 4,200 jobs, streamline production, and ax underperforming products. The company will also take a $428 million pretax charge to second quarter earnings. Concedes Greeniaus, a 19-year Nabisco marketing veteran who made headlines by siding with Henry R. Kravis in the 1989 battle for RJR Nabisco: "Our performance is not up to the standards that we traditionally have met."
That's putting it mildly. The IPO came to market amid rosy projections. Fueled by the smash hit of the SnackWell's line of fat-free cookies, 1994 operating income (before amortization) soared 17.2% in 1994, on revenues up 9.5%. Wall Street expected more of the same. But in 1995, income rose just 1.5%, to $1.1 billion, on sales up 8%. "Here is a management team that looks good in presentations," says Robert Sanborn, portfolio manager at Harris Associates LP, which holds 2.2 million shares. "It's put up or shut up time."
Greeniaus places some of the blame on price wars in Nabisco's two largest markets, cookies/crackers and nuts. Rivals Keebler Co. and Fisher Nut Co. went on the block last year, and both lowered prices to up sales, says Goldman, Sachs & Co. analyst Nomi Ghez. Worse, the battle began just as a capital-spending plan peaked. "It was sheer bad timing," Greeniaus says. The two units saw their share of estimated operating profits fall from around 60% in 1994, to roughly 50% last year.
The price wars are over, but Nabisco's problems aren't. Sales of SnackWell's also show signs of weakness. Competitors such as Keebler copied the low-fat format just as Nabisco cut back on SnackWell's promotions. And analysts say consumers realized that fat-free isn't calorie-free. For the year ended Apr. 21, unit sales of SnackWell's cookies dropped 11%, according to Chicago-based market researcher Information Resources Inc. "The whole category is down," says Michael J. Rourke, senior vice-president of marketing and corporate affairs at Great Atlantic & Pacific Tea Company Inc., a customer. "There are so many other products people are picking up."
That's a troubling trend for Nabisco, which has bet so heavily on SnackWell's line extensions that some observers worry about brand dilution. "They put a SnackWell's stamp on anything that stands still long enough," says Al Ries, marketing consultant at Ries & Ries in Great Neck, N.Y. Yet the name alone is no guarantee: While SnackWell's new breakfast bars could hit $300 million in sales this year, pretzels and chips never got off the ground. To reverse crumbling cookie sales, Greeniaus is counting on a new low-cal version, delayed by taste problems but due out by mid-1997. And he argues there's plenty of growth left. "I don't believe we have come close to taking SnackWell's too far," he says.
At the same time, Nabisco has scrambled for non-SnackWell's successes. Last year, Nabisco introduced 77 new products, including low-fat Planters nuts and nonfat Newtons Cobblers. Now, Greeniaus admits Nabisco may have spread itself too thin. "We probably overdid our new-product activity by about 20%," he says. "Anything that looked half decent, we ran with." As part of the restructuring, Nabisco will sell off some brands and trim slow-selling items.
SPECIAL DELIVERY. High costs have been another sticking point. Greeniaus blames "sloppy management" for allowing fixed costs to get out of hand. Jumping on the success of SnackWell's, Nabisco poured $1.36 billion into modernizing plants and expanding capacity over the past three years. But the build-up came onstream just as SnackWell's began to slip. Nabisco has also paid a price for its costly distribution system: Its biscuit unit uses its own trucks and salespeople to deliver directly to retailers' shelves, unlike many rivals. The system offers better customer relations and closer control over what goes into the stores, and Greeniaus has left it in place for now. But distribution could come under greater scrutiny if the restructuring doesn't yield results.
Greeniaus, known as an aggressive, hard-driving manager, is wasting no time shaking up the executive suite. Last December, he named former international chief James J. Postl, known as a cost-cutter, to run the key Biscuit Div. Outsiders have been brought in as chief financial officer and head of international, and buyouts have cut middle-management ranks. "Greeniaus doesn't suffer mediocrity well," says Gary M. Stibel, a principal of New England Consulting Group. "Those that cannot take it won't be there a year from now."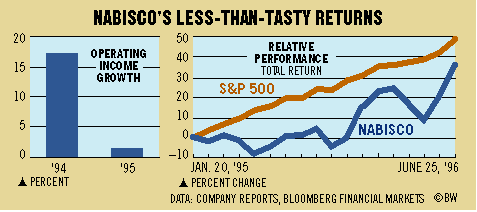 The question is whether Greeniaus' restructuring will make the grade. Investors welcomed the moves but are cautious. "It remains to be seen if the culture has been changed to be more cost-conscious," says Gregory L. Jackson, portfolio manager at Nabisco shareholder Yacktman Asset Management Co.
Greeniaus--who also became chairman in May--denies that the changes are linked to Wall Street pressures for a spin-off. Still, investor Carl C. Icahn continues to push for one, and RJR's board could decide to spin off its remaining 80% stake as early as 1997. So pressure to improve won't go away. "We want any buyer to understand what a jewel it is," says Nell Minow of the Lens Fund, an RJR shareholder. "We don't want a fire sale." With a final report card not too far off, Greeniaus has lots of homework to do.
Before it's here, it's on the Bloomberg Terminal.
LEARN MORE