Lands' End Looks For Terra Firma
The cataloger moves back to basics. Is its strategy solid?
Susan Chandler
It was a blustery December day in tiny Dodgeville, Wis., 18 months ago, and young Michael J. Smith got the kind of break most people only dream about. The 34-year-old had been named CEO of Lands' End Inc., the $1 billion catalog giant, leapfrogging a host of more experienced executives. The previous CEO, William T. End, had just been shown the door by Gary C. Comer, the company's charismatic founder and largest shareholder, for pushing too far, too fast into new ventures. Smith's charge from Comer: Take Lands' End back to its roots--providing high-quality, classic apparel and the best customer service in the business.
UGLY DEBUT. The opportunity was great, but the timing couldn't have been worse. Smith, who had been head of Lands' End's Coming Home specialty catalog, was handed the reins just as Lands' End was heading for the toughest year in the fast-growing company's 33-year history. With little warning last year, paper prices doubled and apparel demand collapsed. A postal-rate increase added to the pain, slashing the company's third-quarter profits by 60%. Embattled on all sides, Smith had to cut back mailings to save money. Lands' End finished the year with profits down 15%, to $30.6 million, on sales of $1 billion. There have been other obstacles as well. With two former CEOs on Lands' End's board, including the founder, Smith has had to fight the perception that he's merely a figurehead. He has also had to cope with the loss of three top executives who left after his appointment.
A lot of CEOs might have panicked after such an ugly debut. But Smith, who joined the cataloger as a market-research analyst in 1983 straight out of the University of Wisconsin, is as unflappable as a Lands' End button-down shirt. Instead of trying to save money by cheapening products or slashing head counts, Smith has done the opposite: spending to improve quality and increase employee benefits. It's a marketing-driven decision: "Our customers will pay for great-quality products" sold by employees who coddle them, Smith says. And why not? The average customer is a college-educated baby boomer with a median household income of $60,000.
Intoning the words of Chairman Comer, who started a catalog for sailing gear in 1963 ("Make it as good as you can. Improve it whenever possible"), Smith went to work refining Lands' End classics, making seams on mesh knit shirts stronger and adding fleece to the pockets of squall jackets. When staffers told him Lands' End's top-selling children's snow boot wasn't really waterproof, Smith booted it from the catalog in early 1995, sticking the company with $500,000 in inventory. And when some customers received defective turtlenecks, Smith sent 200,000 letters of apology and offered free replacements.
Laying off workers would have been the fastest way to boost the cataloger's sagging bottom line. But instead of chopping any of Lands' End's 5,400 jobs, Smith is adding benefits such as adoption assistance and mental-health referrals. Part-time employees already receive full health-care benefits. Why the generosity during tough times? "If people feel squeezed, they won't treat the customer as well," Smith says.
Although it's too early to say if Smith's strategy is working, first-quarter profits more than tripled, to $4.4 million, compared with the year-ago period, thanks to fewer markdowns and higher sales per page from the men's and kids' specialty catalogs. Sales for the period rose 2.3%, to $212 million. David P. Ricci, an analyst at William Blair & Co. in Chicago, has a "buy" on Lands' End stock, even though it's already up more than 85% this year, to just under $24 a share. That's still about 14% below its 1994 high of almost $28. Investors such as Steve M. Wilson, with New York money manager Reich & Tang Asset Management, say they like Smith's quality drive. "They're doing what they're supposed to do--getting back to basics," says Wilson, whose firm owns about 3% of Lands' End stock. Almost 60% of Lands' End shares are controlled by insiders, with Comer, now 68, holding 53%.
PACING PROBLEM. While Smith's quality push may preserve the core business, his critics say it could also doom the company to slow growth and a declining return on investment. In the past five years, Lands' End's growth hasn't come from the core catalog. Instead, it has come from acquisitions, international expansion, and new specialty catalogs. Since 1991, those new ventures have grown to one-third of the company's $1 billion in annual sales. Meanwhile, sales through the main catalog, which is mailed 12 times a year, have been almost flat.
Nevertheless, that's where Smith is focusing. International expansion and further acquisitions? They're on hold. The same for spin-offs, such as catalogs for large women and petites, which retail experts say are a natural.
But by concentrating on the main book, Smith runs the risk of being left behind, especially overseas. The company, which entered Britain in 1991 and Japan in 1994, is only now venturing into Germany despite a successful market test two years ago. Its former head of international sales, William J. O'Neill, resigned a year ago after losing a battle to speed up expansion abroad. "My biggest issue with them is pace. It's been too slow," gripes Dean Ramos, retail analyst with Dain Bosworth in Minneapolis. Meanwhile, competitor Eddie Bauer Inc., a unit of Spiegel Inc., launched its own free-standing German catalog in 1994 and plans to open three Eddie Bauer stores in Germany in the fall. Smith says he's comfortable with the current pace of international growth. "You have to prioritize and make choices," he says.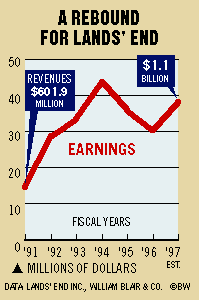 Smith has another battle--convincing people he's really in charge. Both Comer and former CEO Richard C. Anderson sit on the six-person board. Smith's youth and the abrupt departure of William End, an L.L. Bean Inc. veteran recruited by Comer in 1991, left many wondering if Comer and Anderson had decided to call the shots themselves. "Bill End was a more independent executive. Smith is cast in the mold they created," says catalog consultant Maxwell Sroge. Anderson and Comer declined to comment on their roles.
Smith, who wears only Lands' End duds and drives a 1989 Honda Accord despite his $306,000-a-year salary, insists he's in charge. He says he asked Anderson to come in once a month after the 1995 departure of Philip J. Iosca--a respected merchandising executive and Smith's former boss who left to head up kids cataloger Hanna Andersson Corp. Smith has certainly shown he can protect the Lands' End franchise. The question is, can he make it grow again?