Greenspan: The Unlikely Dove
Why Greenspan is resisting an interest-rate hike
Dean Foust
When Federal Reserve Chairman Alan Greenspan was sworn in for his third term on June 25, it was to the dismay of a small band of liberal Democrats in the Senate who had stalled his confirmation for months. Under the inflation-phobic Fed chief, thundered Senator Tom Harkin (D-Iowa), "job growth and the living standards of average Americans have been sacrificed on the altar of high interest rates."
If only Harkin knew what Fed insiders are saying about Greenspan these days. To colleagues on the rate-setting Federal Open Market Committee and Clinton Administration officials, he is not the tight-money hawk populists love to assail. Indeed, compared with other Fed policymakers, he's looking at the moment like--well, an inflation dove, reluctant to boost rates to slow the economy.
In private conversations with Administration officials, private economists, Fed colleagues, and others, the 70-year-old Greenspan expresses confidence that a second-quarter surge in economic activity--which may reach a 4% growth rate--will abate by late summer without Fed tightening. That puts him at odds with several presidents of the 12 regional Federal Reserve banks who are worried that growth will remain strong and spark higher inflation. "Greenspan is at one end of the distribution and the bank presidents are at the other," says one ex-Fed official. "If we get a bad inflation report, they would prod him to raise rates."
"NO URGENCY." Few Wall Street economists are bracing for a rate boost at the FOMC's July 2-3 meeting. But if the growth spurt continues into August, pressure will build on Greenspan to raise rates on Aug. 20, when the FOMC meets next. Still, the Fed chief is likely to resist if he sees no evidence of rising prices. "I sense Alan feels no urgency whatsoever to tighten," says David M. Jones, chief economist for Aubrey G. Lanston & Co., a securities firm.
Why is Greenspan so sanguine about inflation? For one thing, he doesn't believe that a spurt of strong growth and low unemployment are tinder for sparking inflation. He's also counting on the one percentage point jump in long-term rates since the beginning of the year to dampen demand in coming months.
By contrast, the FOMC hawks share growing concerns about tightening labor markets, which are causing spot shortages and bidding wars for a number of workers. Some Fed bank presidents believe that the unemployment rate, which has hovered between 5.4% and 5.6%, is approaching the point at which price pressures should start building. In economic jargon, this is known as NAIRU--the nonaccelerating inflation rate of unemployment.
Since the FOMC's last meeting on May 21, the presidents of the Boston, Richmond, San Francisco, and St. Louis banks have warned that the tight labor markets, combined with continued robust growth, could lead to a run-up in prices. Richmond Bank chief J. Alfred Broaddus Jr. frets that the jobless rate leaves a "lack of headroom," and Federal Reserve Bank of San Francisco President Robert T. Parry warned that inflation risks "may be somewhat on the high side."
But by Greenspan's reading of the tea leaves, the inflation threat remains low. Some of his favorite economic indicators, such as surveys of supplier deliveries, aren't showing the delays or bottlenecks that trigger higher prices. What's more, the Fed chairman is dubious about the predictive powers of NAIRU. Fixating on a single trigger point is risky, he has said, since labor markets are local, not national.
Greenspan is also leery of firing a preemptive strike against wage hikes that is based solely on anecdotal reports of isolated labor shortages. He's mindful that shortage scares have occurred repeatedly over the past 18 months and have yet to trigger a broad rise in wages. But FOMC hawks may be reluctant to wait much longer for fear of falling behind the curve in their inflation battle. "If you're forward-looking, you have to move on anecdotal data," says one regional bank official. "Relying on statistics is looking through a rearview mirror."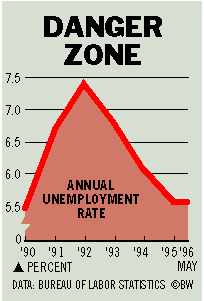 While Greenspan would deny it, some Fed watchers believe the chairman also has a political reason to keep the FOMC on the sidelines: After insisting to his congressional critics that the Fed fights inflation, not growth, he may feel compelled to prove that the central bank believes its own rhetoric. And he's likely to receive support for the status quo from President Clinton's latest appointees to the Fed: Former White House Budget Chief Alice M. Rivlin, the new vice-chair, and Laurence H. Meyer, who had been running his own economics firm in St. Louis. Fed watchers are laying odds that Rivlin and Meyer will be reluctant to kick off their terms by voting to raise interest rates.
But can Chairman Greenspan keep the increasingly restive regional bank presidents at bay? At his swearing-in ceremony, he jokingly thanked the economy for being so compliant in recent years. Now, he has to make sure that his FOMC colleagues will be just as cooperative.
Before it's here, it's on the Bloomberg Terminal.
LEARN MORE