Germany Inches Toward Health
By
Germany's mini-recession, in which real gross domestic product fell in both the fourth and first quarters, is now over. Growth is rebounding in the second quarter, but the recovery in the second half--and into 1997--will be moderate at best as structural problems keep joblessness uncomfortably high.
The harsh winter and its jolt to construction, which was already in a post-unification slump, exaggerated the economy's weakness. In April, milder weather sent construction output roaring back, helping to push industrial production well above its first-quarter level.
But it's not just construction. Manufacturers' orders--domestic and foreign--are strengthening. Business confidence rose in April and May, the first two-month gain since late 1994 (chart). Domestic demand is buoyed by low interest rates and tax cuts for low-income families. Real incomes are rising as wage gains manage to outpace inflation of only 1.2% in June. Auto sales are strong, and retailers' confidence is rising. Foreign demand is responding to the 6% drop in the trade-weighted value of the mark from its all-time high in March, 1995.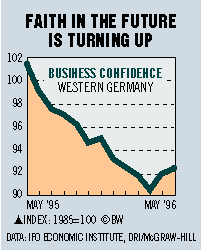 Germany's cyclical and long-term problems, however, will limit growth. In the near term, excessive inventories will remain a drag on manufacturing, though better demand should clear away the excess this summer. Equipment investment has been soft for a year, but the demand pickup, along with the lower mark, interest rates, and labor costs, will help. After its spring rebound, construction will weaken in the second half.
The real obstacles, though, are structural, with joblessness heading the list. Unemployment fell in May, but only in the East, where winter weather was rough. May's 10.3% jobless rate, near a post-World War II high, is unlikely to fall by much this year, given the modest growth outlook. The Bundesbank recently endorsed a government package of tax and spending cuts aimed at deficit reduction, deregulation, increased competitiveness, and, ultimately, lower unemployment, but opposition to the proposals is broad and intense.