Free Market Reforms Are Bearing Fruit
After two tough years, emerging markets are back
John Pearson
For a spectacular corporate leap forward, it would be hard to match the performance of Kimberly-Clark de Mexico. The paper products maker, 46% owned by Dallas-based Kimberly-Clark Corp., jumped from No.132 in 1995 to No.48 this year on BUSINESS WEEK's annual scoreboard of the top 200 emerging-market companies, ranked by market value. Despite Mexico's recession, its share price zoomed 78%, to $18, reflecting the company's success in gaining market share and expected benefits from its planned merger with Scott Paper Co.'s Mexican unit.
On the Pacific's other rim, the Philippines is Asia's rising economic star. Riding its strong growth, earnings of Manila Electric Co., No. 74, rose to $168 million in 1995, up 29% from 1994. Earnings should rise an additional 18% this year, says Nigel Webber, portfolio manager for Crosby Asset Management in Hong Kong. "It's a good proxy for the Philippines economy," says Cristina Lam, a director of portfolio management at Crosby.
NEW DYNAMISM. Both companies show how important free-market reforms are to business performance in emerging markets. In the Philippines, the shift is generating new dynamism in an economy that was long Asia's laggard. And Mexico, sticking to its reform course through the peso crisis, appears to be growing again.
After two years of slogging, many emerging economies are back on track. For companies in the BUSINESS WEEK ranking compiled by Morgan Stanley Capital International Inc., total market value at the end of May rose to $858 billion, up 16.3% from $738 billion 12 months earlier. This year, for the first time, MSCI has provided a broad range of new information for each company including sales, profits, price/earnings ratios, and asset values. Market value is calculated by multiplying the share price times the total number of shares outstanding, including those held by governments.
Again this year, Korean heavyweights dominate the rankings by several basic measures. While Korea Electric Power kept its grip as No.1 in market value, Samsung Electronics led the rankings both in sales, totaling $20.5 billion, and profits, with $3.2 billion. The runner-up in sales was Brazil's state-run oil company Petrobras, but the rest of the top five revenue producers were Korean: Hyundai Motor, Korea Electric, and Pohang Iron & Steel.
In return on equity, Rothmans of Pall Mall (Malaysia), No. 108, swept the field with an astonishing 164%. The highly profitable company paid out a special dividend to stockholders from the huge cash reserves it had piled up. Asia's semiconductor boom placed three companies in the top five--Taiwan Semiconductor, Samsung Electronics, and Taiwan's United Microelectronics--with returns between 42% and 53%.
Apart from companies' individual performances, share prices and market values have been fueled by rising confidence among local and foreign investors. Another measure of emerging-market health, the stock price index of the International Finance Corp. (IFC), climbed 10% this year through mid-June. Big gains included 37% for companies in India, 29% for Taiwan, and 16% for Brazil.
"My theory is that the U.S. market is overpriced and very speculative," says Barton M. Biggs, head of global strategy at Morgan Stanley Asset Management Inc. Mutual-fund investors, he says, "are going to switch at the margin from the U.S., where they're not making any money, into international in general, but particularly into the area where the really high-growth and sexy stories are, which is the emerging market." Michael J. Howell, head of global investment at ING Barings, estimates the influx of foreign money into emerging-market equities will total $50 billion this year, second only to the previous $62 billion peak in 1993 (chart).
CHEAP STOCKS. The underlying force driving the emerging-market rallies, however, is productive gains from market reforms and corporate restructuring. As a result, says Joyce E. Cornell, lead portfolio manager for Scudder, Stevens & Clark Inc.'s Emerging Markets Growth Fund, stocks in many markets are now low-priced compared with their earnings. "You've had the deepening of political and economic reforms, and much higher earnings, at the same price," she says.
Two of the highest fliers are Indonesian cigarette makers Gudang Garam, No.22, up 119%, and H.M. Sampoerna, No.40, up 73%. They are cashing in on rising consumer demand in a country with 190 million people. But uncertainty about the eventual succession to President Haji Mohamed Suharto poses political risks.
Korea's companies have sagged since April because of worries the weakening Japanese yen will hurt Korea's exports and balloon its trade deficit. But a government construction boom is benefitting companies such as Hyundai Engineering & Construction Co.
In Brazil, revenues and stock prices are rising at state-controlled phone companies, including Telebras, No.2, and Telesp, No.11, as rate hikes begin to pave the way toward privatization.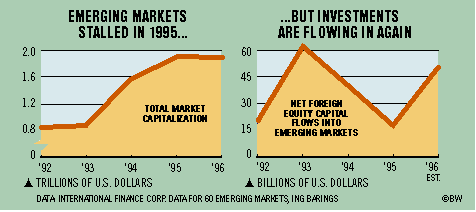 Some of the most dynamic emerging-market companies are in countries new to the market-economy club. In Poland, for example, earnings gains range as high as 100%. Some of the hottest growth sectors are food, pharmaceuticals, and construction.
On June 20, the IFC announced it is adding Russia, Morocco, and Egypt to the 27 markets it tracks with daily indexes, and 14 "frontier" markets, such as Lithuania and Botswana, that it will track with monthly indexes, for a total of 44. "All of a sudden, there's a lot of activity in areas where there hadn't been much," says Robert Shakotko, the IFC's database manager.
Asian and Latin American companies may soon find themselves jostling for position on the scoreboard with upstart companies in these fledgling markets.
Before it's here, it's on the Bloomberg Terminal.
LEARN MORE