Tinseltown: Lights, Camera, Less Action
With costs out of control, Hollywood opts for fewer films
By
Last fall, workers hired by Warner Bros. Inc. spent weeks transforming the facade of a New York City building to resemble CIA headquarters. The building was to be used in a crucial scene in Eraser, the latest Arnold Schwarzenegger action film. But two days after flying in from Los Angeles, the film's crew and stars left without ever shooting a scene. The reason? Last-minute rewrites of the script made the scene unnecessary.
Plagued by this and other instances of poor planning and lax cost-controls, Eraser exceeded its $70 million budget by at least $40 million when it premiered on June 21. Hit or miss, it is yet another big-budget movie in an increasingly crowded field. This year, Hollywood's major studios will release 171 movies--13% more than last year. Next year, there will likely be fewer major-studio releases but far more big-budget ones: Seven will cost an astonishing $130 million apiece to produce and market. Notes one major studio chief: "We look at each other and wonder how we could be so stupid. We spend too much, we produce too many films, and then we cry that this is a lousy business."
The fundamentals of the movie business are shifting, and glum studio executives are realizing that their industry--never high-margin --is getting even tougher. While average per-picture production and marketing costs climbed 42% between 1991 and 1995, to $54 million, revenue growth from foreign and home-video sales has slowed (chart). Operating margins have fallen from 11% in 1990 to 7% this year, says John Suhler, president of media investment firm Veronis, Suhler & Associates. Says Thomas Pollock, former chairman of MCA Inc.'s studio operation: "The smarter people are starting to realize that they can't continue to spend these sums."
SLEDGEHAMMERS. But the industry's ills run deep and will be tough to reverse. In a cluttered marketplace, studio chiefs feel pressured to spend ever more on special effects, big stars, and publicity to differentiate one film from the pack. And the free-spending culture in Hollywood is so entrenched that executives are using sledgehammers rather than scalpels to attack the problem. Instead of managing costs of individual projects more adroitly so that films are delivered at a cost studios can still profit from, many studios instead are just slashing the number of movies they will release.
On June 16, Walt Disney Co., which has the biggest box-office market share in the industry, said it would halve its annual output, to only 20 movies. Paramount Pictures Corp., a unit of Viacom Inc., will release only 15 or 20 films next year, rather than the 25 it had forecast a year ago. Sony Corp.'s Columbia Pictures and Tri-Star studios will release 28 films this year, down from the 35 released in 1993. "There are so many films in the market that if your film doesn't catch immediately, theaters will get rid of it and put in something else," says Sony film chief Mark Canton. Suhler, for one, is not convinced the production cuts will have any lasting effect: "The fact is that, over the long haul, the amounts studios spend to add to their asset base always grow faster than their revenue."
Why is the problem surfacing now, when tales of spending excess go back decades? In the past, much could be masked as new areas such as foreign markets, home video, and pay-TV poured revenue into studio coffers. But that's no longer the case, according to data provided by Veronis, Suhler. New markets aren't materializing for Hollywood products as fast as the industry had anticipated. The home-video market, which provides 26% of studio revenues, is growing half as fast as five years ago. Box-office revenues have climbed only 10% since 1990, and that is largely thanks to ticket-price increases, not any real gain in the number of people going to the movies. Growth in pay-TV sales has slowed as well. Foreign-sales growth is tapering off, and interactive technologies such as video on demand have not yielded any new revenue streams.
Although many studios are dealing with their industry's woes by cutting the volume of movies, there is little, if any, appetite to trim the budgets of films already given a green light. Star actors and directors have assumed so much power that it is nearly impossible for studio executives to exert much fiscal control once a project has been approved. Take The Mirror Has Two Faces, which Barbra Streisand is directing and directing for Canton's TriStar studio. After the production was already under way, Streisand abruptly fired not only star Dudley Moore but many of the production and lighting technicians. Production was halted as Streisand hired a new actor, George Segal, and a new crew.
STAR WORSHIP. The brouhaha helped drive the price tag up 26%, from $35 million to $44 million. Sony acknowledges that there were problems on the set, although a spokesperson says that "you know what you get with a Barbra Streisand film. Sure, there may be the problems of a perfectionist, but you also get a great film." And on the set of The Double, which is being made by former Sony studio chief Peter Guber's production company for Columbia to distribute, star John Travolta quit over creative differences with director Roman Polanski after rehearsals had already begun. Panicked, the producers had to pay Steve Martin $12 million--far more than his going rate--to take Travolta's place.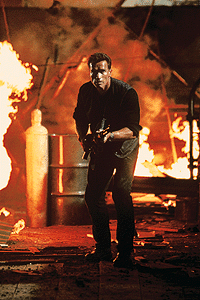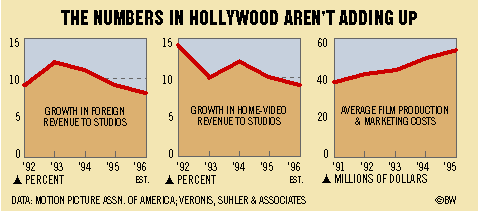 These two episodes illustrate what executives treat as Hollywood's most sacred tenet: Audiences want stars. Sure, they can cut production, rein in overhead, and look for partners to share risk. But in the end, studios feel a big film has to have a big star, and they pay ever-skyrocketing fees to get them. Even though he hasn't had a major hit in years, Sylvester Stallone still commands $20 million a film. If you're green-lighting his next movie--and someone always will--all you can do is cross your fingers and hope the film will somehow defy the economic reality now settling in on the movie business.