The New Hucksterism
Stealth ads creep into a culture saturated with logos and pitches
Mary Kuntz and Joseph Weber
Parents and teachers across the country notice a surge in teenagers sporting electronic beepers this summer. Foot soldiers in a drug cartel? Not quite. Just participants in a PepsiCo Inc. sales promotion. The cut-rate pagers beep weekly messages from sports figures and pop stars flogging soda and other teen-targeted brand-name goods.
TV viewers, used to channel-surfing past the commercials, encounter a strange phenomenon on CBS. On a winter evening, every show during a two-hour period features screen-legend-cum-perfume-vendor Elizabeth Taylor. She wanders in and out of everything from The Nanny to High Society, searching for a missing string of black pearls--and shamelessly flogging her about-to-be-launched perfume of the same name. No actual commercial airs. In each case, Taylor is part of the story line.
Smokers around the country looking for an alternative to Big Tobacco are confronted with an array of brands with funky names from Moonlight Tobacco Co. Hidden in the fine print on the sides of the distinctive packaging is the name of the real corporate parent, RJR Nabisco Inc.
What happened to the days when logos from America's biggest makers meant quality and integrity and were displayed with pride? When an ad was something that ran in 30-second slots on TV or on a page in a magazine? When commercials actually talked about the products they were trying to sell? Meet the New Hucksters: Part P.T. Barnum-style impresario, part MBA-toting tactician, they reflect the zeitgeist of a generation skeptical of any sales pitch and insatiable in its hunger for nonstop entertainment. In this postmodern advertising, sales messages, once clearly labeled, have now been woven subtly into the culture. Stealth pitches are embedded in movies, TV shows, or made into their own tiny entertainments, complete with fictional histories.
These New Age advertisers are redefining the notion of what an ad is and where it runs. Ads and even products are packaged to hide the big-bucks marketing machines that created them and to obliterate the line between advertising and entertainment and--in some cases--advertising and real life. How? Some marketers aim for an ad that looks as much like an expression of the popular will, and as little like a paid sales message, as possible.
Rejecting the familiar "and now for a word from our sponsor" segue, these advertisers salt the content of a TV show, a movie, or even a video game with product mentions--or better yet, have their brands become part of the story. On the Internet, an online soap opera called The Spot builds its plot around the latest advertisers. Other marketers create music-and-celebrity-laced commercials that mimic popular entertainment. That's what Diet Coke did when it got the cast of Friends to pitch the brand--while remaining in character. Perhaps most insidious, ads have migrated from their traditional nesting grounds to invade spaces and institutions once deemed off limits.
Popular culture reflects the pervasive commercialism. TV serials, once oddly devoid of recognizable brands on the set, are now chock-full. The characters on Seinfeld shop at Price Club and chew Junior Mints. Over on prime-time sitcom Ellen, they watch marketer extraordinaire Martha Stewart, in a guest-starring role, sign copies of her real-life cookbook. One of the most talked-about novels of the past season, Infinite Jest: A Novel by David Foster Wallace, envisions a time when years are named for their sponsors; most of the story is set in the Year of the Depend Adult Undergarment.
SNEAK ATTACKS. Advertisers, of course, have always been willing to stretch a point. And the steady volume of complaints at the Federal Trade Commission attests that there's still plenty of old-fashioned misrepresentation going on. But the new deceptions have less to do with puffery than with disguise. And while advertisers have long scouted out new territory ripe for slapping on a logo, now many are more interested in subterfuge than ubiquity.
Why are marketers going to such trouble to hide their sales pitches? It's because the buying public has been virtually buried alive in ads. Consumers are bombarded with hundreds of ads and thousands of billboards, packages, and other logo sightings every day. Old ad venues are packed to the point of impenetrability as more and more sales messages are jammed in. Supermarkets carry 30,000 different packages, each of which acts as a minibillboard, up from 17,500 a decade ago, according to the Food Marketing Institute. Networks air 6,000 commercials a week, up 50% since 1983, according to Pretesting Co., a market research company. Prime-time TV carries more than 10 minutes of paid advertising every hour, roughly a minute more than at the start of the decade. Add in the promos, and almost 15 minutes of every prime-time hour are given over to ads. No wonder viewers zap so many commercials.
To circumvent that clutter, marketers are stamping their messages on everything that stands still. From popcorn bags in movie theaters to airsickness bags on planes to toilet stalls, shopping carts, and gas pumps, few places are innocent of advertising. With total U.S. ad spending up almost 8%, to $162 billion last year, according to McCann-Erickson USA Inc., the new ad permutations aren't replacing the traditional television, magazine, and billboard messages. Rather, advertisers are adding new weapons to their arsenals because the traditional venues are packed full.
Even fresh fruit isn't immune. Quaker Oats' Snapple Beverage Div. slapped ad stickers on kiwis and mangoes this spring. It also bought ad space in bowling alleys on the arms that sweep away toppled pins. Lingerie maker Bamboo Inc. stenciled messages on Manhattan sidewalks two years ago that said: "From here, it looks like you could use some new underwear." Regina Kelley, director of strategic planning at Saatchi & Saatchi Advertising New York, warns that "any space you can take in visually, anything you hear, in the future will be branded, I believe. It's not going to be the Washington Monument. It's going to be the Washington Post Monument." That may not be such a stretch when cities across the continent have mothballed the venerable names that once graced their sports arenas in favor of the brand names of the highest-bidding advertiser, replacing Brendan Byrne Arena and Boston Garden with Continental Airlines Arena and Fleet Center.
Consumers may loathe the nonstop sellathon, but advertisers are only giving us what we want, or at least what we'll tolerate. The least-zapped commercials on TV are the fast-paced, lavishly produced soft drink spots that lean heavily on entertainment and little on product attributes. But the true postmodern advertising goes even further: It tries to morph into the very entertainment it sponsors. To that end, advertisers have taken up the role of filmmaker, gamemaker, and even novelist in a bid to create messages so entertaining, so compelling--and maybe so disguised--that rapt audiences will swallow them whole, oblivious to the sales component.
Guess? Inc. and Benetton Group both publish imitations of cutting-edge 'zines, with their jarring graphics and jumbled typefaces. Benetton's Colors, with a cover price of $4.50, springs from the same aesthetic--and ad budget--as the retailer's controversial high-shock ads. Guess Journal, which has a table of contents, masthead, and bylines, just like a real magazine, features the Guess? brand in most stories. There's either no advertising or nothing but, depending on your point of view.
BEEPER ADS. Knowing that consumers, especially young consumers, have learned to tune out conventional ads, marketers try to infiltrate their favorite entertainment. In Britain, Unilever's Van den Bergh Foods Ltd. is putting the finishing touches on a video game that will star its snack sausage, Peperami. (If you have to know, Peperami does battle with evil snack-food foes Carlos the Carrot and the Terminutter.) "This isn't a one-off cheap promotion," says Peperami Marketing Manager Paul Tidmarsh. "We are trying to produce a top-selling game. It is a new way of reaching our target audience." Van den Bergh is not the first. In 1994, M&M/Mars bought a prominent role for its Snickers bar in Nintendo Co.'s Biker Mice from Mars video game.
Camouflaging a sales message in a teen's natural environment was what Pepsi was trying to do, too, when it came up with its beeper promotion. For $35 and a bunch of Mountain Dew box tops, kids can get a Motorola Inc. pager and six months of free service. The catch? Once a week for six months, they get beeped with an ad. By dialing the toll-free number, they'll hear messages from the likes of Lou Piniella and Ken Griffey Jr. of the Seattle Mariners alerting them to promotional offers and prizes from companies including MTV, Sony Music, and Specialized Mountain Bikes. The promotion has drawn criticism. For some adults, the combination of teens and beepers has only one association: drug dealing, which is why beepers are banned in some schools. Pepsi says the program advocates responsible beeper use. But the controversy isn't all bad for the soft-drink maker. Criticism from grownups could add to the brand's cachet with the young.
Even real life has been co-opted. To help revive Hennessy cognac two years ago, ad agency Kirshenbaum Bond & Partners hired models and actors to sit in trendy clubs and order martinis made with Hennessy. Co-chairman Jonathan Bond, whose company also dreamed up the Snapple Beverage ads, says this "word of mouth" technique was not deceptive, even though the buyers didn't identify their employer. "We were just trying to give people a chance to evaluate it," he says. "People are so cynical that you have to be more inventive just to get considered."
Meanwhile, commercials in conventional formats, such as the 15- and 30-second slots in prime time, work hard to blur the distinction between ad and program. MCI Communications Corp. had such a strong response to its Gramercy Press campaign that it extended it to additional media. The soap opera-like TV commercials centered on a fictional publishing house at which all problems were solved and plots furthered with the help of MCI technology. First, a Gramercy Web site appeared. Then came a real novel purportedly written by the campaign's fictional celebrity author Marcus Belfrey and published by the fictional Gramercy Press. The real author, Barbara Cartland, and real publisher, Random House Inc., were revealed only inside the dust jacket. MCI even commissioned a two-hour pilot script for a TV series based on the story, but found no takers.
SURPRISE ENDING. The Gramercy Press commercials, though long on intrigue, did at least talk about MCI products. Other advertisers have expanded the format and toned down the pitch to produce far more subtle commercials. Guess? jeans' newest spot, which aired alongside previews in movie theaters this spring, was a 90-second black-and-white drama starring Juliette Lewis, Harry Dean Stanton, Traci Lords, and Peter Horton. It had virtually no connection to the sponsor's casual clothing, and only when the triangular Guess? logo flashed at the end did audiences find out they had been watching a commercial. "A lot of companies go for a degree of entertainment," says Guess? President Paul Marciano. "We try to be more entertaining, with a twist of intrigue, mystery." Whether audiences find it intriguing or manipulative, Marciano is committed to the minifilm format and hopes to extend his next effort to four or five minutes.
But marketers who too aggressively blur the line between ad and entertainment risk a backlash. Last month, A&E Television Networks' History Channel was forced to scrap plans for a series of one-hour specials that would profile companies. The highly regarded channel drew heavy criticism for its plan to allow subject companies to sponsor the series, help prepare the segments, cover some of the production costs, and have veto power over the final cut. A similar uproar over at CNBC hasn't quashed plans for Scan, a series that will examine the impact of technology on different cultures. IBM, Scan's sole worldwide sponsor, will own the shows once they air and will sit on an advisory panel, though CNBC says it will retain editorial control. Making things even murkier: Two of the early segments show how priests at the Vatican use computers to digitize ancient religious texts and how commuters in traffic-clogged Bangkok use technology to work as they travel--both subjects of IBM ads in the computer giant's "Solutions for a Small Planet" ad campaign.
Other marketers spin fictions not to disguise their ads but to hide their corporate provenance. The idea is to fake an aura of colorful entrepreneurship as a way to connect with younger consumers who yearn for products that are hand-made, quirky, and authentic. The seeds of the genre were planted in the 1980s when E&J Gallo Winery set up a dummy corporation to avoid using its own name in the ads or on the labels of its new Bartles & Jaymes wine coolers. A campaign revolving around a couple of faux-bumpkin entrepreneurs named Frank and Ed inspired a generation of imitators. "A lot of people seemed to believe they were real, and we never intended that," says Hal P. Riney, head of San Francisco ad agency Hal Riney & Partners Inc., which created the ads.
INSTANT TRADITION. There is a direct line from Gallo's Bartles & Jaymes to Miller Brewing Co.'s Red Dog, which masquerades as a microbrew under the name Plank Road Brewery, and to RJR's Moonlight Tobacco Co. Moonlight markets cigarette brands with such quirky names as Politix, City, and North Star in selected markets. The cigarettes come in packages with eye-catching graphics and only the barest mention of their Big Tobacco parent. "People are looking for more personal products. They are looking for uniqueness, for things that are not the typical, average, familiar, mass-produced product that we've had around for so long," says Riney. "People are responding by creating these sort of fictional histories and fictional traditions."
Sometimes, too, companies adopt a new identity for the same reason people go into the witness protection program: The original ID has become bad news. That's what drove General Motors Corp. to dissociate itself from its innovative offspring, the Saturn. Because Detroit in general has suffered from a reputation for shoddy cars, sleazy dealers, and lousy service, GM set up a Saturn plant in Tennessee and hired Riney to package it as a small-town enterprise, run by folks not terribly unlike Frank and Ed. Whether Saturn customers are buying into better service and cars or buying into Riney's vision of small-town values, their cult-like devotion is the envy of other marketers. Two years ago, 44,000 of them trekked to Tennessee for a "reunion." Last year, Saturn was the nation's fifth-best-selling car.
Knowing that consumers are increasingly cynical about the claims in traditional ads, other advertisers have tried to ignite, appropriate, or imitate grassroots trends and fads. "When you're looking at younger consumers, you can't tell them what's cool," says Ric Militi, head of integrated communications at ad agency Lois/EJL in Los Angeles. "Generally, if it's advertised, it's immediately uncool."
That's why marketers work hard to make promotions look as unplanned as possible. Militi spotted an opportunity last fall when Spelling Entertainment Group Inc., alleging trademark infringement, forced bar owners to stop hosting Melrose Place parties. The parties were springing up spontaneously at bars around the country on Monday nights when the prime-time soap opera aired. Militi quickly bought a license from Spelling on behalf of Hiram Walker & Sons' Kahlua Royale Cream. He followed up each cease-and-desist letter the producer sent to bar owners with a marketing kit for a Spelling-sanctioned Kahlua-sponsored party, complete with life-size cutouts of the cast, Melrose trivia, and plenty of Kahlua knickknacks.
Other advertisers seek out chances for noncommercial commercials on TV and in the movies. Owning a piece of the show is one way to sneak aboard. Anheuser-Busch Co. owns a small stake in Second Noah, a syndicated series. The payoff? Exposure for Busch Gardens Tampa Bay, where the show is shot. Increasingly, networks are happy to cater to advertisers who want a bigger role. Witness Capital Cities/ABC Inc.'s short-lived Dana Carvey Show, which tried selling title sponsorships each week. The ex-Saturday Night Live comic lampooned sponsors' products as part of the night's entertainment. The strategy backfired in Week One, when Pepsi's Taco Bell found it didn't have the stomach for Carvey-style humor, which included calling himself a "whore" for the sponsor. Although Carvey seemed to tone down the gags after the first week, there were only three other sponsors, all Pepsi beverages, before the gimmick was abandoned. The show was canceled in April.
CAMEO HEAVEN. Sometimes, telling the show from the commercial is even harder. Elizabeth Arden Co. didn't pay for Elizabeth Taylor's appearances on four CBS sitcoms earlier this year. But the exposure for the star's new Black Pearls perfume from Arden was a marketing coup. The plot of each show was written around Taylor, playing herself, and her perfume brand. Was this marketing? Entertainment? Who cares? Arden got better exposure than ad-budget money could buy, and CBS's ratings for the heavily hyped evening were way up. "From a marketing standpoint, it was brilliant," says Betsy Frank, executive vice-president of Zenith Media. "It was as seamless as you can get."
While shows have started looking more like commercials, commercials have started looking more like shows. Take the new breed of infomercials, those 30- or 60-minute ads that once were the domain of the purely schlocky. Now, solid-gold marketers from Microsoft to Ford to Eastman Kodak are airing them. Gone are the tacky sets and lousy production values. These slick segments now mimic talk shows or even newscasts. Time Inc.'s infomercial for its Rolling Stone "Sounds of the '80s" music collection even managed to sell time to yet another advertiser. Halfway through the 30-minute pitch, a cartoon character breaks into the program. In essence, the appearance of Paramount Television Group's Duckman is a paid message inside another paid message.
Even Broadway producers are getting into the sponsorship act. When Big, the Musical, opened on Broadway in April, toy seller F.A.O. Schwarz got co-producer billing--and marketing mileage that extends far beyond the credits. The play's sets recreated the Fifth Avenue store for a crucial scene. Meanwhile, the store recreated the sets. Visitors at either location could buy plenty of Schwarz-marketed Big merchandise. "This has not been an attempt to overtly aggrandize F.A.O. Schwarz," says John H. Eyler, president of Schwarz. At least one critic at the Detroit tryout disagreed, lambasting the show for blatantly plugging the toy store. Some of the most adulatory bits were cut before the New York opening, but the producers said the changes had nothing to do with downplaying Schwarz.
As movie screens and other venues become infested with brand-name goods, such glorified product placements may start to lose their punch. "The problem with marketing that doesn't identify itself as marketing is that consumers catch on and it loses its impact," says adman Bond. "It's not in the movie because it's such a cultural icon, but because someone paid for it."
That's why marketers work so hard to make the graft between ad and entertainment as smooth as possible. When it comes to truly smooth melding of the two, no one matches Martha Stewart, queen of the domestic arts, who combines a potent promise that housework can be glamorous with unparalleled media savvy. Her empire, which includes magazines, books, TV shows, and a nascent mail-order business, perfectly merges the Martha editorial message with the Martha marketing message. When Martha shows us how to make puff pastry on television or how to tend lilacs in her magazine, that's information, but it's also an extended look at a living, breathing logo. Stewart so completely embodies her brand that virtually everything she does, whether it's a commercial for American Express Co. or a guest spot on Ellen, brings in new customers for Brand Martha.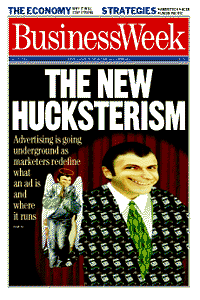 Stewart may be the best indicator of where advertising is headed as it converges with the editorial content on our TV screens, in our magazines, and on our computers. Clearly, Stewart's fans, who are legion, want what she is selling. But what if all entertainment and information came entwined with a brand name and every human encounter were mediated by a commercial sponsor? Advertisers say they only run the commercials that bring in customers. Stop buying, and they'll rethink their campaigns. Maybe.
But in a world weary of the incessant sales pitch, you have to wonder if there's anything that's not for sale. If you find it, enjoy it while it lasts--before somebody decides to sponsor it.