U.S.: Sizzling Job Numbers Won't Spark Inflation
by
Is the labor market about to bust out of its NAIRU jacket? Not the '60s fashion fad, but what economists call the "nonaccelerating inflation rate of unemployment." May's surprisingly strong job numbers raise serious questions about labor shortages, rising wages, future inflation, and especially Federal Reserve policy.
The NAIRU concept is simple enough. There is a point in a growing economy where the jobless rate falls so low that scarce workers can demand big pay raises--bigger than their productivity justifies. The wage pickup then touches off faster inflation. Stay above NAIRU, and wage growth remains tame.
But is it all really that simple? Wall Street thinks so. After the Labor Dept. reported on June 7 that the economy had generated 348,000 new jobs in May--twice what Wall Street expected--stocks and bonds sold off with a fury. By day's end, stocks recovered, but bond prices took a big hit, pushing the 30-year Treasury yield to well above 7%.
The markets fear that a wage-price spiral is in the making, given that May's 5.6% jobless rate is already near--or even below--most estimates of NAIRU. Wall Street believes that the Fed will soon have to hike interest rates to cool off the economy and preempt those pressures. May's job surge suggests that the economy is growing at a rapid clip in the second quarter (chart). An annual rate of 3.5% to 4% cannot be ruled out, sharply faster than the first quarter's 2.3%.
But in today's world, faster growth may not mean faster inflation. Four factors are short-circuiting the wage-price spiral: Higher productivity means unit labor costs are growing more slowly than wages. General economic insecurity prevents workers from pressing employers on pay. The decline of unions further undercuts workers' bargaining clout. And global rivalry is suppressing companies' pricing power.
THESE TRENDS MEAN THAT, while the economy may be hotter than was thought a few months ago, the inflation outlook is still as cool as ever. Trouble is, the markets are not ready to risk making decisions that ignore such traditional concepts as NAIRU. Even at the Fed, NAIRU plays into the thinking of many policymakers, although Chairman Alan Greenspan is known to be skeptical of the idea.
That's why the job-market strength lifts the odds of a new round of Fed tightening--but by no means guarantees it. Chances of a hike at the July 2-3 meeting still seem slim, because policymakers will not know much more about second-half prospects than they do now. The Aug. 20 meeting, however, looms large.
Fed officials fully expect a strong second quarter, but they also look for the economy to slow in the second half, because of higher long rates. The problem: Accelerating job growth suggests that second-quarter strength could spill over into the second half, pushing 1996 growth above the Fed's assumed speed limit of 2% to 2.5%, further tightening the job markets. Signs of continued vigor will push the Fed toward action.
RIGHT NOW, AT LEAST, there is just no justification for a shift in policy. The last time the Fed began to raise interest rates, in early 1994, key data suggested that faster inflation was coming. Commodity prices were on the rise, industrial production was increasing--thus lifting operating rates toward constraint levels. And vendors were taking longer to make deliveries, a sign that demand was outstripping supply.
Today, the inflation landscape looks far different. Commodity prices are declining. Factory output is sluggish. Operating rates are below their year ago levels. And vendor delivery times are faster. Moreover, policymakers have been quick to point out that there are few inflationary imbalances in the economy.
The price indexes show no signs that inflation is turning up (chart). On the contrary, the producer price index for finished goods fell in May--by 0.1%. The core index, which excludes energy and food, was flat. Annual core PPI inflation, at 1.6% in May, has declined a full percentage point since December, and at earlier stages of processing, core rates for both intermediate and crude goods are below zero.
The May consumer price index was equally tame, rising 0.3%, with the core index up only 0.2%. Except for energy, goods inflation is stable, and service inflation, some 57% of the CPI, is trending lower. OPEC's failure to adjust for Iraq's reentry into the oil market will add downward pressure to crude-oil prices later this year.
The Fed has to decide whether inflation will remain as tame as it was in May. The robust job numbers make that decision especially tricky. In addition to May's hiring surge, the Labor Dept. released new figures that incorporated annual benchmark revisions, new seasonal factors, and other adjustments to the data going back to 1988. The revised numbers show that the economy has added an average of 222,000 jobs per month so far in 1996, up from an average 180,000 in 1995.
Job growth remains the hottest in services, where payrolls jumped 313,000 in May. Retail, temporary help, and health care posted big gains. Construction added 28,000 jobs, another sign that higher long rates have not yet slowed homebuilding. Manufacturing jobs rose by 6,000 in May, although 235,000 fewer workers are on factory payrolls than a year ago.
Because of a quirky 549,000 surge in the labor force in May, the jobless rate edged up to 5.6%, from 5.4% in April, a range it has occupied for a year and a half.
ONE SIGN THAT THE ECONOMY is near its NAIRU point is the recent pickup in real wages. Average nonfarm pay rose 3.4% from a year ago, to $11.75 an hour (chart). Real wages are up 0.4%, after subtracting the CPI rate of inflation. Real pay has exceeded its year ago level for 11 months, the longest such stretch since 1983.
Rising paychecks, however, are not helping all households. Some are constrained by existing debts, especially credit cards. April installment debt rose $6.6 billion, on top of the $30.4 billion added in the first quarter. The credit-card delinquency rate swelled from 3.34% in the fourth quarter to 3.53% in the first, a 15-year high. Mortgage delinquencies are also climbing.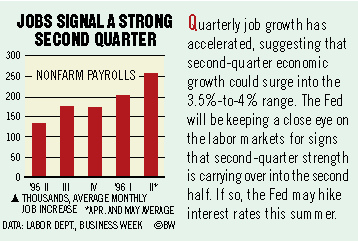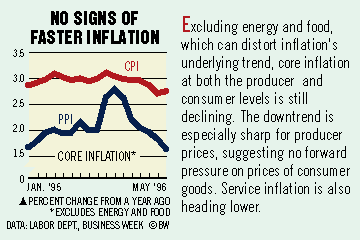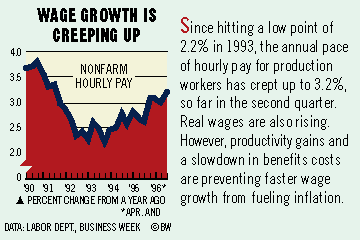 For policymakers, faster growth in real wages is the only cost pressure evident today that was absent in early 1994. Still, productivity is offsetting that trend. Unit labor costs for nonfarm businesses grew at less than the inflation rate in the first quarter, and factory unit costs have been declining for the past two years. Moreover, companies are offsetting pay raises by cutting back on benefits. So total compensation is not growing any faster than it was a year ago.
The most recent CPI, PPI, and job reports show a strong economy with little inflationary threat. According to traditional economics, that's a contradictory mix that would be short-lived. Productivity, however, may be uncoupling the wage-price link that has typically ended in an inflationary spiral. If so, then the most productive action for the Fed this summer may be to do nothing.
Before it's here, it's on the Bloomberg Terminal.
LEARN MORE