Did Whirlpool Spin Too Far Too Fast?
Globalization has earnings down and investors grumbling
Bill Vlasic
The scene in Shanghai would try the patience of most CEOs. A team of American, Italian, and Chinese technicians must work through three translators to set up washing-machine production at Whirlpool Corp.'s new joint-venture plant. Back in his Benton Harbor, Mich., office, Whirlpool Chairman David R. Whitwam tracks the tortuous process with delight. "I find it stimulating," he says.
Since becoming CEO in 1987, Whitwam, 54, has faced many such stimulating situations. His globalization drive has doubled Whirlpool's revenues, to $8.3 billion, and transformed it from a sleepy Rust Belt manufacturer into an aggressive international competitor. "The Whirlpool of today is what it is because of Dave Whitwam," says retired Whirlpool executive James R. Samartini.
Yet the Whirlpool of today may not be Whitwam's ideal. In recent months, the company has faced a world of troubles: weak demand in Europe; high startup costs in Asia; the botched launch of a new refrigerator line; and a challenge at home from General Electric Co. Investors and analysts are beginning to wonder if they're being left out to dry. "I respect [Whirlpool's] strategy," says Laurieann Kloppenburg, associate director of research at Boston-based investment firm Loomis, Sayles & Co., which owns 1.1 million Whirlpool shares, down from 3.3 million last year. "They just missed on the blocking and tackling."
Whitwam admits to execution problems, but he remains committed to globalization. Still, it's an unproven strategy in the appliance business, which must offer a host of customized products to meet regional preferences and wrestle with the logistics of local manufacturing. "Nothing's been attempted like this in the appliance industry," says Merrill Lynch & Co. analyst Jonathan L. Goldfarb. The last player to come close, Maytag Corp., sold its European operations at a loss of $135 million last year to focus on the U.S. and has seen its stock rise some 20% since. "[Europe] was not going to produce the returns we wanted for shareholders," says Maytag spokesman James G. Powell.
Indeed, faced with a maturing home market, Whitwam at first considered diversifying into furniture or garden products before opting for the overseas plunge. He concluded that Whirlpool's technological edge and ability to standardize parts over time would be enough to overcome the challenges. Whitwam made his first move in 1989, with the purchase of a majority stake in the European appliance unit of Dutch company Philips. He completed the nearly $1 billion purchase in 1991. In the past two years, Whitwam has inked five joint ventures in China and India, at a cost of $265 million. Although the expenditures have boosted debt from 32% of capital in 1993 to 43% today, Whitwam says he had no choice: "Timing was essential" to getting good partners.
A strictly North American manufacturer before Whitwam, Whirlpool now makes appliances in 12 countries and sells them in 140; 38% of revenues comes from abroad. The company ranks No.1 in North and Latin America and trails only Electrolux and Bosch-Siemens in Europe. In Asia, Whirlpool's scant 1% share still makes it the largest Western appliance maker.
BAD NEWS. Yet whirlwind growth hasn't led to bigger profits. After hitting $322 million, excluding restructuring charges, in 1994, earnings plunged 37%, to $209 million, last year. The company blamed high startup costs for its $50 million loss in Asia and has promised a profit there next year. But skepticism remains: "It may be three to five very tough years," says analyst Lawrence Horan of Prudential Securities Inc.
The bad news keeps trickling in. Following a poor first quarter, the company announced in early June that currency problems and slow demand in Europe would reduce '96 earnings by about $50 million. Whirlpool's stock trades at just 51 3/8, below its level of three years ago (chart). "Their program seemed to be successful, but they stumbled badly," says Goldfarb, who downgraded the stock in June.
Whirlpool appears to have tripped over more than just the vagaries of new markets. Its Asian operations have been plagued by poor quality in comparison to Japanese rivals. And Whirlpool seems to have made a slow European market worse with a poorly thought-out reorganization of its sales force. The upshot: Its unit shipments declined 2% in Europe in 1995, when the industry grew 1%. And at home, Whirlpool struggled with the launch of a new refrigerator at its Evansville (Ind.) plant. Problems installing new equipment led to several shutdowns of an assembly line last year, costing Whirlpool some $35 million, says Ralph F. Hake, executive vice-president for North American operations.
Meanwhile, competition abounds. In the U.S., where Whirlpool holds an estimated 52% share of the washer market, it's fighting to remain the prime supplier of Kenmore washers and dryers to Sears, Roebuck & Co., which spends some $700 million a year on those products. Sears will decide on a rival bid from GE soon. Sears and GE refused comment.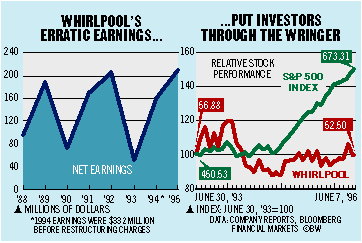 LONG LIST. Whitwam has moved on several fronts to attack Whirlpool's woes--with mixed results. He pared 1,500 jobs in Europe last year and introduced a line of new appliances with many common parts to replace the outdated Philips product lines. Analyst Horan says Whirlpool is now gaining share. To boost margins in North America, Whitwam has ordered a 3% dealer price increase--a risky move when pricing is stagnant. Whirlpool is making a push into cooking products and recently opened a new $100 million gas- and electric-range plant in Tulsa, Okla. To fix the troubles in Evansville, Whitwam moved some production to Mexico--at a cost of 265 jobs.
Clearly, Whitwam has quite a laundry list of things to accomplish before he'll regain investor confidence. Whirlpool's 8% operating margins of a decade ago are now below 5%. By contrast, Maytag posted 1995 margins of 9.4%. Yet Whitwam remains undaunted. He's soft-spoken, but his pale blue eyes bore in on a visitor who questions the strategy. "Without taking risks, we would only be reacting," he says. "That inevitably leads to mediocrity." Now, Whirlpool must make that risk-taking work--or face mediocrity itself.
Before it's here, it's on the Bloomberg Terminal.
LEARN MORE