Britain: Was The Rate Cut Really `Sensible'?
by
It's feel-good time in Britain. Consumers are upbeat and spending, and the outlook is improving. So with elections looming and the Tories far behind Labor in the polls, Chancellor of the Exchequer Kenneth Clarke decided on June 6 that a quarter-point cut in interest rates, to 5.75%--the fourth since December and on the heels of April tax cuts--would keep the good times rolling. Another cut may be in the works.
Clarke called the move "sensible." Most economists said it was unnecessary, and Bank of England Governor Eddie George likely opposed it, having warned in his May inflation report of repeating the policy mistakes of the late 1980s. The latest data support Clarke, though. May producer prices fell, indicating no inflation in the pipeline, and April industrial production dropped.
Manufacturing is clearly sick. Economic malaise on the Continent has hurt exports, adding to a pileup of inventories. The pound's rise since early May will also crimp exports. However, a resurgent consumer sector is helping to whittle down stockpiles and is expected to lead a rebound in domestic demand that will pull industry out of its funk and lift second-half growth.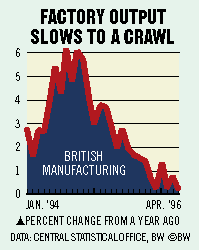 Households are enjoying a pickup in earnings growth, as labor markets firm up. The May jobless rate dipped to a five year-low of 7.7%. Also, taxes have been cut after two years of hikes, and lower interest rates have dropped mortgage rates to a 30-year low. Sales of homes, autos, and other interest-sensitive durables are gaining momentum.
Clarke asserts that the government will meet its 1997 inflation target, excluding mortgages, of 2.5%. In his favor, the economy is growing at a below-trend 2%, and structural changes in recent years may allow faster noninflationary growth. Also, the latest rate cut will offset only part of the inflation-dampening effect of the pound's strength. Whether Clarke is right or wrong, his party's upbeat message is clear. Dotting the landscape are blue and white billboards saying: "Yes it hurt. Yes it worked. Vote Conservative."
Before it's here, it's on the Bloomberg Terminal.
LEARN MORE