An Island Divided...With An Incentive To Become United
John Doxey
The way Andreas Kaisis tells it, over cognac and cigars at a diplomat-filled Nicosia restaurant, Cyprus might not have become the business hub it is today if war hadn't smashed the tiny republic's economy two decades ago. "Most of the major revenue sources were cut off behind enemy lines" after Turkish forces invaded the Mediterranean island's northern third in 1974, says Kaisis, a jovial entrepreneur who fled the north, leaving behind a thriving truck- and bus-building business. The occupation stripped the Greek-speaking Republic of Cyprus of its largest port, much of its richest farmland, and its leading tourism and manufacturing centers. "Fortunately," says Kaisis, whose massive International Merchandising Center exhibition hall is due to open in September, "Cyprus was well positioned to prosper."
The point is hard to argue. Walking this capital's tidy downtown boulevards, lined with trendy boutiques and sleek low-rise office buildings, it's easy to see why Cyprus is sometimes called the "Switzerland of the Middle East." Nine local banks and nearly 70 offshore banks and financial-services firms serve the 600,000 year-round residents. Only the ancient Famagusta Gate district, still damaged from heavy street fighting in 1974, looks poor. But a growing number of artists' studios and galleries are giving even this area a new lease on life.
It's a different story on the other side of town, beyond the U.N.-guarded Green Line that has divided Greek and Turkish Cyprus since 1974. Turkish Nicosia is a tangle of dusty streets and shabby shops. People on this side readily admit that subsidies from Turkey, the only country that recognizes the Turkish Republic of Northern Cyprus (TRNC), have bred lethargy among its 180,000 inhabitants. Agriculture and tourism remain the mainstays of an economy that has grown about 4% on average since 1976, compared with 7.5% on the Greek side. Per capita income was about $4,000 in the north last year. Greek-side residents earned nearly $14,000 on average, up from about $1,500 in 1975.
COOKED UP? By all accounts, the government of Greek Cyprus has played a key role in the republic's transformation, mainly by passing a series of business-friendly tax laws. More than 20,000 offshore companies have registered in Cyprus since 1976, attracted by laws that cap taxes on their net profits at 4.25%. State incentives also helped rebuild the tourism industry, which accounted for about 25% of gross domestic product last year.
Cyprus' boom has been spurred by the fact that that nearly everyone speaks English. But now Russian is coming on strong: Drawn by cultural and Orthodox religious ties, more than 70,000 Russians flocked to Cyprus last year. Their free spending and ownership of more than 3,000 businesses here have triggered concerns that Russian mobsters are using Cyprus to launder dirty money. The Central Bank of Cyprus dismisses the charge, saying tales of Russians carrying suitcases stuffed with dollars have been cooked up by Western media.
Greek Cyprus' flowering has placed it on the short list for European Union membership. It's on track to join, along with Malta, by 2000. But membership could hinge on reunification, many analysts say. If Greek and Turkish Cyprus are still locked in an arms race next year, membership plans are likely to be shelved. "Admitting Greek Cyprus as a member would further impoverish and militarize Turkish Cypriots, possibly with dire consequences," says Philip Robins, a senior fellow at St. Antony's College, Oxford.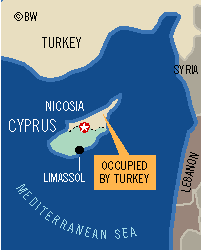 Reunification has also been pushed by Western governments seeking to cool territorial disputes between NATO allies Greece and Turkey. But if a deal is to get done in 1996, hawkish politicians on both sides will have to be silenced. Next year is a better bet, when pressure should peak as EU members meet to discuss accession.
That push might be the best chance for the majority on both sides who want to unite. "There's no doubt in my mind that we can live together," says Ozdemir Ozgur, professor of political science at Greek Nicosia's University of Cyprus. "But time could be running out. Both sides have done an incredible job of brainwashing the young generations to hate each other."
Before it's here, it's on the Bloomberg Terminal.
LEARN MORE