An Enterprising Yankee Thrift
by
Most mornings before work, Dave Carson is out sculling on Black Rock Harbor. "That's when I get the best ideas," says the CEO of People's Bank (PBCT), Connecticut's largest independent regional. Carson isn't your traditional banker. He has an "innovative approach," notes Thomas Monaco of Salomon Brothers, who is high on People's. Some investors have been accumulating shares for the "hidden value" they figure isn't yet reflected in the price.
Carson has made People's a diversified financial-services outfit. It's a thrift that operates like a commercial bank--with branches at certain Stop & Shop supermarkets open seven days a week. It offers discount brokerage services and credit cards. As the 28th-largest U.S. card issuer, it has a $2 billion credit-card portfolio. This April, it started issuing cards in Britain--the first overseas foray by a U.S. thrift.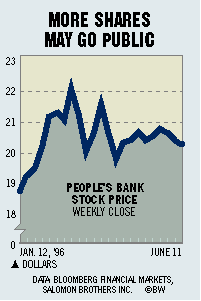 People's "is a sleeper with the best story among the thrifts," says Monaco. Its shares, trading at 20, are worth 25 in the short term and should hit the high 30s in a year or so, he says. The hidden value, Monaco notes, is in the way the company is structured. When it partially converted from a depositor-owned bank to a publicly traded company in 1988, People's Mutual Holdings was left with 77% voting interest. That has since dropped to 61%. If People's turns itself totally into a public company, the stock could be worth 38, he says.
The stock is a buy, Monaco says, whether or not People's does the conversion this year or later. The company says it's content with the present structure.
James Benson, director of research at Ryan Beck, an investment firm in West Orange, N.J., says the shares should be in the 30s. People's earnings have grown rapidly over the past five years, he says, as the bank emerged form the recession that hit New England in the late 1980s and early 1990s. People's is now Connecticut's largest mortgage originator.
Before it's here, it's on the Bloomberg Terminal.
LEARN MORE