Where The Melting Pot Barely Simmers
Nicole Harris
The sign across the front door of David Lee's film processing store in downtown Flushing, N.Y., beckons customers with a simple promise: "Nice One Hour Photo, Nice Gallery." The same message is printed in Korean on an adjacent sign.
Inside the small storefront, the hum of the processing machine fills the room, photo frames in various colors and sizes line the walls, and customers mill about, browsing through oil paintings and poster prints. Every few minutes, the doorbell chimes, signaling a new customer. Or so Lee hopes. "I know it looks busy," he whispers in a strong Korean accent. "But no one's buying. It's too crowded down here, too much competition."
Much has changed since Lee moved his family from Manhattan to Flushing 14 years ago. Then, only a handful of Asian business owners stood inside the aging storefronts. Today, "we're all over the place," he says.
FORMER FARMLAND. To me, and to Flushing old-timers, Main Street is barely recognizable. As a child in the 1970s, I spent long Saturdays glued to my mother's side, winding in and out of the specialty shops along Main. We browsed in Garfield Leather and window-shopped at Stassou's, a furrier. Back then, the shopkeepers were mostly of second-generation Italian, Irish, and German stock.
Flushing was past its prime even then. A mid-1600s Dutch settlement, it became a business hub in the years before and after the First World War as the farms of Queens gave way to rows of tidy homes. In the 1950s and 1960s, however, the children of the original suburbanites moved farther out on Long Island, and Flushing took on the look of other decaying downtowns. Gertz's department store was gone. The RKO Keith, a fanciful 1920s movie palace, was shuttered. Shoppers were sparse. Still, the 10-minute drive from our home in Laurelton, Queens, beat the 45-minute train ride into Manhattan, and so we shopped in Flushing.
Now, a stroll down Main Street is like visiting an international bazaar. The smell of Thai cuisine and the sound of Chinese music charge the air. I pick up a falafel in a Mideast eatery, price seaweed and sesame oil in a Korean market, and thumb through books in a Chinese bookstore--those in English, anyway. Even the banking community reflects the new melting pot: Korea Commercial Bank and China Trust Bank sit only blocks apart. A sign of success: Chains such as Gap and Payless ShoeSource are following the immigrants to Flushing.
RETAIL CENTER. The economic renaissance has turned Main Street and its environs into New York City's fourth-largest retail area. With shops that cater to their own cultures, the new entrepreneurs have created a virtual U.N. in this part of Queens, the most diverse of the five boroughs. Before the new immigrants arrived, though, Flushing was whiter than the Arctic.
The rebirth began when the 1964-65 World's Fair ended. Indian immigrants moved into the fair's employee housing, attracted by the easy subway access to Manhattan. Koreans followed, opening small shops and vegetable stands. Then the Chinese arrived, drawn by the proximity to Manhattan's Chinatown. "We saw the opportunity, and since immigrants like to stay together, everyone brought their families," says Jeffrey Chen, former president of the Flushing Chinese Business Assn.
They brought their money, too. Asian Americans own $45 million worth of Flushing's $180 million in downtown property. Commercial rental rates have increased fourfold in 20 years, to about $40,000 a year for a 1,000-square-foot storefront. But that hasn't deterred 30 banks from opening branches on Main Street to get at the rich deposit base.
Despite the new prosperity, not everyone welcomes the Asians. Democratic Councilwoman Julia Harrison recently apologized after describing the influx as "an invasion, not an assimilation" to a reporter. She said Asian "colonizers" jacked up rents and drove out whites. After criticism from Asian-American business leaders, Mayor Rudolph W. Giuliani, and Governor George Pataki, Harrison insisted her comments were about "the changes and the integration of an entire community."
Yet some of Flushing's white business owners echo Harrison's concerns. Armando Petrucelli, general manager of Petrucelli Depot, a 20-year-old beauty supply outlet, was dismayed when Flushing turned into a "Little Korea," he says. "They will only buy from themselves. So we tried to hire Asian salespeople, but they will only work for their own. Where are we, Fujing?" he says, sarcastically mispronouncing "Flushing."
That lack of assimilation is obvious during my visit. Shop signs are in Korean and Chinese, making it difficult for me to determine what the vendors are hawking. When I approach proprietors for interviews, they decline and walk away. To gain access to the tight-knit community, I need Chen to point me in the direction of his colleagues.
"We never tried to emphasize this as an Asian community. We wanted it to be multicultural," Chen tells me. But he knows that cultural differences create natural barriers. Asian merchants may be considered rude by non-Asian patrons, but that's because many speak little or no English, he says.
Thomas Tai, an insurance salesman who set up shop in downtown Flushing in 1983, has the solution. "The easiest way to get everyone to merge is marriage," he tells me, laughing.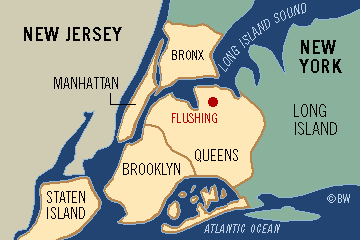 SKYLINE SYMBOL. Interracial wedding bells don't chime much in Flushing. But there is the sound of heated debate as crowded conditions raise concerns about safety and cleanliness. White community leaders want to form a business improvement district employing uniformed workers to clean curbs, empty garbage cans, and patrol parking lots. But the plan is a tough sell, since Asian shop owners fear a tax hike. Sanitation workers alone would cost about $500,000.
That added expense is really an investment, contends John Watts, president of the Coalition for a Planned Flushing. With Flushing's prominent ranking among New York's retail areas, it's time merchants and residents started acting accordingly, he says.
Watts's words resonate in my mind as I pass Flushing Meadows-Corona Park on my way back to my parents' home. I glimpse the Unisphere--the symbol of the long-ago World's Fair. It used to seem out of place. Now, it's a fitting emblem of Flushing.
Before it's here, it's on the Bloomberg Terminal.
LEARN MORE