Time For Fleet To Put Away Its Checkbook
Now, Fleet needs to bring order to its furious expansion
Geoffrey Smith
Depending on who's doing the talking, Terrence Murray is either a growth-crazed megalomaniac or the nation's most brilliant banker. Back in the mid- and late 1980s, the chairman and CEO of Fleet Financial Group Inc., then based in Providence, R.I., watched as hundreds of small banks similar to his own were being bought up or wiped out. By the 1990s, he says, "it appeared there might not be any large, indigenous New England [banks] left." To Murray, a tough, shrewd strategist no matter who's doing the talking, it was a simple question of eat or be eaten.
Murray resolved to eat. He proceeded to orchestrate one of the most brazen acquisition binges the industry has ever seen. By buying a staggering 78 banks (150, if you count banks previously acquired by those 78), he turned a little-known Rhode Island bank into the nation's 11th-largest, with an estimated $90 billion in assets. Fleet is now the largest bank in New England. "There's no bank in America that has the penetration in its indigenous market that we have," he says. In April, he said at a shareholders' meeting: "I'm not saying bigger is better. But big is where it is today."
INDIGESTION. Fleet's rapid growth, while extreme, has produced some downside effects that graphically highlight the perils of the banking industry's dramatic consolidation. In the process of vaulting into the big leagues, Fleet has endured a mammoth case of indigestion, which debilitated many of the bank's operations and depressed its financial performance. Murray readily concedes "problems" as the price of survival. "We've all known there would be disruptions" which "creates some levels of anxiety." But, he adds, "that was all in the game plan." Fleet is now integrating two new acquisitions--Shawmut National Corp., for which Fleet paid $4.5 billion, and NatWest Bank, costing up to $3.6 billion. The deals have doubled Fleet's size and will offer a new test of whether Murray can be as accomplished a day-to-day manager as he is an empire builder.
Perhaps Fleet's most serious shortcoming has been its dealings with customers, who too often have gotten lost in the shuffle. The nadir was an aggressive program two years ago to reduce ballooning costs. It caused such serious difficulties in retail operations that the bank had to create "SWAT teams" to repair them. Customers had to endure such ills as rapid turnover of account officers, processing errors, and ever changing administrative procedures. Some clients took their business to other institutions. "Fleet is in the business of buying banks, not in the banking business," complains Raymond J. Kinley Jr. of Clough Harbour & Associates in Albany, N.Y., a consulting engineering firm that pulled its loan business away from Fleet in 1993.
Fleet also has been dogged by recurrent snafus and scandals. These include widely publicized assertions of discriminating against minorities in its lending and promotion practices and of overcharging mortgage customers. One episode, involving allegations that its consumer-finance unit participated in scams to overcharge second-mortgage borrowers, provoked a lawsuit and a 60 Minutes expose.
Fleet General Counsel William C. Mutterperl agrees that "mistakes were made" at the finance unit, which was recently put on the block. Robert J. Higgins, head of commercial lending, says management had ignored the Atlanta subsidiary before the mistakes began surfacing in 1991. "We thought, they're making money, so if nothing's broke, no need to fix it," he says.
LEVITATION ACT. These bungles, along with steep acquisition-related costs, have helped drag down the bank's financial performance. Its return on equity has lagged behind the Keefe, Bruyette & Woods Inc. bank index every year since 1990 except 1994. Revenue growth has remained anemic, in part because of the poor New England economy. In absorbing acquired banks, management gave short shrift to attracting new customers and developing new products and services. "Fleet has a very high capacity to integrate acquired companies and improve efficiencies," says Keefe Bruyette analyst Thomas F. Theurkauf. "Where the jury is still out is whether or not it can grow or nurture the business."
Murray insists the worst is over. While a handful of analysts remain skeptical, he has promised not to buy any more large banks until at least 1998, giving management time to assimilate the current acquisitions. In recent weeks, Murray has been telling investors that profits should rebound sharply by the end of 1997 to reach $1.4 billion, up from $700 million in 1995. Many analysts have been upgrading their opinions of Fleet's prospects, and as a result, Fleet's stock has been hitting new highs.
Whether the levitation continues will depend on whether Murray can deliver on his promises. The stocky, Harvard-educated banker with blue-collar roots is a career Fleet employee. But he sees himself as a breed apart from the typical gray banker. He is known for his blunt talk. He readily says that he aims for B retail service to customers instead of A service because A service is too expensive.
When Murray took over in 1982, at age 42, Fleet was a small bank focused primarily on middle-market lending, with $4.5 billion in assets. As he acquired more banks, he sought to make Fleet the No.1 or No.2 player either regionally or nationally in a number of large markets, including mortgage lending and consumer banking.
Fleet's biggest break came in 1991 when it bought the failed Bank of New England from the federal government. The huge acquisition catapulted Fleet into big-league banking, making it New England's third-largest bank behind Bank of Boston Corp. and Shawmut. But it also sent costs skyrocketing. In 1993, Murray launched Fleet Focus, a massive cost-cutting and revenue-boosting campaign directed by consultant Chandrika Tanden. Developing it occupied nearly all senior management's time for seven months and brought virtually all new-product development efforts to a halt, Fleet executives say. Some 5,500 jobs were eliminated. "Terry tries to do the right thing," says one senior employee who left last year. But in slashing costs, he "cut into the muscle of the bank," seriously damaging morale.
The cost-cutting has exacerbated the challenge of consolidating a huge array of disparate data systems, bank branch procedures, and corporate cultures. That has produced many angry customers complaining about everything from minor inconveniences to major snafus. Anne M. Slattery, a former Citibank executive who now heads Fleet's retail operations, acknowledges that Fleet had significant operational problems in the branch system. She has data confirming that through part of 1994 and much of last year, the bank dropped well below its industry peers in several major service areas. Slattery says the problems in Fleet's retail operations are now under control. "The important thing is we now have mechanisms in place where we can identify an issue and solve it quickly," she says.
CLOCK WATCHERS. Commercial lending operations have undergone similar turmoil. Some borrowers are still peeved as a result of the credit crunch of the early 1990s, when Fleet, like many banks, shut off credit to some companies under pressure from regulators. Fleet Focus and the mergers also left some corporate customers frustrated by the high turnover among account officers and the lack of convenient products.
The chief executive of a midsize company in New York moved most of its business accounts from Fleet in 1994 after being a customer for more than 30 years. He says his local branch took clocks off the wall because the bank didn't want customers to be reminded how long they had been waiting in line. Then he heard through the grapevine that Fleet was offering smaller, less established companies loans at significantly lower rates than he was getting. Even though Fleet made a competitive offer, he decided to go with a rival lender because "they listened."
Since then, the executive says he has had more troubles with Fleet over his personal accounts. The bank approved a mortgage for him, lost the paperwork, and then didn't honor the original promised rate--and no one could solve his problem, he claims. At the same time another Fleet unit, Fleet Investment Advisors Inc., which administered his company's pension fund, erred on employee statements and couldn't resolve them. "It was a comedy of errors," he says. Whenever he tried to get a problem resolved, he says, Fleet units "all pointed fingers at each other."
ANGRY GEEZERS. Some customer dissatisfaction has been deliberate. Fleet has been trying to get rid of unprofitable customers. A case in point is New Bedford Institute for Savings in New Bedford, Mass., a small thrift that Fleet recently gobbled up. The bank not only closed many branch offices but also dropped the basic savings-account rate to as low as 1%--a rate then competitive with other large commercial banks--instead of the 3% customers had been getting. That angered many of the thrift's older customers. Murray admits that elderly clients of small thrifts swallowed by Fleet have been inconvenienced. "Certain customers get priced out" of the bank, Murray says. Although he says he expected to lose up to 12% of thrift customers, attrition has only been about 5%.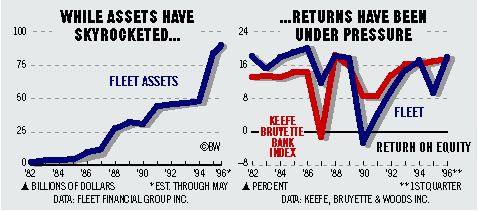 Murray is now looking beyond integration to rebuilding Fleet's sluggish revenues. "We now have 6 million customers," says Murray. "The question is, how can we capture a greater share of their business?" He plans to sell them a broader range of products, from mutual funds to mortgages to personal-computer-based banking and insurance. He points out that 70% of Fleet's customers did not bank with Fleet three to five years ago. Chief Financial Officer Eugene M. McQuade says spending on new-product development is being ratcheted up to $60 million this year and to $100 million in 1997, from less than $25 million in 1994.
Many observers are betting on Murray. Says UBS Securities Inc. analyst Thomas Hanley: "I think a lot of concerns have been way overdone and in a year, when the dust settles, the profitability ratios and the efficiency ratios will be improved and customer retention is going to be fine."
Perhaps. There's no question that Murray has proven his skills as a dealmaker and cost-cutter. Now the real test will be whether his bank can be as popular with its customers and employees as it is with its investment bankers.
Before it's here, it's on the Bloomberg Terminal.
LEARN MORE