The Paper Jam Is Cleared
by
It has been a bumpy ride for investors in Printronix (PTNX), but those who have held on may soon see the payoff. From a low of 14 in December, the stock pushed up to 23 by May 28. "The worst is over, and the company's big turnaround is up and running," says Dan Veru, president of Awad & Associates Asset Management.
The company's effort at reversing several years of losses has been helped by alliances with such biggies as IBM, Hewlett-Packard, and Digital Equipment, for which Printronix makes customized printers. Whispers are that one of these major customers is interested in making a move on Printronix, the leader in medium- and high-speed computer printers for heavy-duty applications--such as bar-code-label printing.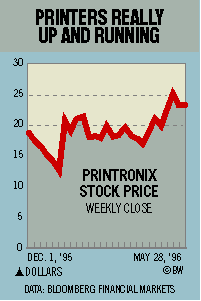 Veru speculates that, with things looking up, Printronix founder and CEO Robert Kleist, 67, may be tempted to sell his 19% stake, paving the way for a buyout. Veru figures the stock is worth 35 a share in a merger. But CFO George Harwood thinks it's unlikely that any of its big customers would buy Printronix. Analyst Nick Padgett of investment firm William Blair looks for Printronix to expand its market share in line-matrix impact printers--from 40% to 60% by 1998.
Hurt by an industry revamp in the late 1980s, earnings bottomed in 1992. The company returned to profitability by 1994, when it formed links with computer makers. For fiscal 1996, which ended on Mar. 31, earnings were $1.23 a share. The company has announced a 3-for-1 stock split effective June 10. On a pre-split basis, Padgett expects earnings of $1.56 in 1997 and $2.20 in 1998.
Before it's here, it's on the Bloomberg Terminal.
LEARN MORE