The New Airline Climbing Fast In Argentina's Skies...
Upstart LAPA puts pressure on clunky Aerolineas Argentinas
Louisa Shepard
When Argentine supermarket executive Gustavo Andres "Andy" Deutsch swapped his Citation jet for his friend's 7,500-acre ranch in 1984, he also got a tiny airline with two propeller planes that was thrown into the deal for good measure. In the last few years, flying enthusiast Deutsch has expanded this minicarrier, Lineas Aereas Privadas Argentinas (LAPA), into a pushy market-grabber with eight jets. Its cut-rate fares are poaching passengers and domestic market share from the country's formerly state-run flag carrier, Aerolineas Argentinas, and its domestic arm, Austral. "What we want to do is dominate the Argentine market," says Deutsch.
He has already captured an impressive chunk. LAPA's low fares and spartan service, inspired by U.S.-based Southwest Airlines Co., have lured new passengers into the skies, forcing Aerolineas and Austral to bring their prices down. Deutsch expects his airline to carry 1.2 million passengers this year--around 20% of the market, up from just 1.6% in 1992 (chart). Revenues are projected to grow to $100 million from $65 million last year. LAPA's fleet is expanding just as fast: In the three years since regulators allowed it to fly jets, it has grown to seven Boeing 737s, a Boeing 757, and two Saab turboprops, with three more 737s on order.
LAPA is a prime example of the upstart airlines in Latin America that are seizing the openings created by deregulation to compete against entrenched carriers, many of them inefficient former state monopolies. "It's happening all over Latin America," says Miami-based airline consultant Robert Booth.
"VERY LEAN." In Chile, four-year-old National Airlines has won 15% of the market by undercutting fares of dominant carriers Ladeco and LANChile and concentrating on underserved routes. In Colombia, three-year-old AeroRepublica expects to grab 20% of the market by yearend, up from 11% in 1995. Says founder Alfonso Avila Velandia: "We are very lean." Spurred by such newcomers, market growth is faster in Latin America than in any region except Asia. Argentina's market, which totaled 4.9 million domestic passengers last year, could double by 2000, Booth says.
Deutsch, a chemical engineering graduate of Massachusetts Institute of Technology, says his strategy is simple: "No gimmicks, just low fares." On the heavily traveled corridor between Buenos Aires and Cordoba, Argentina's second-largest city, LAPA charges $59 one way, compared with regular fares of $148 and $168 offered by Aerolineas' Austral. Although Aerolineas still has 75% of the domestic market, LAPA's inroads have forced it to offer discounts such as a $49 fare to Cordoba. But only a few seats are discounted, while LAPA has just one fare to each destination--every seat, every day.
FARMED OUT. LAPA serves no meals, just coffee, soft drinks--and, surprisingly, champagne. "It's attractive, sounds luxurious, and is not all that expensive," Deutsch explains. To keep costs down, Deutsch has also farmed out many operations: reservations to American Airlines Inc., major aircraft maintenance to Chilean airline LANChile, and a frequent-flier plan to United Airlines Inc.
The cut-rate strategy has powered a fast climb by LAPA in the last three years. Deutsch expected, after his 1984 swap, that Argentina's shift from military rule to civilian government that year would lead to the privatization of Aerolineas and the lifting of a ban on jet flights by other carriers. "That's why I kept [LAPA] alive," Deutsch says. But Argentina didn't sell off Aerolineas until 1990, when it was bought by Spanish carrier Iberia. Regulators didn't allow LAPA to fly jets until 1993 on charter flights and 1994 on scheduled routes. The airline turned its first profit, $1.5 million, in 1994, then lost about as much last year. That was mainly because airport renovations curtailed flights out of Buenos Aires' downtown Jorge Newbery Airport, which LAPA uses. This year, Deutsch expects a modest profit. But by 2000, he aims to fly more passengers than any other Argentine airline, take in $200 million to $300 million in revenues, and earn $15 million to $20 million.
Deutsch, a fit 60-year-old with a salt-and-pepper beard, has deeper pockets than many airline entrepreneurs to ease the pinch of scarce and costly financing, which crimps many Latin American startups. He's chairman and 50% owner of Tia, a family-owned chain of 54 supermarkets, which boasted 1995 sales of $840 million.
Deutsch's father started the business with a partner in Prague, where Deutsch was born, and restarted it in Buenos Aires with the same partner after the family had immigrated to Argentina in 1940. Deutsch has other businesses, including a 65% stake in a textile mill, an airport outside Philadelphia, and a radio station in Uruguay. He is also an accomplished pilot: After attending a six-week qualifying course at Boeing, Deutsch himself flew LAPA's 757 from Seattle to Buenos Aires last fall.
SHOPPED AROUND. LAPA's swift takeoff has been helped by weak competition from Aerolineas, which lost $58 million last year on revenues of $974 million. But the competition could get tougher if Aerolineas is taken over, as it may be, by a stronger international carrier. In March, because of pressure from the European Union on Spain's government to slash airline subsidies, state-owned Iberia transferred a 73.5% stake in Aerolineas to Andes Holding, a partnership of Merrill Lynch, Bankers Trust, and Spanish state holding company Teneo. Iberia continues to manage Aerolineas, but Andes Holding is shopping it in talks with carriers including American Airlines.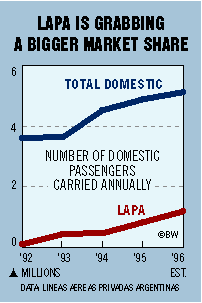 Argentina's latest step in deregulation allows LAPA to fly to neighboring countries. Deutsch plans to start service to Brazil, Chile, and Uruguay. In 2000, Aerolineas' monopoly on other international routes will end. But Deutsch intends to keep mainly to his home market. "I have my own niche in Argentina," he says. "I can have fun with my airplanes and make money, so why should I go far?"
Some Latin newcomers, though, are already looking beyond their own borders. Colombia's AeroRepublica, which currently flies to Cuba and Aruba, plans to start service to Venezuela, Ecuador, Peru, and Chile next year. Deutsch and his counterparts may find, as Latin American skies keep opening, that no niche is safe.
Before it's here, it's on the Bloomberg Terminal.
LEARN MORE