Caught In The Glare Of The Valujet Crash
Airline maintenance contractor SabreTech comes under scrutiny
Nanette Byrnes
May 11 started out like any other day at bustling Miami International Airport, as baggage-laden carts wound their way toward waiting planes. But one thing was out of the ordinary. Among the cargo that made its way to workers readying ValuJet's Flight 592 to Atlanta were a number of outdated canisters containing oxygen generators. The generators, which had been taken off three used airplanes being readied for ValuJet, were labeled with green tags, indicating they had expired. They were also mistakenly labeled by a SabreTech employee as "empty," says a lawyer for SabreTech Inc., one of the airline's maintenance subcontractors.
What role these generators may have played in Flight 592's crash into the Florida Everglades later that day is still unknown. It will likely be months before the National Transportation Safety Board can determine if the presence of the oxygen generators contributed to the fire that ValuJet Airlines Inc. crew members alluded to mn the jet's battered cockpit voice recorder. But the finger-pointing has abruptly thrust little-known SabreTech into the glare of public attention.
A week after the crash, ValuJet released an affidavit signed by the employee it had assigned to oversee the SabreTech work, accusing SabreTech of ignoring repeated requests that it dispose of the canisters as hazardous waste and not ship them back to ValuJet. SabreTech says that on May 11, it was simply returning ValuJet's property and that it was ValuJet's decision to load the canisters onto Flight 592. Meanwhile, the Transportation Dept. has halted all transport of spent canisters on passenger airlines. Business at SabreTech's Miami facility has slowed, and the company has been named in at least one suit by a family of someone who died on Flight 592.
In response, SabreTech has formed two teams to deal with the crisis--one in Miami, which is conducting an internal investigation and is in daily contact with federal investigators, and another at parent company Sabreliner Corp.'s headquarters in St. Louis, to communicate with staff and clients. Says F. Holmes Lamoreux, chairman and CEO of Sabreliner: "We're doing everything we can to cooperate with the [Federal Aviation Administration] and the [National Transportation Safety Board]. We have an outstanding safety record we work hard to maintain."
Even before the ValuJet disaster, SabreTech was battling for market share in the aircraft-maintenance market. For new airlines, outsourcing lets them avoid investing in their own maintenance facilities, and for established players, nonunion outside shops can provide big cost savings. As a result, says The Canaan Group, a Park City (Utah) aviation consultant, total airline maintenance grew 3%, to $21 billion worldwide, in 1995--but the percentage of maintenance performed by third parties grew twice as fast, reaching $7 billion that year.
While most outside companies' safety records are good, adverse publicity about SabreTech is already taking a toll. ValuJet President Lewis Jordan has said he is reviewing the company's use of outside vendors because of public perception. That may also sway government regulators. "The FAA got caught with their pants down," says Robert Lawson, a manager at PemCo Aeroplex Inc., a SabreTech competitor. "They might increase their scrutiny just to pacify the public." The FAA says outsourcing by air carriers is not new and that it has not seen a significant pickup in outsourcing.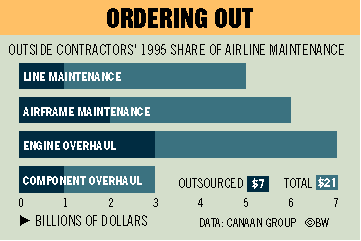 For SabreTech, the impact of the ValuJet crash is still playing out. Lamoreux bought Sabreliner, formerly known as DynAir, just 10 months ago for $12.5 million. Already, the company has contributed to aggregate profits and is expected to have annual revenues this fiscal year of approximately $80 million. Satisfied customers such as Western Pacific Airlines Inc., which uses SabreTech's Phoenix facility as a backup for heavy maintenance, say they have no plans to abandon the company. Neither does Lamoreux. Confident that any defense or judgments against SabreTech stemming from this accident will be covered by its London-based syndicate of insurers, he says he still feels SabreTech was a good investment. But those little canisters could still change that in short order.
Before it's here, it's on the Bloomberg Terminal.
LEARN MORE