Brazil: Reform Is Going Nowhere Fast
by
With the economy slowing, unemployment rising, and local elections looming, Brazil's stop-and-go progress toward fiscal reform hit a full stop on May 22.
In a major defeat for President Fernando Henrique Cardoso, author of the successful real stabilization program, the lower house of Congress killed Cardoso's already watered-down pension reform bill by adding amendments that would have completely stripped the bill of its reformist intent, and Cardoso could not piece together the 60% support needed to override the changes. Essentially, the Congress upheld many of the expensive special privileges that Cardoso wants to eliminate.
In two years, Cardoso's plan has cut inflation from 900% to an expected 15% in 1996, but long-term success depends on putting Brazil's public finances in the black, which requires sweeping changes to the 1988 constitution.
The setback came at a bad time for Cardoso. His high popularity ratings of last year have dropped, as joblessness has jumped to 6.4% in March from 4.4% a year earlier. Growth has been slipping since 1994 (chart), thanks to punishingly high interest rates--27% in May--needed to cool domestic demand, control inflation, and stabilize the currency. First-quarter real gross domestic product fell 2.1% from a year ago.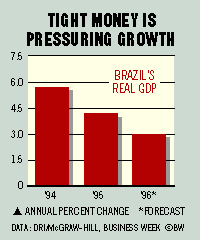 With rates now on a declining trend, the outlook is a bit brighter. Analysts expect growth to pick up in the second half, reaching 2.5% to 3% for 1996. A key factor: The trade deficit will shrink as weak domestic demand limits imports and as the government's gradual currency devaluation strengthens exports.
The pension defeat will not kill the reform effort, but with October's municipal elections likely to stymie progress, time is running out for Cardoso. The policy mix--loose fiscal and tight monetary--cannot go on indefinitely. When the economy picks up, further rate cuts will be difficult. In lieu of reform as a source of fiscal therapy, Cardoso may shift his emphasis to privatization. His targets: electricity distributors, railways, mining, and ports.
Before it's here, it's on the Bloomberg Terminal.
LEARN MORE