Aprilia's Leader Of The Pack
Its stylish Moto' is a champ in Europe. Next target? The U.S.
by
They were fast friends from the start. After French industrial designer Philippe Starck met Italian entrepreneur Ivano Beggio in the 1980s, the pair quickly discovered their mutual passion for motorcycles. Starck owns 14, including several classic Harley-Davidsons, while Beggio has 57, including valuable models from the 1930s. "Philippe and I would spend hours talking about motorcycles," says Beggio. "And then Starck said he wanted to design one."
The result is a European success in a category that has long been dominated by Japan and the U.S. Beggio, owner of top Italian motorcycle maker Aprilia, has turned his friend's dream into reality. Since its launch a year ago, Starck's creation--the 650cc Moto'--has become just about the coolest thing going on Europe's highways. Starck, one of the best-known industrial designers, endowed the Moto' with the same postmodern styling he uses on all his designs, from buildings to furniture. "Harleys, with their macho, harder look, sell the idea of U.S. culture," says Beggio. "We have to sell the idea of European culture."
And selling they are. Aprilia will market 3,600 of the $7,700 Moto's this year, making a splash in the midsize 650cc category. Moto' is only one of 18 hot-selling Aprilia models that combine startling design with top-notch technology. The retro-looking Scarabeo 50cc, designed by an in-house team, quickly became the best-selling motorscooter in Italy after it was introduced in 1993. Aprilia is now the fastest-growing motorbike company in Europe, taking on bigger rivals like Italy's Piaggio, France's Peugeot, and Japan's Honda Motor. This year, Aprilia's sales will approach $500 million, up 400% from 1992 (chart). Beggio may even take his company public at yearend.
Beggio is not just relying on design. His company, based in Noale, 11 miles from Venice, is one of the best examples in Europe of lean, "network" manufacturing. So lean, in fact, that Aprilia doesn't manufacture a single component. Instead, it works closely with some 150 outside suppliers who furnish everything from motors and headlights to spokes and frames. "It means we can be increasingly flexible and reduce costs," says Beggio, who retooled his father's small bicycle company into a motorbike maker in the late 1970s. Resources that might have been plowed into making parts now go for design, marketing, and assembly. The result is operating margins of at least 10%, twice the industry average. Aprilia's offices, with scores of Silicon Graphics workstations, look more like a California software house than a motorbike manufacturer.
CHINA BOUND. Aprilia's recipe is common among the growing midsize companies of northern Italy. Nearby, Nordica has established itself as a world leader in ski boots--yet manufactures almost nothing itself. A cluster of hundreds of supplier companies in the sporting shoe sector allows Nordica to focus on assembly and marketing. "These webs or networks of companies are a main reason why Italy is so strong a player in certain areas," says Roger Abravanel, a senior partner at McKinsey & Co.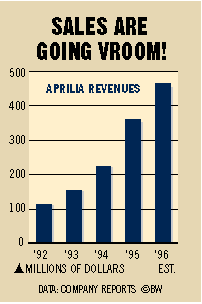 Beggio's next big challenge will be to use this strength to make Aprilia a global player. He's looking for ways to set up assembly operations in China, the fastest-growing two-wheel-vehicle market. And his company already makes a bike that BMW sells under its own label. But he's also about to bet big on the U.S., where he plans to open a marketing arm later this year. To satisfy American tastes for powerful cruisers, Aprilia will start assembling a 1,000cc model in the coming months and is working on a 1,200cc bike as well. It's also planning a more powerful version of the Starck-designed Moto'.
Beggio's models are already known by reputation in the U.S. "There's a big demand for exotic Italian motorcycles over here, and Aprilia has a very good chance of breaking into the market," says Mitch Boehm, editor of the Los Angeles-based magazine Motorcyclist. The Hell's Angels may not be flocking to buy Beggio's European-looking motorbikes. But good design and good performance can find customers in any market.
Before it's here, it's on the Bloomberg Terminal.
LEARN MORE