Andy Stern's Mission Impossible
The new service workers' union head aims to triple its recruits
Aaron Bernstein
Andy Stern should be riding high. In late April, he was elected president of the Service Employees' International Union, the country's fastest-growing union. SEIU's success in recruiting low-wage janitors, nursing home aides, and other, often minority, service workers helped to catapult Stern's predecessor, John J. Sweeney, to the head of the AFL-CIO last fall. Stern can bask in that glory, since he was Sweeney's deputy in charge of organizing new members since 1984.
But the SEIU will stagnate if the 45-year-old Stern simply repeats Sweeney's record. Only half of its stunning expansion comes from signing new members; the rest involves mergers with smaller unions. So the union's percentage of service industry workers is shrinking as employment grows faster than the union does. To increase what Stern calls the union's "market share," which is key to improving bargaining clout and wages, it must bring in three or four times as many recruits as now. If he succeeds, service industries that never have had to face unions will feel the pinch of rising wages and less management flexibility.
IN YOUR FACE. Stern is wasting no time. The day after his election, he unleashed an aggressive campaign against Kaiser Permanente, which is the country's largest health maintenance organization, and Beverly Enterprises Inc. and Vencor Inc., the two largest nursing home chains. The move is part of a grand plan to organize nonunion companies in health care, where nearly half of the union's 1.1 million members now work.
Stern's gambit is a critical test for labor. Other unions are trying to rejuvenate themselves by imitating the growth strategies pioneered by the SEIU in the 1980s. But if labor is ever going to regain clout, unions will have to follow Stern's stepped-up pace. Even Stern, however, faces huge obstacles, particularly the fierce opposition to unions among health-care and other service employers. So far, the union has won few new members in nursing homes, for example, despite a decade of battles. "Stern wants to force companies to capitulate to being organized, but so far, the union campaign has had no impact," says Keith M. Sherman, the West Coast head of labor relations for Vencor's Hillhaven unit.
Stern's background as a hot-headed, bushy-haired young left-winger in the 1960s student-movement era led him to experiment with the in-your-face tactics that first put the SEIU on the map. One effort was the Justice for Janitors campaign, which he helped launch in 1984. The union forged alliances with local church and community groups in large cities to mount campaigns, including mass protests and civil disobedience, against owners of office buildings who subcontracted janitorial work at dirt-cheap wages. Rank-and-filers flocked to the union. "Nonunion workers are ready to join unions," says Stern. "The question is whether unions are ready to reach out to them."
Now Stern wants the whole union to adopt these high-profile methods. While most unions spend less than 4% of their annual budgets on organizing, the SEIU under Sweeney sank a third of its $60 million annual budget into recruitment. But the SEIU's 330 locals devote just 5% of $180 million in yearly spending to organizing. The April convention set a goal for locals of 20% by 1998, which would double total SEIU recruitment funds to nearly $60 million a year.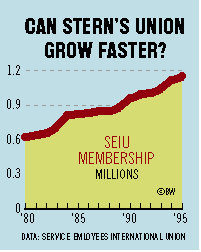 With sums like those, Stern might achieve his aims. The biggest hurdle: Headquarters can't tell locals what to do. Two-thirds of members say their incomes are slipping behind living costs, yet only 41% think the union is effective in helping them, a recent poll found. And fewer than 15% of local officials think they should spend more on recruitment. "We need to make our local leaders see that because of lower-wage competition, they must represent more of their industries to bargain effectively for existing members," says Stern.
One strategy is to coordinate local and headquarters efforts across industries and geographic areas. To keep on top as health-care jobs shift from hospitals to outpatient clinics and nursing homes, Stern wants to capture market share city by city. Once the union has a majority of workers in a city, it can work to raise pay.
Stern's goal of making the country's fastest-growing union expand faster seems impossibly ambitious. But if he can't succeed, few other unions are likely to, either.
Before it's here, it's on the Bloomberg Terminal.
LEARN MORE