A Big Return From H&R Block?
Gene G. Marcial
Rudderless. A void in management leadership. Drifting. Street analysts have applied those words to H&R Block (HRB) since CEO Richard Brown's sudden resignation on May 15. Yet some investors are buying shares--now at 34, down from 45 in November. Why? There's buyout talk.
The smart money is convinced that the departure of Brown (on July 1), hired only last August by Chairman Henry Bloch to revitalize H&R, makes the company vulnerable to a takeover. Brown was in the midst of restructuring when he left to become CEO of Britain's Cable & Wireless. A New York hedge-fund manager thinks a large financial-services company is interested in making a move on H&R, which operates 9,599 tax-preparation offices serving 17 million Americans. "The fit is ideal. This financial-services company could certainly make use of the big roster of taxpayers that H&R services--for special services in credit cards, banking, insurance, or mutual funds," he says.
If the H&R board doesn't move swiftly to replace Brown, "the possibility of a takeover of H&R increases exponentially," says analyst Paul Mackey at Dean Witter Reynolds. He says H&R is worth at least 46 a share--assuming a 22-a-share valuation for its 80% stake in CompuServe--an Internet-access and software company that's the No.2 onlineservice provider. America Online is No.1. H&R spun off 20% of CompuServe in April. Brown had planned to distribute the rest of CompuServe to H&R shareholders in 12 months.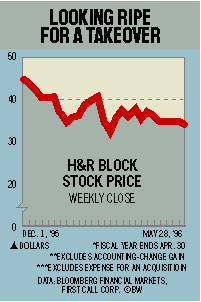 Part of H&R's appeal, says Mackey, is its "pristine" balance sheet since taking CompuServe public: H&R has no long-term debt and was expected to have $250 million in cash following the tax-filing season. This cash position, he adds, will be enhanced by the $200 million that H&R will receive from CompuServe's initial stock offering, which will bring in $4 a share in cash.
Analyst Judith Scott of brokerage firm Robert W. Baird says H&R "could prove an excellent fit, as well as reliable annual cash contributor, for a larger financial company." Insider ownership, including the 5% stake of Henry Bloch, 74, wouldn't be a deterrent to a takeover attempt. H&R spokeswoman Linda McDougall says the search for a new CEO is on and rejects talk that H&R is vulnerable to a takeover.