The Olympics: Not Exactly Fun And Games
One of the toughest events? Product licensing
Katheryn Hayes
For Atlanta-based condiment maker Oak Hill Farms Inc., the hometown staging of the Olympic Games presented a unique opportunity to introduce its sauces, dressings, and preserves to the entire world. But becoming an official sponsor of the games was out of the question for Oak Hill, whose annual revenues are less than a quarter of the $40 million that giants such as Coca-Cola Co. have each laid out for sponsorships. There was, however, an alternative: selling licensed products. Oak Hill has created new laurel-wreathed Olympic labels and changed the name of its hot sauce from "Scorned Woman" to "Eternal Flame." "We've gotten a lot of exposure from it,," says Wade K. Wright, Oak Hill's director of sales and marketing.
For small businesses, selling Olympic-licensed products is an affordable way to strike gold at the Games. For an average fee of 15% of sales--but not less than a sizable, contracted minimum--they can put the Olympic rings and logos on products ranging from T-shirts to hot sauce, from warm-up suits to diamond brooches. In all, 120 companies have paid for rights to sell 1,000 Olympic-licensed products. They include Champion Products, Hanes, and Anheuser-Busch, but most licensees are far smaller, with sales of $5 million to $10 million.While these licenses may generate big sales, it's not easy money. Among the headaches: lots of one-sided negotiating with the Atlanta Committee for the Olympic Games (ACOG) and meeting demanding sales targets required by the contracts.
Take Aerial Photography Services Inc., a maker of pictorial mugs, cards, books, and magnets, based in Charlotte, N.C. Just winning the contract with ACOG took Catherine D. Joseph, CEO of Aerial, four years of proposals, visits, phone calls, and follow-ups. Then, Aerial had to design new products and subject them to ACOG's rigorous approval process, which touches everything from artwork to product quality. It will have to add 10 employees to its 35-member workforce, and boost production and sales enough to meet ACOG's minimum royalty payments. This summer, Aerial will operate around the clock, and Joseph will have to move her family to Atlanta during the Games. The payoff: she expects a 25% revenue jump this year. "It's been some of the hardest work we've ever done in our lives," says Joseph.
ACOG's demands make these deals hard to pull off. To reach its target of $100 million in royalty payments from licensees, ACOG is pushing for high-quality merchandise and has set sales goals not every business can reach. "In order to take advantage of this business, you have to be very prepared," says Robert Hollander, vice-president at Atlanta Centennial Olympic Properties, the marketing arm of the Olympics.
While no licensees expect to lose money, few predict dazzling gains. For one thing, many fear saturation of products such as apparel--five-ringed shirts, shorts, and sweatsuits--that debuted years ago. "To be honest, it hasn't meant anything to our business yet," says Del Whitney, vice-president at WEK Enterprises Inc., a maker of upscale sweatshirts in LaMiranda, Calif. "Retailers are being very cautious about being stuck with Olympic merchandise."
Goods are moving, though. During the 1984 Los Angeles Games, licensing was a marginally profitable sideline to stimulate the regional economy. Now, it's a profit center. Atlanta's licensing already has generated $500 million in retail sales, says Hollander. ACOG projects net royalties of nearly $100 million.
NERVOUS. To make these targets, ACOG has set terms with licensees that leave many nervous about just making minimum royalty payments. Consider Identity Apparel Inc., a New York maker of expensive wool, leather, and denim jackets. The minimum royalty of the company's projected sales of Olympic jackets is, at 15%, higher than what major sports leagues demand. That has boosted the price of the jackets above what they would sell for with other sports logos--dampening sales, Identity believes.
Yet Identity's objective was more than sales. Partners Miki Kagan and Lori Beth Horowitz figured they'd land large wholesale contracts with the 40 big-name Olympic sponsors. They courted all 40, but only three--General Motors, IBM, and Coke--made substantial orders. "I had to fight tooth-and-nail," says Kagan.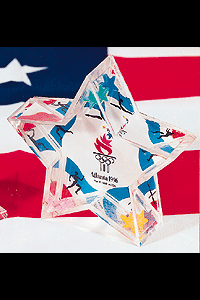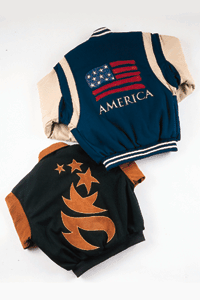 For many licensees, the value of their Olympic connection will be revealed during the 17 days of the games. They are banking on big sales at an Olympics superstore. Oak Hill Farms is one of the companies swallowing the cost of space at the store: $15,000 for the smallest individual shop down to a few thousand dollars for shared space like Oak Hill's.
Such are the marketing imperatives of the Olympics. Retailers are giving space this summer to Olympic merchandise, so some licensees believed they had to sign on or risk losing their place. "We felt if we didn't do it, we might not survive," says Aerial's Joseph.
In the end, the Olympic games present an irresistible opportunity for many small-business owners. But they had better be ready to live by the rule of the athletes: no guts, no glory.
Before it's here, it's on the Bloomberg Terminal.
LEARN MORE