Putting India On The Installment Plan
HDFC rules the mortgage market--and isn't stopping there
Manjeet Kripalani
It used to take a lifetime of savings to accumulate enough cash to buy a house or apartment in India. Not anymore. Just ask Shalini Ganju and his wife, Raju. When they returned to Bombay after a stint in Dubai six years ago, the couple wanted to buy a two-bedroom home of their mwn instead of living with Raju's parents. Even after pooling their savings and borrowing $55,000 from their families, they still came up short. But instead of moving in with mom and dad, the Ganjus applied to the Housing Development Finance Corp. for a $16,700 loan. Within 24 hours, the deal was done. "No red tape, no stalling, no reams of documents," recalls Shalini, 36. "It was impressive."
The Ganjus aren't the only members of India's rising middle class to be impressed by HDFC's snappy service. Since 1977, nearly 1 million consumers have turned to the Bombay-based lender for mortgages. As a result, HDFC now commands $1.8 billion in assets and 55% of India's home-loan market--nearly twice the share of its nearest rival, state-owned LIC Housing Finance. But Chairman Deepak Parekh, a soft-spoken accountant and nephew of the firm's founder who has been with HDFC from its inception, has even more ambitious goals. Parekh wants to turn HDFC into a formidable financial conglomerate--and he is lining up an array of deep-pocketed Western partners including General Electric Co. to help his campaign along.
NEW WAVE. Parekh is now pushing into consumer finance, retail banking, and life insurance. A hands-on manager who helps inspire staff loyalty by traveling to 10 of his 28 branches around the country every month, Parekh is even thinking of rolling out a family of mutual funds. Says Parekh: "Our biggest worry is how to maintain our No.1 position."
The 51-year-old chairman's advances have won him a wide following among such Western investors as Merrill Lynch Asset Management, Fidelity Investments, and Morgan Stanley. Indeed, Morgan has put 7% of its India Magnum Fund's $416 million portfolio in HDFC shares, which now claim a total market capitalization of $1 billion.
HDFC owes much of its success to the startling changes in India's economy in recent years. As an urban middle class has grown, the nuclear family has taken the place of extended family units. This is creating unprecedented demand for housing, especially in cities. Meanwhile, government moves to liberalize the economy since 1991 have unleashed a wave of consumer spending and opened up opportunities for financing retail sales. In both arenas, HDFC fits in neatly. "HDFC has a very well-knit strategy woven around the household," says Ravi Mohan, head of Credit Rating Information Services of India.
The strategy wasn't always so widely appreciated, however. In its early days, HDFC had to overcome the basic distrust of loans by Indians, who historically associated debt with shame. However, Parekh found that younger borrowers, his target market, tend not to share this feeling. Still, even though the Indian mortgage market has grown to some $3 billion a year, Parekh's customers remain conservative. A typical HDFC loan is for 46% of a property's value, compared with 75% in the U.S.
DURABLE MARKET. With the company's successes in home lending, it is no wonder that Parekh has begun branching out. In 1993, Parekh and GE Capital launched Countrywide Consumer Financial Services, providing auto leases and loans for refrigerators, washing machines, and other consumer durables. In its most recent fiscal year, the venture disbursed $114 million worth of credits. Last year, Parekh set up HDFC Bank in partnership with London-based National Westminster Bank PLC. And last October, Parekh went into partnership with Britain's Standard Life Assurance Co. to sell life insurance in Indian cities, a market largely ignored by India's $21 billion, state-dominated insurance industry.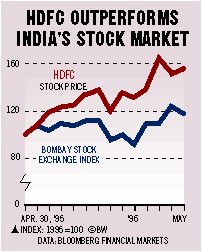 HDFC does face some obstacles in trying to spread the gospel of consumer debt. HDFC's growth could slow in the face of a steep rise in interest rates that began last year. And some analysts feel that competition from more established banks, including Citibank, will limit HDFC's expansion into consumer lending. But Parekh remains confident. He notes that the need for housing and financial services will continue to expand as the middle class grows. A lot of investors, at home and overseas, are betting that it's time for a financial revolution in India--and that Parekh is the one to make it happen.
Before it's here, it's on the Bloomberg Terminal.
LEARN MORE