Playstation
Steven V. Brull
Sony Corp. Art Director Teiyu Goto had been designing best-selling TVs and stereo systems for more than a decade, but his marching orders for the new PlayStation home game system presented technological and marketing hurdles that would fluster most arcade freaks. Somehow, he had to come up with a controller for the game that would allow players to navigate cars, kickboxers, and projectiles through a moving, three-dimensional landscape. Moreover, the controller had to be easy and fun for both children and adults.
Goto spent the early months of 1994 sandpapering dozens of acrylic foam controller prototypes and testing them on focus groups of employees at Sony Computer Entertainment. The response was not encouraging. The adults were uncomfortable, unsure how to hold it. Refinements continued. Goto tested a prototype on a group of children age 10 to 15. "They just took to it, holding it in various ways," he says. "We finally had confidence in our design."
The final product has a novel keypad with a grip on each side with buttons on both the top and far front side. The grip allows it to be grasped between the thumb and the index finger, leaving both digits free to press buttons. The trick was making the grip light and small enough for young children to get their fingers around, yet not too small for adults to hold comfortably. The grip's smooth texture helps because hands can more easily find a natural position.
While the PlayStation controller looks like part of a game, the compact, rectangular box that holds the brains of the system has the lines of a spare, modern, high-end computer. This design concept was dictated by price. At $299--recently cut to $199--it is far too expensive for a mere toy. Sony also wanted to stress the computational horsepower of the PlayStation, which uses a microprocessor that the company claims has the number-crunching speed of a circa-1988 IBM mainframe that sold for $15 million.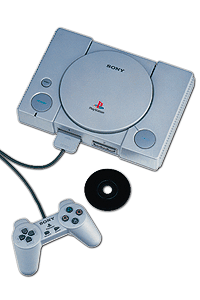 The PlayStation's smooth, purplish-gray box uses a simple circle-and-square motif. It is dominated by an oversized circular lid that opens for inserting CD-ROM game software. Smaller circles are used for the power, reset, and open-lid buttons, all of which can be reached easily from any angle.
PlayStation has been a commercial smash, selling 5 million units worldwide since its release in Japan in December, 1994. "PlayStation is a major milestone in the field," says Industrial Design Society of America judge Tom Mason of Fisher-Price Inc. "Sony is so good at simplifying through design and getting to the elemental functions of a product." As technology grows more complex, Sony's design abilities will become even more important.
Before it's here, it's on the Bloomberg Terminal.
LEARN MORE