Opec's Joyride Was Great While It Lasted
Iraqi oil-and cartel ire at quota busters-could slam prices
by
The Iraqi capital erupted with gunfire on May 20. But it wasn't a renewed outbreak of fighting or the quelling of a coup d'etat. Baghdad residents were shooting thousands of rounds of ammunition into the air to celebrate the deal reached with the U.N. to permit the first sales of Iraqi oil since 1990.
Halfway across the planet, U.S. consumers paying high prices to fill the tanks of their sport-utility vehicles and station wagons had reason to celebrate, too: The Iraq accord is one of the latest signals that OPEC's joyride of firm oil prices could be grinding to a halt. The cartel's efforts to keep production within carefully defined quotas have been badly disrupted by widespread cheating among OPEC members. Rather than curtailing production to make room for extra Iraqi oil, OPEC members are now actually gearing up to grab as much market share as they can. Oil prices "will drop off a cliff" when Iraqi oil comes on line later this year, says Ken Miller, a senior principal at oil consultants Purvin & Gertz Inc. in Houston. That may mean $2 to $5 off the recent price of around $20 a barrel--which could translate to 4 cents to 8 cents a gallon at the pump.
CRUISING SPEED. Since the Gulf War, OPEC and the world oil industry have been cruising on 12 cylinders. Oil prices have been buoyant thanks to increased demand and to U.N. sanctions that have kept Iraqi oil off world markets. Throw in the past winter's bitterly cold weather and a new trend among U.S. refiners to keep inventories low, and the average price for crude is 20% higher than a year ago.
It even looked as if OPEC's party would continue. The startup of Iraqi exports won't drastically alter the supply-demand balance: The 700,000 to 800,000 barrels a day that Baghdad will be allowed to sell under strict U.N. controls is just one-quarter of prewar levels. And until recently, big Arab producers Saudi Arabia, Kuwait, and the United Arab Emirates were indicating readiness to lower quotas to make room for Iraqi oil. But when OPEC's 12 oil ministers meet in Vienna on June 5 to decide production quotas for the rest of the year, they will be in no mood for accommodation.
Gulf producers are increasingly impatient with OPEC members such as Nigeria and Venezuela, which have been flagrantly cheating on production quotas (table). Cash-strapped Venezuela is exceeding its 2.4 million-barrel-a-day quota by about 600,000 barrels. And by 2005, Caracas intends to nearly double its output. With lower production costs and bigger reserves, the Saudis and Kuwaitis are betting that they can outmaneuver the likes of the Venezuelans by turning on the spigots. "The gulf countries really need to chill their exuberance," or they are going to find themselves awash in oil, says Philip K. Verleger Jr., vice-president of economic consulting firm Charles River Associates Inc. In early May, Saudi Deputy Oil Minister Prince Abdulaziz bin Salman said Riyadh was looking to increase production by 5%, to 8.4 million barrels a day.
If there is a production free-for-all, the results could be dramatic. Just how dramatic depends in part on when Iraqi oil starts flowing. A plan for distributing Iraq's humanitarian aid to be bought with the proceeds still has to be worked out. If it is delayed until September, when oil companies begin to restock for winter, the impact would be lessened. But if, as many expect, agreement comes sooner and oil starts to flow as early as July, when energy demand is at a yearly low, "there will be a catastrophic fall--to $15 a barrel or lower," says Julian Lee, senior economist at London's Center for Global Energy Studies.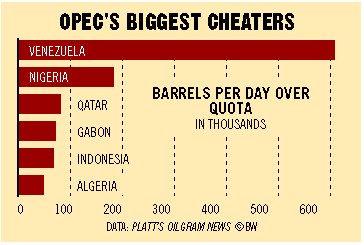 OPEC, which supplies more than one out of three barrels of oil on earth, is running up against other problems, too. Competition from producers outside the cartel is growing at a surprisingly strong rate. Thanks to new discoveries, North Sea production--expected to have declined by now--is at record levels. New supplies from countries like Colombia, Angola, and Egypt have cut OPEC's share of the world's oil market from a 55% peak in 1974 to around 40% today.
In the long run, studies by DRI/McGraw-Hill's Global Energy Group and the Gas Research Institute predict that while demand will continue to increase, oil prices will stay flat or even fall. The reason: new discoveries and new oil extraction technologies. "There's a lot of oil out there," says DRI's Joyce Yanchar. For consumers, that means the celebration could be just beginning.
Before it's here, it's on the Bloomberg Terminal.
LEARN MORE