Olivetti's Brain Gear Pencil Sharpener
Designer: Staubitz Design
Resa King
If J. Todd Althoff has his way, no properly equipped kid will go back to school next fall without a battery-operated Brain Gear pencil sharpener. Althoff's company, the Royal Consumer Products Div. of Olivetti Office USA in Bridgewater, N.J., is one of a growing number of companies that are applying to inexpensive consumer products the kind of good design that once went exclusively into high-end goods usually made in Europe.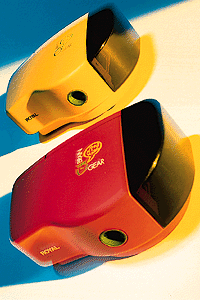 "We wanted an affordable, fun, kids' pencil sharpener that is easy to use," explains Althoff, who is Royal's vice-president for marketing and product development. At $9.95, it is $2 less than a Panasonic entry in the Staples Inc. catalog. "The simplicity really drew our attention," explains juror Eric P. Chan, president of Ecco Design Inc. in New York. Fashioned by Staubitz Design Associates in Collinsville, Conn., the sharpener is designed to appeal to youngsters. Staubitz chose bright colors and a bright-green pencil entry hole. The unit's heavy-duty helical cutter puts a quality point on the pencil. It's so cool, even adults might want one.
Before it's here, it's on the Bloomberg Terminal.
LEARN MORE