Nellcor May Soon Breathe Easier
By
On Apr. 16, Nellcor Puritan Bennett (NELL) announced the kind of earnings gain most companies would be proud of: Profits in the quarter ending Mar. 31 had climbed 68%, to $19.2 million, or 65 cents a share. Nice, right? "Wrong!" was the emphatic verdict on Wall Street, where analysts had been predicting 74 cents. On that awful day, shares in the Pleasanton (Calif.) medical-supplies maker plunged 21%, from 64 to 50 1/2. Nellcor's NASDAQ-traded stock has not yet recovered from the battering.
One leading money manager, an expert in scoping out fast-growing companies, is betting that Nellcor is ripe for a turnaround. Kopp Investment Advisors, which started buying Nellcor well before the April fiasco, is now accumulating more stock. Kopp thinks that the company's prospects remain sound and that the Street--as it often does--overreacted to the far-from-horrific news. "They've done an excellent job of recognizing changes in the health-care business and are very aggressive at going out and getting national contracts," says Steve Crowley, a senior portfolio manager at Kopp.
Nellcor makes the sort of respiratory, diagnostic, and monitoring gear used in hospital emergency rooms. Devices that measure blood gasses are a major product line, as are home-care products and devices to treat sleep apnea. Last year, the company, then known as Nellcor, consolidated its position in respirators by acquiring Puritan-Bennett, another leading light in the field of medical devices.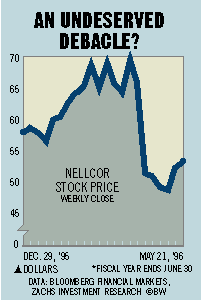 The problem was that Nellcor management was perhaps too aggressive in merging the home-care sales operations of the two companies. Nellcor jettisoned its network of outside distributors in the process, and it took longer than expected to get the sales operations back on track. But Crowley feels that the Street is ignoring the company's still-dominant and growing position in its niches. "It's a really nice franchise, and I think you're going to see growth accelerating in the years ahead," he says.
Despite the stock debacle, analysts expect earnings to climb to $2.60 a share in the fiscal year ending June 30, 1996, with $3.24 the average guess for 1997. At its recent price of 53 1/4, Nellcor's price-earning ratio is a modest 20.5, based on 1996 earnings, and 16.6, using the 1997 estimate. Crowley thinks Nellcor stock has an excellent chance of hitting 70 or so in the next nine months.
Before it's here, it's on the Bloomberg Terminal.
LEARN MORE