Mexico: Not Fiesta Time Yet
by
Mexico's recovery advances. But growth will be slow and narrowly focused.
First-quarter real gross domestic product fell 1% from a year ago (chart), which was less than the expected drop of 2% or more. Seasonally adjusted GDP grew at a 2% annual rate over the fourth quarter. The stock market rose on the news even though domestic demand was weak, as it has been ever since the December, 1994, peso devaluation and subsequent recession. For 1996, the government expects GDP growth of 3%.
Given how poorly consumers ended last quarter, the outlook for their spending is not promising. Retail sales fell in each of the 14 months through March. And the April jobless rate was 5.9%, little changed from March's 6%. To help, the government announced on May 16 a mortgage relief plan of 27 billion pesos ($3.6 billion) for debt-laden homeowners.
Inflation, meanwhile, continues to hammer Mexicans' buying power. Consumer prices rose at a monthly rate of 2.84% in April, or 36.9% from a year earlier. For 1996, the government has set an inflation target of 20.5%--a goal some private economists call too ambitious. However, yearly inflation has fallen from a 52% rate in December, so interest rates have begun drifting lower.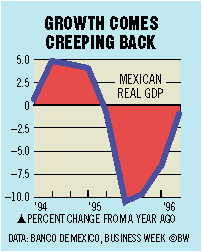 For 1996, exports will remain strong. In the first four months, exports rose 20.3% from a year ago, led by gains in goods made at non-maquiladora companies. As a result, industrial production has risen a strong 4.1% over the year ended in February. And the trade surplus so far in 1996 has improved to $2.58 billion, from $1.55 billion a year ago.
The peso has risen recently, to about 7.4 to the dollar. But if it continues to strengthen, the peso will soon be overvalued. So the Bank of Mexico and the Finance Ministry are trying to come up with a solution. Further devaluation would keep exports rising but could limit foreign investment. And without those inflows, interest rates cannot fall low enough to give a much-needed boost to Mexico's domestic demand.
Before it's here, it's on the Bloomberg Terminal.
LEARN MORE