Macho Rotary Hammer
Designer: Black & Decker Corp.
Roy Furchgott
Black & Decker Corp.'s Macho Rotary Hammer can punch holes in stone, brick, and concrete. But the company's real aim for the 13.9 pound jackhammer-drill is to carve an opening for B&D in Europe's $1.7 billion industrial and professional tool market.
Now available worldwide, the $1,200 tool was designed by a Black & Decker team based in Idstein, Germany. B&D is betting that the powerful hammer will position its Elu line of industrial and professional tools against Bosch, AEG, Metabo, and Hilti. Elu is known mainly for its precision routers and planers.
Black & Decker's chief designer on the project, Germany's Michael Stirm, and collaborator Donald W. Zurwelle at the company's U.S. design center located in Towson, Md., faced conflicting demands in fashioning the Macho. Job-site research showed construction workers wanted a hammer that was light, vibrated less, and ran cooler--yet drilled faster and was more durable. "Until recently, hammers with a faster drilling rate were harder on the operator," says Zurwelle.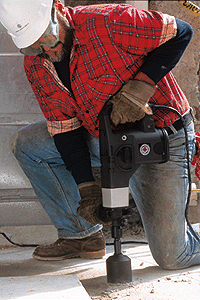 At first, the designers couldn't seem to get the weight down. A year and a half into the project, Black & Decker moved to a lightweight carbon-fiber crank-and-drive mechanism and metal housings constructed of magnesium. The result: The B&D hammer weighs about two pounds less than competitors'. To make it still more user-friendly, the designers borrowed from Black & Decker's winning DeWalt line of professional tools in the U.S. to give the Macho soft, ovalized rubber grips.
After nearly five years in development, the hammer was released in Europe in late 1994. First-year unit sales topped 75,000, more than twice what the company had expected. The hammer, which Black & Decker began marketing in the U.S. in November, 1995, as part of its B&D Industry & Construction line, has been a quick gainer at home, too. Demand for a time was so brisk that European and American staffers vied for scarce inventory. With production ramped up, would-be buyers no longer have to prove their machismo fighting over the Macho. Using it will do.
Before it's here, it's on the Bloomberg Terminal.
LEARN MORE