Jangled Nerves In Mexico's Jungle
Geri Smith
We've been driving for five hours over rutted dirt roads that wind sharply through the mountainous Lacandon rain forest in Mexico's southernmost state of Chiapas. Our goal: to reach the jungle outpost of the Zapatista guerrillas before nightfall. We've been delayed by a flat tire, and, as rain begins to fall, heralding the rainy season, a fender of our intrepid VW Beetle falls off. Using a camera strap and a pink bandanna, we tie it back on and are on our way.
At dusk, we reach our destination, a hamlet with the surreal name of La Realidad--reality. This is where the Zapatistas--short for the Zapatista Army of National Liberation--retreated 16 months ago after President Ernesto Zedillo Ponce de Leon ordered a short-lived crackdown on them. Since then, both sides have been engaged in peace talks. But the talks are threatened because a Mexican journalist who served as a courier between the Zapatistas and the government was accused of terrorism, conspiracy, and rebellion and sentenced to 13 years in jail. We're here to get the guerrilla leaders' response.
NO DIALOGUE. Swatting mosquitoes, we wait. Curious residents mill around us, including a toddler, Clinton, whose parents heard the name on the radio. After five hours, we're led by flashlight across a stream to a pitch-black clearing where we're greeted by the notorious Zapatista leader known as Subcommander Marcos. The charismatic intellectual came to the Lacandon 10 years ago to organize the region's oppressed Mayan Indians.
Normally, Marcos answers questions and jokes with reporters. But tonight, he puffs nervously on his ever-present pipe, only his eyes and mouth visible from behind a woolen mask, as he reads a terse communique. The Zapatista command has held an emergency meeting on whether to break off peace talks with the government, he says. The harsh sentence given the journalist and the description of him as a "terrorist" were tantamount to a declaration of war. Refusing to answer questions, Marcos turns on his heel and walks to where his horse waits in the darkness. So much for two weeks of faxes and calls to go-betweens, as well as the bone-jarring drive, to get the interview.
Two and a half years after they burst onto the scene with a New Year's Day, 1994, takeover of San Cristobal de las Casas and three other Chiapas towns, the Zapatistas have become an important part of Mexico's political scene. The ragtag army, estimated at just 1,500 ill-equipped troops, protested five centuries of oppression of indigenous peoples in Mexico and demanded massive investment and dramatic political changes. Although the fighting lasted less than two weeks, 145 lives were lost on both sides. The Zapatistas' one major achievement: the political reforms that made Mexico's 1994 presidential elections the fairest ever held. The Mexican government, eager to avoid international criticism, has engaged in negotiations with the guerrillas and appointed a congressional commission to monitor talks.
But in recent months, the Zapatistas have worried that President Zedillo, under pressure from hard-liners, would launch another attack. To remain in the public eye, Marcos has received a stream of international visitors, including filmmaker Oliver Stone, former French first lady Danielle Mitterrand, and French sociologist Regis Debray, who in the '60s hung out with Che Guevara.
SKITTISH. Some supporters fret that such meetings trivialize the movement. So when Benetton Group, the Italian fashion house, asked the Zapatistas to star in an advertising campaign that would publicize their cause, Marcos nixed the idea. Instead, in March, he invited 500 Latin American politicians and intellectuals to a jungle conference on the evils of free-market economic reforms. A similar conference is set for July.
It's hard to say if things have improved in Chiapas since the Zapatistas came on the scene. Juan Hernandez Meza, a Tzeltal Indian who runs a coalition made up of natives operating coffee and textile cooperatives, says the uprising united Mayan groups into a cohesive organization demanding more education, health care, and infrastructure investment. So far, however, investment has been minimal. The federal government has been strapped for cash ever since the economy nose-dived in December, 1994. And private investors are skittish about putting money into an infrastructure-poor region without government incentives.
A special Chiapas Trust, seeded with $3 million in private and government contributions, promotes investment through a slick campaign of computer diskettes and videos. The Trust has helped finance eight projects to produce natural rubber, farmed shrimp, palm oil--and 4,000 jobs. But more are needed to accommodate the rapidly growing population. "Even if the government keeps negotiating with Marcos and builds more schools and health clinics, the demographic explosion will wipe out whatever progress is made," says Giovanni Zenteno, Chiapas' finance chief.
He wants the federal government to give Chiapas special tools to attract investment, including subsidized electricity and lower tax rates. So far, those pleas have fallen on deaf ears. Hernandez Meza, the organizer, is not surprised: "The government is never going to pay any attention to us. It only knows how to send the army to repress us."
Bishop Samuel Ruiz, head of the local Catholic diocese, says Chiapas needs more than money. Life won't improve for these subsistence farmers and textile weavers until "Mexican society sets aside its racism and starts treating its indigenous people with respect," he says.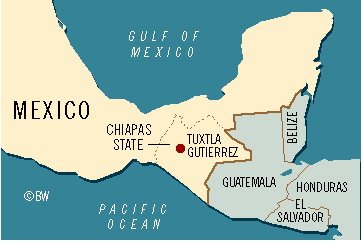 Our meeting with Marcos over, we jump into the rickety VW and drive through the night, back to San Cristobal. In Guadalupe Tepeyac, once a Zapatista stronghold near La Realidad and now a ghost town, we pass a modern hospital. Former President Carlos Salinas de Gortari helicoptered in here in 1993 to open it, but the army moved here a year ago, driving out villagers. The soldiers' activities are shrouded by a makeshift fence draped with dried banana leaves. Few former residents dare to come for medical care. The hospital is one of the ironies of the Chiapas conflict--that one of the services most needed by the impoverished jungle residents is now one of the least accessible.
Before it's here, it's on the Bloomberg Terminal.
LEARN MORE