Humphrey Instruments' Field Analyzer Ii
Joan O'C. Hamilton
For the 1 million Americans who have been diagnosed with glaucoma, "perimetry" testing to monitor blind spots developing in their eyes is an unpleasant necessity. Patients must put their heads into a large metal box and observe blinking lights that vary in intensity. They push a button to signal perception of the lights.
This tedious test can take 40 minutes or more. And the ergonomics of the large, noisy, uncomfortable metal analyzers "were out of the Spanish Inquisition," admits Vincent M. Patella, head of the glaucoma business group for medical-device maker Humphrey Instruments Inc. in San Leandro, Calif.
IDEO Product Development, based in Palo Alto, Calif., has gone to great lengths to make glaucoma testing less of an ordeal. Its award-winning Field Analyzer II, which costs $12,000 to $22,000, pays close attention to human factors and patient-operator interaction. The central innovation was dreamed up at Humphrey, which has 70% of the market for such test gear. Humphrey designed an evenly lit, concave bowl assembly that fits into a unit half the size of the previous machine. IDEO saw that the straight, rigid lines of older machines did not easily accommodate diverse human shapes. Nor could they comfortably serve patients in wheelchairs. IDEO addressed those issues for Humphrey with fall-away curved lines.
The Field Analyzer screen is mounted at a right angle, which permits the operator to guide the patient with a gentle touch. "The form and color of this new design, with its accessible and easy-to-use controls, are inviting to the patient," notes design juror Carole A. Bilson, an IDEA juror and program manager of Digital Products at Eastman Kodak Co.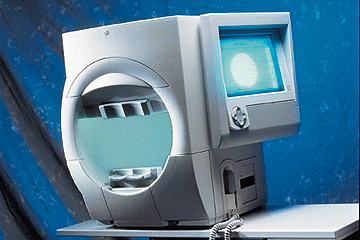 Another patient-friendly feature is the mouselike device for patients to signal their light perceptions. "That could have been a design project all by itself," says Chris Loew, the IDEO designer in charge of that feature. Since so many patients are elderly and arthritic, the old thumb plunger, which must be pressed hundreds of times in one test, often fatigues their fingers. Loew's design, with a large button area, allows for much gentler motions to activate the switch.
Patella says that by lowering the misery level of taking these tests, doctors hope that patients will be more willing to take them--and the everall quality of care will improve. Then doctors can make better decisions about treatment options, ranging from eyedrops to laser procedures to full-blown surgery.
Before it's here, it's on the Bloomberg Terminal.
LEARN MORE